There's No Question, "It's Me" Shows Exactly What Young Vinchi Can Do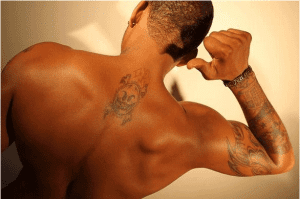 You know the drill when most unsigned new artists drop a mixtape:  disappointing generic-sounding music, tired themes, lame lyrics, fake bravado on the visuals. But then, every so often, a new rapper hits the streets and just like a tasty cheeseburger, the more you bite off and chew, the better he gets.
Put your order in now and make it official; "It's Me" by Young Vinchi is 2012's best- kept tasty secret.  No need to take the D Train uptown to the Bronx's  Bainbridge Avenue to get it, Young Vinchi – with his clever rhymes, sly imagination and hype J Staffz beats  – brings it to you .
"It's Me" – hosted by DJ Lyle of BET's 106 and Park – appeals to all your senses of having fun, looking good, feeling good, being young at the club:  smokin', drinkin' and thinkin', chasing "Shaquana and Shaquita",  and getting paid. The music – layered sonic arrangements of speaker-rattling percussion bombs, horns and keyboards- is a human bobble-head soundtrack.
Not one to waste time, Vinchi kicks off his inaugural 43- minute  mixtape with "Get Your Hands Up,"  a direct order to get ready for the trouble he's about to make.
Released by NYC's TroubleMaka Records, Vinchi's songlist slickly crawls to a steady momentum with "I Want The Cash," "My Style," "Body On Me" and the steamy"Baby Girl." The 25-year-old Bronx native's swagger is relaxed, his raps are mature and mannish; ready to make most women swoon. If heart-throb actor Terrance Howard had a rapping little brother, it would be Young Vinchi.
The "It's Me" set then makes a sharp turn and speeds up. If you – or the DJs at Sin City, Magic City, Jersey Shore or Madison Square Garden – need a couple block-hugging anthems for this summer, you'd be good to download "Black Girls" and "Bent Behind My Tint."  Vinchi boy turns up his staccato, Tommy Gun lyrical delivery while celebrating the joys of hood chicks, roll-ups and Goose.  Don't catch the flu while listening to these songs' infectious beats; the flexing synthesizers, high-hat snares, Island reggae bass, conjure up smoky fantasies of those Twerk Team girls.
Young Vinchi was born Albert Neysmith Jr. on May 31, 1987 to Jamaican parents and raised in the Bronx, N.Y. by a close-knit family. He began rapping at age 8 to entertain his friends at school and by the time he got to Banana Kelly High School, he was the designated "interrupter." Like all entertainers, he developed a craving for the attention offered by the stage.  He soon entered the school's fashion and talent showcases where he fine tuned his showmanship and savoir faire.
After graduation, Vinchi attended LaGuardia Community College and studied theater and communications. He also begain performing at open mics and small venues around the New York metro area collected first place prize money and trophies. In 2007, he moved to Atlanta and worked with a number of up and coming producers that helped season his style.
In 2011, Vinchi, guided by his TroubleMaka management, entered into a smash collaboration with J Staffz,  the young and talented producer from Toronto, Canada. As one of  hip-hop's hottest new producer, JStaffz has worked with Wiz Khalifa, Yung Berg, G-Unit, 40 Glocc.  His work on "It's Me" is melodic, harmonious and explosive.  The post-production mastering is crisp, clear and high quality.
And yeah, let's get back to the music.
Showing that the balance of this mixtape is versatile and radio friendly – Young Vinchi serves up a several stout R&B-flavored cuts including "Left Arm", "Diploma", "BLC",  "Talk To Me", and "Hating" were he spits this one line: "Vinchi is the general, and TM is the Army;  Smoking on that weed, the same color as Barney."
No matter if you listen to Young Vinchi in a Hennessey, smoke-filled room at the crib, in the club, or on the highway, you will be impressed by the skill and originality on display on "It's Me."   The rap game has an exuberant fresh new face, an entertaining player who's put in work, been patient and is now ready to graduate to hip-hop's "big boy" ocean.