Playboy TV and Conan feature Blackberry Smoke This Week!
New EP 'Wood, Wire and Roses' & Deluxe Edition of 'Holding All The Roses' Now Available
NASHVILLE, Tenn. (September 18, 2015) – The video for Blackberry Smoke's latest single, "Rock and Roll Again," from their critically-acclaimed fourth studio album Holding All the Roses premiered on Yahoo Music. Directed by Video Rahim and shot in their hometown of Atlanta, the inspiration for the retro narrative of the video came from conversations with the band about what they love about the city—the movies, the music scene (Atlanta musicians Biters, Gunpowder Gray, Vito Romeo and Midnight Larks make appearances) and all of their friends and family. Wanting the video to feel authentic, the band posted a casting call on their Facebook page asking fans to submit photos dressed in 70s attire. All of the extras in the video are fans, some of whom traveled from across the country to be a part of the experience. Showing the band's connection to their fans gives the video an organic and genuine vibe.
Watch the music video for "Rock and Roll Again" here.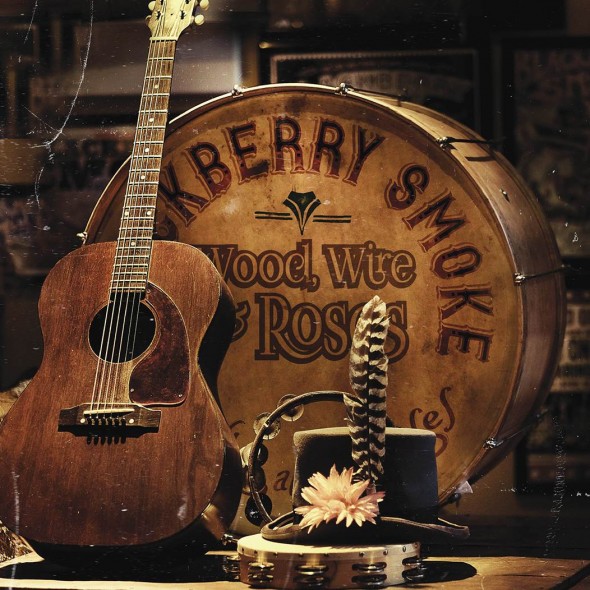 The band's new EP Wood, Wire and Roses and the deluxe edition of Holding All The Roses are now available. Wood, Wire and Roses is a six-song EP that features the band performing a few selections from their latest album Holding All The Roses acoustically. The band used some unique techniques as well as a little help from singer-songwriter Levi Lowrey to capture this visceral session of original material as well as their take on a Tom Waits classic "Old Shoes (& Picture Postcards)." The deluxe edition of Holding All The Roses, which includes the six acoustic bonus tracks, is also available for purchase.
Wood, Wire and Roses is available on Apple Music, iTunes and Spotify.
Apple Music: https://itun.es/us/d0N59
iTunes: https://itunes.apple.com/us/album/wood-wire-roses-ep/id1038515459
Spotify: https://open.spotify.com/album/1Ivsqu2EcvpzqRdttRnxOX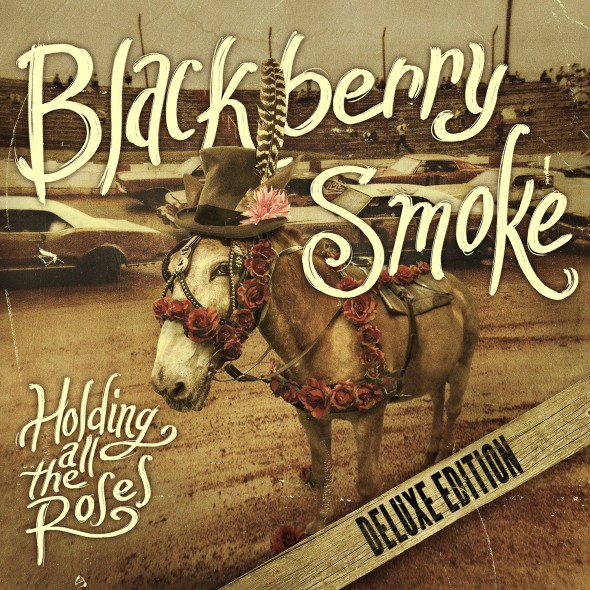 Grab the deluxe edition of Holding All The Roses here.
On Monday, the band took a break from their cross-country tour with ZZ Top to perform their new single on Conan and appear on the Playboy Morning Show.
You can watch the Conan performance here.
Watch Blackberry Smoke on Playboy Morning Show here.
"Fueled by Gibson guitars and boogie-woogie riffs, 'Rock and Roll Again' — the newest single from this year's Holding All the Roses — tips its cowboy hat to the good women behind all good men," said Andrew Leahey, Rolling Stone. "It's swampy, smutty and thoroughly southern, with frontman Charlie Starr singing the praises of the lady who 'keeps me moving when I get to sittin' still.' Joined by the rest of his long-haired, cowboy-booted bandmates on the Conan stage, Starr looked less like the frontman of a chart-topping country group and more like a remnant from the glory days of southern rock, when Bible Belt rockers like Lynyrd Skynyrd and the Allman Brothers ruled the roost."
Blackberry Smoke is scheduled to play the following tour dates, presented by Ole Smoky Moonshine:
Blackberry Smoke On Tour
**with ZZ Top
9.18 Telluride Blues & Brews Festival, Telluride, CO**
9.20 CAM-PLEX Heritage Center, Gillette, WY**
9.22 Bismarck Civic Center, Bismarck, ND**
9.23 The Swiftell Center, Brookings, SD**
9.25 Pinewood Bowl Amphitheater, Lancaster, NE
9.26 McGrath Amphitheater, Cedar Rapids, IA**
10.1 Paradiso Grote Zaal, Amsterdam, Netherlands
10.3 Academy, Birmingham, UK
10.4 Academy, Sheffield, UK
10.5 Academy, Newcastle, UK
10.6 Academy, Manchester, UK
10.8 The Forum, London, UK
10.9 Lafayette Theatre, Lafayette, IN
10.10 Madison Theater, Covington, KY
10.17 BUT Madrid, Madrid, Spain
10.18 Sala Bikini, Barcelona, Spain
10.20 Trabendo, Paris, France
10.22 Alcatraz, Milan, Italy
10.23 Dynamo, Zurich, Switzerland
10.24 Flex, Vienna, Austria
10.26 C-Club, Berlin, Germany
10.29 Debaser Medis, Stockholm, Sweden
10.30 Mejeriet, Lund, Sweden
11.27 The Tabernacle, Atlanta, GA
12.06 MGM Grand Hotel, Las Vegas, NV
12.08 MGM Grand Hotel, Las Vegas, NV
2.7 – 2.11 Outlaw Country Cruise, Miami, FL
About Blackberry Smoke
Holding All the Roses compellingly captures the energy, attitude, and honesty that have already helped to make Blackberry Smoke one of America's hottest live rock 'n' roll outfits, a truly grass-roots phenomenon with a large and fiercely loyal fan base. The 12-song set—produced by Grammy-winner Brendan O'Brien, whose previous production clients have included AC/DC, Aerosmith, Pearl Jam, Bruce Springsteen and Neil Young—showcases the Atlanta-based quintet's emotion-charged mix of bluesy rock, gospel soul, and country, with Charlie Starr's raspy twang matched by his and Paul Jackson's snarling guitars, Brandon Still's hauntingly expressive organ and piano, and the propulsive sibling rhythm section of Richard and Brit Turner. The songs' appeal is further elevated by the band's three-part vocal harmonies and elaborate arrangements that make judicious use of fiddle and added percussion. The depth displayed throughout Holding All the Roses demonstrates how Blackberry Smoke has evolved from rough-edged club act to arena-ready rock 'n' roll juggernaut as well as continues to steadily extend and expand the Southern rock tradition.