US tour kicks off TODAY in Fife, WA! Get tickets HERE.
Available Today via iTunes, Amazon, John-5.com & Spotify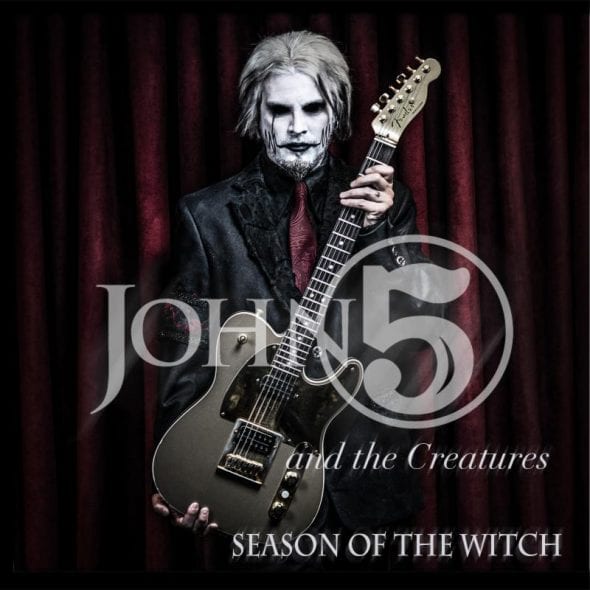 Season Of The Witch, the brand new full-length instrumental solo album from world-renowned guitarist JOHN 5, is out today and can be ordered via iTunes, Amazon and John-5.com, or streamed via Spotify. Season Of The Witch features JOHN 5's backing band The Creatures (bassist Ian Ross and drummer Rodger Carter), and features experimentation with various genres – including western swing, Spanish flamenco, heavy metal and more – thoroughly showcasing JOHN 5's diverse virtuosic abilities.
In celebration of the album's release, JOHN 5 and The Creatures are kicking off their U.S. tour in Fife, WA today! The tour will hit roughly 35 cities (with more potentially TBA), coming to an end in Chicago, IL on April 16. Tickets and VIP are available now – visit www.john-5.com/main/tour for more information and see below for all confirmed dates:
JOHN 5 and the Creatures "SEASON OF THE WITCH" Confirmed Tour Dates:
3/3 – Fife, WA @ Louie G's
3/4 – Everett, WA @ Tony V's Garage
3/5 – Portland, OR @ Star Theater
3/9 – Sacramento, CA @ Harlow's Restaurant & Nightclub
3/10 – San Jose, CA @ The Ritz
3/11 – Fresno, CA @ Fulton 55
3/12 – San Francisco, CA @ DNA Lounge
3/16 – Fullerton, CA @ The Slidebar Rock-n-Roll Cafe
3/17 – West Hollywood, CA @ Whisky A Go Go
3/18 – Las Vegas, NV @ Vamp'd Rock Bar & Grill
3/19 – San Diego, CA @ Brick By Brick
3/20 – Mesa, AZ @ Club Red
3/22 – Austin, TX @ Grizzly Hall
3/23 – San Antonio, TX @ Fitzgerald's Bar & Live Music
3/24 – Tyler, TX @ Clicks Live
3/25 – Houston, TX @ Scout's Bar
3/26 – Dallas, TX @ Trees
3/29 – Raleigh, NC @ Kings
3/30 – Charlotte, NC @ Neighbourhood Theatre
3/31 – Greensboro, NC @ Blind Tiger
4/1 – Wilmington, NC @ Calico
4/2 – Virginia Beach, VA @ Shaka's
4/3 – Richmond, VA @ Capitol Ale House
4/5 – Cambridge, MA @ Middle East – Downstairs
4/6 – Derry, NH @ New Tupelo Music Hall
4/7 – Queens, NY @ Blackthorn 51
4/8 – Boonsboro, MD @ The Stage House
4/9 – Falls Church, VA @ The State Theatre
4/10 – Sellersville, PA @ Sellersville Theater
4/11 – Pittsburgh, PA @ Hard Rock Cafe Pittsburgh
4/12 – Cleveland, OH @ The Agora Ballroom
4/13 – Newport, KY @ Southgate House
4/14 – Indianapolis, IN @ Vogue
4/15 – Westland, MI @ The Token Lounge
4/16 – Chicago, IL @ Reggies
JOHN 5 took a different approach with the release of Season Of The Witch, choosing to share his new music with fans throughout 2016 by releasing several tracks individually in the form of various music videos. Tracks/videos released include the fast-paced "Black Grass Plague", downtempo, introspective "Behind The Nut Love", hard rocking "Now Fear This", jazz fusion marathon "Here's To The Crazy Ones" (featuring a bit of "monkeying around"), heavy metal Claymation shredfest "Making Monsters", and last but not least, the whiskey-soaked "Hell Haw". The videos have garnered nearly a million views, collectively.
"Since music is so visual nowadays, I thought these videos would be the best way to get my music out there, and it seems to have worked – now everybody knows the songs on the record," states JOHN 5. "I put so much work into this record with the videos, the artwork, the songwriting and the playing – out of my catalog, this is by far my favorite solo record."
Season Of The Witch track listing:
1) Book of Spells
2) The Black Grass Plague
3) Guitars Tits and Monsters
4) Now Fear This
5) Behind the Nut Love
6) Making Monsters
7) Dr. Evil's Spook Show
8) Here's To The Crazy Ones
9) The Macabre
10) Ddd
11) Hell Haw I.G.R.
12) Ode to Jasper
13) Season Of The Witch
JOHN 5 has worked with a varied range of artists, performing as guitarist for some of the biggest headlining rock bands in the world such as Rob Zombie and Marilyn Manson, as well as playing session with Paul Stanley, Rod Stewart, Lynyrd Skynyrd and more. Slash has called JOHN 5, "one of the most mind-blowing guitarists around" and Rob Zombie has dubbed him "a fucking shredder". JOHN 5 has released seven solo albums to date, as well as a remix album, and has written music for the likes of Avril Lavigne, Garbage, Ricky Martin and others. His upcoming release, Season Of The Witch, followshis previous solo work, Careful With That Axe, which debuted on the Billboard Heatseekers chart upon release in 2014.
JOHN 5 online:
www.john-5.com
www.facebook.com/John5official
www.twitter.com/john5guitarist
www.instagram.com/john5official