The terms "Supergroup" and "power trio" are extremely applicable to the band The Winery Dogs. Mike Portnoy (Dream Theater, Avenged Sevenfold, Adrenaline Mob, Metal Allegiance), Billy Sheehan (Talas, Mr. Big, David Lee Roth) and Richie Kotzen (Mr. Big, Poison) build on the chemistry they've already developed with their debut album and take it to another level with their sophomore effort "Hot Streak."
With an unmatched level of technical musicianship, literally at their fingertips, The Winery Dogs choose to focus on writing great songs with passion, groove and catchy hooks. The opening track "Oblivion," the one tune written on the road while touring for their debut record, is a tasty blend of the musical precision you would expect from these three — it's fused with soulful vocals by Richie Kotzen.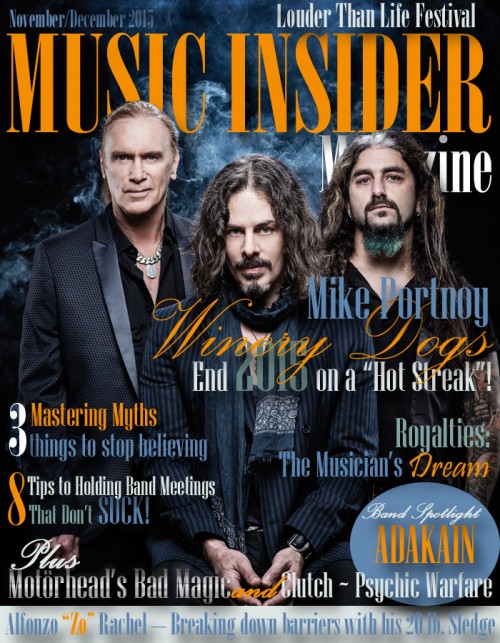 "Hot Streak" contains track after track of solid, powerful rock 'n' roll classics such as "Empire," "Ghost Town," "War Machine," "The Bridge" and the funk-infused title track "Hot Streak" as well as up-tempo shredders like "Devil You Know." But it also contains songs like the keyboard-heavy "Think It's Over" that conjures up memories of Billy Preston and Stevie Wonder, or the adult-contemporary-inspired "Fire," featuring a beautiful lead vocal performance by Kotzen, tasteful harmony background vocals by Sheehan and Portnoy as well as some very nice acoustic guitar work.
These three musicians are known for their intense, technically oriented musicianship. Add to that catchy lyrics, great hooks and a solid beat, and you are in for a real treat with "Hot Streak." Seeing these three virtuosos live on stage is even better.
Before an electrifying performance at San Jose's RockBar Theater, I had the pleasure to sit down with The Winery Dogs founding member and one of my personal drumming heroes, Mike Portnoy, to discuss The Winery Dogs and the new record.
Dennis Gast: I am a huge fan, so I was wondering if you could tell me a bit about what first inspired you to begin playing?
Mike Portnoy: Well, I was a music fan from the minute I was born. My dad was a rock 'n' roll DJ, and he surrounded me with music from the minute I was born. I grew up with The Beatles, The Who, the Rolling Stones and Led Zeppelin and all that stuff in the late 60s and early 70s. I think I inevitably became a musician, because I was such a music fan from the beginning.
It was probably Keith Moon who made me gravitate toward the drums. When I saw the movie "The Kids Are All Right," when it came out in the theaters in 1979, seeing Keith Moon and how amazing and charismatic he was, I think that's what made me become a drummer.
Gast: So would you say Keith Moon is your biggest influence?
Portnoy: He is certainly one of the "Big Four" for me: Keith Moon (The Who), John Bonham (Led Zeppelin), Ringo Starr (The Beatles) and Neil Peart (Rush). In the early days Keith was probably my biggest drum hero, but then once I discovered more progressive music, I went through a huge Neil Peart phase, and for several years he was my biggest hero. There are so many drummers who inspire me.
Gast: I read that you consider yourself a "self-taught drummer." As someone who is also a "self-taught drummer" but with nowhere near the level of musicianship you have, can you tell me about the process and how you were able to achieve your skill level?
Portnoy: I started by playing along to my records — in the early days, to get started. It was stuff like The Who, Zeppelin and Kiss. I went through a huge Kiss phase in the mid-70s, and Peter Criss was one of my favorites during that period. Basically, I taught myself by playing along to my records.
As I got older, I discovered more progressive music, like I just mentioned. When I was in my mid-teens, I started picking up music books, reading along with notation and taught myself that way. Then, when I went to Berklee College of Music, that taught me a lot about how to read music, music theory, ear training and sight singing, but when it comes to just drums, I am pretty much self-taught. Just analyzing my favorite drummers, you know?
Gast: Considering how many musicians you have already played with over the years, do you have any bucket list artists you would still like to work with?
Portnoy: Sure, of course. I mean, the last five years, since leaving Dream Theater, I have been able to check off a lot from that list, because everyone I work with now is someone I have wanted to work with. Billy, Richie, Steve Morse in Flying Colors. I just did the Metal Allegiance album with the guys from Anthrax, Slayer, Pantera and Megadeth. So I am slowly knocking off the bucket list.
Of course, there are those dream artists, the ones who I will probably never work with. For me, these guys are like Roger Waters (Pink Floyd), Jimmy Page (Led Zeppelin), Pete Townsend (The Who) or Paul McCartney (The Beatles). These are the "dream guys" who I may never cross paths with, but to work with any of those guys would be an absolute check off of the bucket list.
Gast: Having played with so many great musicians over time, when did the three of you in The Winery Dogs first cross paths?
Portnoy: I first saw Billy play when he was in Talas back in the early 80s. They were a staple in the New York bar and club scene. I was still a teenager, and I would sneak into clubs and see Talas play, and I had never seen anyone play bass the way Billy does. That was the first I had seen or heard of Billy. Then, we first played together in the early 90s, while we were working on a Rush tribute album. That's how my relationship with Billy began.
As far as Richie goes, I never really knew about his ability as a singer and guitar player, I just knew him as the replacement guy with Mr. Big and Poison. So a few years ago I was turned onto some of his solo material, and I was just blown away by what he does. Then Eddie Trunk introduced the two of us, and that's how that relationship started.
Gast: Can you briefly touch on how The Winery Dogs came to be?
Portnoy: I was working with another guitar player in early 2011 and trying to get a power trio going with him, and at that time I called Billy and invited him to be a part of that, because I really wanted to do something with him. Long story short, it didn't work out with that guitar player/singer, and then when Eddie Trunk suggested calling Richie, we knew he was the right fit and The Winery Dogs were born.
Gast: "Hot Streak" is a fantastic record. How did it come about?
Portnoy: This record is a natural extension of the first record. When we formed The Winery Dogs, the focus was on the songs, the song writing, the vocals … Richie's lead vocals and the three-part harmonies between the three of us. The goal with The Winery Dogs was always to be a song-oriented band with the musicianship being a bonus, rather than the other way around. I think all three of us have done our share of showing off, shredding and technical playing. At this point in each of our careers, we are more interested in the songs, and that's the focus of The Winery Dogs.
Gast: What was your writing process for this record?
Portnoy: It is basically just the three of us collaborating on the music. With this album we had an empty palette. Nobody came in with any existing ideas, thoughts or riffs. We basically just started jamming, and we would shape and arrange the songs together. Once the music was done, Richie would go off and write the lyrics, the vocals, and that's it. It's a collaborative process.
Gast: Track number six, "Fire," is a beautiful departure from some of the other songs on "Hot Streak."
Portnoy: That's one that Richie kind of molded and shaped. Once we had the music, the skeleton, written as a band, I think he went off and put his own stamp on that song. You know, Richie is such a great singer and songwriter. If you ever hear any of his solo albums, he does a lot of that adult-contemporary, modern-pop sound, and that's what we are tapping into with "Fire." That shows another side of Richie's vocals, when he can write great pop songs, and you can picture the likes of Sting, Seal or Sade doing them. It is nice for The Winery Dogs to be able to tap into that once in a while.
Gast: I know you are all very busy guys, what other projects do you currently have in the works?
Portnoy: I also have Metal Allegiance, Flying Colors, The Neal Morse Band, Transatlantic and Twisted Sister, so I have six things going on right now.
Gast: I know you were honored to be filling in for the late, great A.J. Pero, for Twisted Sister. Is that still currently underway?
Portnoy: Yeah. This upcoming summer will be their final, farewell shows. I am looking forward to helping them in closing out that chapter for Twisted Sister.
Gast: I read somewhere that you guys started your own "band camp" called Dog Camp. Can you tell me a little bit about that?
Portnoy: We did it the last two summers in New York, and basically, it is like a rock 'n' roll fantasy camp kind of thing, where people from all ages and levels of musicianship are welcome to come. The last two summers we did it, and it was a lot of fun. The campers get to see us play in a very intimate setting, but we also conducted master classes and clinics and had guest musicians helping us out. It's just a very intimate and cool learning environment.
Gast: Please talk a little bit about the instrument manufacturers you endorse and the importance of that relationship.
Portnoy: I have been working very closely with Tama, Sabian and Promark for some 20-something years each. In the relationship between an artist and endorsement company, especially for players like us who have such a wide range of young musicians that follow what we do, it's important to have a company that values the artist. In all three cases, with these companies, I have signature products.
I also used to go out and do a lot of clinics back in the 90s. I don't do them anymore, but I understand how important that is. I know when I was a kid, that's how I decided what I was going to play. I would go through Modern Drummer Magazine, and I would spend as much time looking at the ads as I would reading the articles — seeing what drumsticks or cymbals my favorite drummer was playing — so I know how important the relationship between artist and endorsement company is.
Gast: Tonight you guys will rock San Jose, California. How is the tour going, and where do you go from here?
Portnoy: We are wrapping up the U.S. leg, the first leg, this week, coming across the West Coast, after starting on the East Coast last month, and so far it has been great! From here we go to Europe at the start of next year, and from there we go to South America, then Japan and then back through the states, so it will be a long run. Right now, we are penciled in through the end of next summer.
Gast: Are there plans already in the works for a third record?
Portnoy: Yes, of course, but we are still at the early stages of support for "Hot Streak," so this cycle will go until at least the end of next year.
Gast: What are your plans for the upcoming holidays?
Portnoy: I get to go home, which will be nice, and just spend time with my family. You know, juggling six bands is very time consuming. If I am not on the road, I am in the studio, so yeah, I am looking forward to some family time for the holidays.
Author's note: The Winery Dogs finish up this leg of the U.S. tour on November 8, with a show at the House of Blues in San Diego and then will tour Europe through the beginning of 2016. I highly recommend you catch this power trio, if they come to a venue near you. In the meantime, pick up a copy of their latest CD, "Hot Streak." You will not be disappointed.
The Winery Dogs:    http://www.thewinerydogs.com
https://www.facebook.com/TheWineryDogs
https://twitter.com/thewinerydogs
Mike Portnoy:           http://mikeportnoy.com
Billy Sheehan:            http://www.billysheehan.com
Richie Kotzen:          http://richiekotzen.com