by Lorelei McBroom
I have had the good fortune to perform as a vocalist with some of the best artists in the world. My sister Durga and I began our careers as touring backing vocalists with Pink Floyd. I've also backed Lou Reed (with Grace Jones, Debbie Harry and Roberta Freeman), the Rolling Stones, Aaron Neville, Donny Osmond and Rod Stewart, to name a few.

I am a big believer in having good vocal technique and the need to achieve that through study. When touring with Pink Floyd, the backing vocal section performed the classic song, "Great Gig in the Sky" throughout Europe, and I found myself, night after night, right on point because I had good breathing technique to fall back on.
Music and entertaining have been an important part of my life since I began studying classical piano at the age of 4 years old. My mother was a concert pianist and painter before becoming a medical doctor. My father's two eldest daughters Marcia and Dana (from a previous marriage to another pianist, Marie Lee) became professional dancers and in their teens worked in Verdi's AIDA at the Metropolitan Opera House in New York with the incomparable Leontyne Price. Artistry was supported in my household.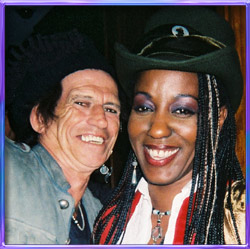 I wanted to be like my big sisters, and I played recitals and eventually took up folk guitar in a singing troupe led by two terrific female guitar teachers. We played at local elementary schools when I was about 8 years old. By age 16, I knew singing was the profession I wanted to pursue. My mother supported that effort and paid for me to study voice lessons with a terrific, classically trained Italian opera singer/actor named Mark Forrest. I took lessons with him three days a week for several years.
With that great base of technique, I added vocal coaching classes from the late Phil Moore. He had worked with great artists like Lena Horne, Frank Sinatra and Dorothy Dandridge, and he even coached Marilyn Monroe. In addition to focusing on my voice, I took ballet, modern, jazz and Afro-Cuban dance over the years to help become a well-rounded entertainer.
I come from an era driven by originality. Every artist wanted to have his or her own style and sound. Even though we're all influenced by those we listen to, the artists I learned from always emphasized that finding one's own sound is important. Phil Moore was the first person to explain that to me.
In his group class, we picked from of a list of songs. I chose Nancy Wilson's song, "You Can Have Him." Moore taught me the importance of viewing lyrics as an actor views a script, how to vocally convey the message you communicate lyrically. That's the way to touch people. If the emotions you sing about come through — even if you don't have a great voice — you give your listeners emotion that can sustain a career. But if you have good vocal technique to back up what you're conveying emotionally, you have the best of both worlds.
In response to questions by Music Insider Magazine editor-in-chief, Teri Doty, here are my suggestions and opinions regarding technique, study and having a good voice.
Teri Doty: What exercises do you do to warm up before you sing?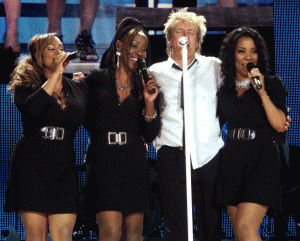 Lorelei McBroom: I sing scales. I start with something simple. I only go up and down four notes, for example, and build up to full scales that go up to a high note and come back down. The key is to warm up your voice like you would in any physical exercise. The voice is a part of the body. The vocal chords are not muscle, but they are surrounded and attached to muscles, and those muscles will do their best work if they are warmed up. Sometimes I do jumping jacks to wake up my body. Anything that gets you breathing is a good help for a warm up.
When I worked with the Rolling Stones, Mick Jagger worked with a trainer for two months before the tour, so he could run back and forth on the huge "Steel Wheels" stage and sing at the same time. It was a very impressive effort to observe. While on tour, he did not drink or party. He told me those days were behind him, so he could sustain his performance quality. Rod Stewart also sang scales before each show.
Doty: When you perform back-to-back shows, how do you preserve your vocal chords?
I love to use lozenges. Black-packaged, Halls extra strong menthol or honey lemon are my favorite. They keep my throat lubricated and moist. A dry throat is the worst. I also do not sing from the throat up. That is vocal death. You must sing from the thighs up and always support your breathing. Good breathing technique is the key to everything. I find the more I sing, the stronger my voice gets, like a well-tuned engine.
Doty: What do you do when you have a cold but still have to sing?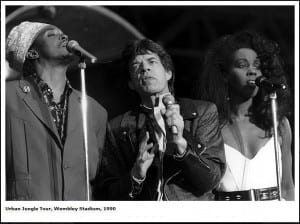 Because breathing is key, I have had to sing with a cold and have done fine. People who sing from the throat up have big vocal trouble. Fortunately, I haven't had to do it often. I'm a big believer in observing good immune system health. I am very careful about taking supplements to maintain my stamina and eat sensibly to maintain a healthy, attractive weight. Take care of your body, and the voice becomes a gift that keeps giving.
Doty: What's the worst thing you can do for your voice that some singers might think is OK?
Sing from the neck up. You will kill your voice that way. Many people have. The voice changes with age, and most people find their higher range diminishes, but if you keep supporting your voice with the right breathing techniques, you will last. Alcohol is another voice killer, because it drys out your chords and can delude singers into thinking they're great when they're really not.
Doty: Are there any types of foods that can help your voice?
They say honey (to coat the throat) is good. Manuka honey is a special immune-system-fortifying type that costs more than most honey but has great properties. Sometimes I've had to use sugar in hot water to coat my throat so it feels lubricated. Someone once suggested gargling with a couple of swigs of port wine, as a good throat coat. It does work as a gargle, but I do not drink before I have to perform. That doesn't work for me. Any kind of mint tea is also good for the voice, and Throat Coat is another singers' tea.
Doty: Do you think that someone who isn't a very good singer can take vocal lessons and become great? Or do you think a person either has it or doesn't?
I strongly believe that you have it or you don't. You can improve with good technique, but if you have no ear or don't have a good tone, all the lessons in the world won't fix those issues. I have worked with people with questionable voices, but some of them have a character to their sound that makes them valid. The Bob Dylan-type with a limited voice and great songs is another animal. We're talking about artists not singers. The ultimate question to me is always "Can you make me feel an emotion?" That is what makes people love music.
Doty: What techniques or tips can you offer other singers?
Rest is key. Your voice is a physical instrument. Mental and physical stress affects the body a great deal. You must understand how to support your voice with good breathing.
Many artists turn to drinking and drugs to escape the pressures of the artist's life, but all of those things will dry out your chords when you overindulge. I say moderation is key to everything. Learn good breath support techniques like I did, and you can last like Tony Bennett or Stevie Wonder. I've seen singers like Aretha Franklin chain-smoke cigarettes and still sing because they know how to support their breathing.
The other crucial thing to remember is your lyrics are your script. Convey the emotion behind the words, and you'll never fail. Even if you miss a note, the emotion will carry you through. I'd say the hardest song I've ever had to sing is Pink Floyd's "Great Gig in the Sky." It has no lyrics. It is about death. I break it down by storyline/emotion like this: The first section is fighting defiantly because you don't want to die. The second is coming to terms with death, and the third is about complete surrender.
Make people feel — and you've got 'em.
Doty: What are you currently working on as a vocalist?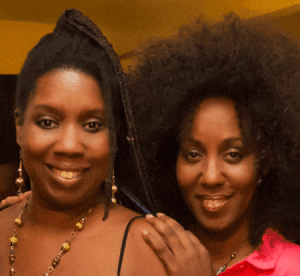 I'm working with my sister Durga McBroom Hudson (of Pink Floyd and Blue Pearl). We've recently recorded a library of female vocal samples unlike anything that's been released before. The McBroom Sisters Vocal Library will be available later this year by Sonic Reality (http://www.sonicreality.com), the company famous for amazing sample libraries by numerous, well-respected musical artists. You can check out their Facebook page.
http://www.facebook.com/sonicelements
It's great to be working with my sister again. After touring with the Rolling Stones, I decided to stay off the road to raise my son, and Durga went on to become the only female backing vocalist to continue touring with Pink Floyd from the "Momentary Lapse of Reason" tour through singing on the "Division Bell" CD and Pulse tour. Durga also toured with David Gilmour on his first post-Pulse solo tour and had several hits with her duo band Blue Pearl.
We're also working on an album with producer Dave Kerzner (Smashing Pumpkins, Genesis, Alan Parsons) that revisits Pink Floyd and explores great musical collaborations with friends on new original songs. A lot of talented musicians are involved, and we're all very excited about our effort. People often ask me when I'm going to release a CD that features me as lead vocalist. This project with Durga will give those people something special to enjoy.
Lorelei McBroom grew up in Los Angeles on folk, rock 'n' roll, pop, jazz and good soul music, and has worked with acts like Billy Idol, Chris Issak, Miki Howard and most recently Rod Stewart. As fate would have it, Pink Floyd (the Godfathers of Psychedelia) gave McBroom her first exposure to the road on their "Momentary Lapse of Reason" and "Delicate Sound of Thunder" tours. She was featured in the duet "Great Gig in the Sky," and in 2011, she joined the Australian Pink Floyd Show, known as the world's best Pink Floyd tribute band. They tour annually throughout Europe, the U.S. and Canada. McBroom has also toured with the Rolling Stones and was featured in a duet with Mick Jagger, "Gimmie Shelter."
Early on in McBroom's career, her singing, songwriting and talent arrangements caught the attention of producer Nile Rodgers (Chic, Madonna, David Bowie), who recorded her songs with Sister Sledge and Phillip Bailey of Earth, Wind & Fire, with whom she sang featured vocal harmonies. Additional vocal-credit highlights include: Lou Reed (backing vocals with Grace Jones, Debbie Harry and Roberta Freeman), Aaron Neville, Donny Osmond, Albert Collins and the We Are the Family Foundation All Stars, which is an organization McBroom continues to support and work with at their annual fundraising galas.
In addition to performing in live concert tours and recording music in the studio, McBroom has performed in film with The Rolling Stones, for Spike Lee in "Summer of Sam," and for Malcolm D. Lee in "The Best Man." She has performed on television on the GRAMMY awards with Lou Reed, in "Live in Venice" with Pink Floyd, in "Live in Barcelona" with The Rolling Stones, in "On the Road" with Mark Collie and in numerous music videos. As a producer, she has co-produced music for Xbox, movie house commercials and is promoting classic R&B and house music concert events for the internationally renowned Underground Network and Soul Party NYC.
Lorelei is currently touring with the Australian Pink Floyd Show and has been touring the world with the Australian Pink Floyd Show since 2011. They are considered to be the "world best tribute band" according to the London Times. Lorelei's love of Pink Floyd lives on with the Aussies. She also sang 'Great Gig" at last summer's Goodwood Festival of Speed with Durga, Nick Mason (Pink Floyd's drummer), Guy Fletcher (Dire Straits) and John Illsley (Dire Straits). Re connecting with Nick Mason was awesome. Shine On.