TROY is no Greek tragedy – they're on a musical odyssey of their own.
TROY is a Midwestern rock band that formed in the small town of Pleasant Hope, Missouri in 2004, and has played with some of today's top hard rock and metal artists, such as KORN, Three Days Grace, Breaking Benjamin, Papa Roach, Puddle of Mudd, Smile Empty Soul, Trapt, 12 Stones, Skillet, and many more.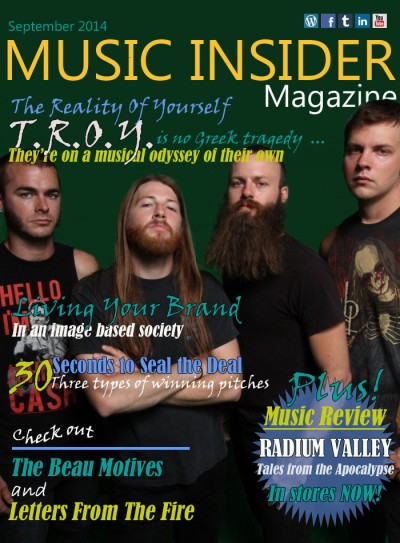 I originally met Cord Bishop, guitarist, singer, songwriter, and founding member and his band, TROY this last February when they played the Outland Ballroom in Springfield, Missouri, in support of Pop Evil, the band I was on assignment to interview. After interviewing Pop Evil's Leigh Kakaty, I walked off the tour bus, back up the loading ramp, and into the club just as TROY was taking the stage.
I had the perfect spot for the show staked out next to the soundboard, and I settled in to watch the local talent. As luck would have it, I found myself intrigued with the performance that TROY gave. It was obvious to me that here was a band that is confident, and had showed up ready to play. They had the audience enthralled from the first song, and revved the crowd up through their entire performance; TROY had them already foaming at the mouth.
Their first single off their soon to be released second album, "Dead Man," is a powerful and dynamic song that will just plain melt your face. Following up on their original EP, and their first full-length, self-titled album, TROY is a band that is on the precipice of achieving real commercial success.
I recently caught up with Cord Bishop again at the Outland Ballroom in Springfield, Missouri after their set supporting the band, "Nothing More" a few weeks ago. We took a walk in downtown Springfield after the show to discuss the origins of the band, how their outlook on life became the name of the band, some recent personnel changes, and the future of the band as they see it.

CW Rockstar Winner Video: The Reality Of Yourself (T.R.O.Y.) – "Out There"
Brian McKinny: Tell me about how the band came together.
Cord Bishop: We all grew up together. Me and the bassist, Kane Ransom were kicking each other under the table in the 5th grade back in Pleasant Hope, Missouri, arguing about who was better, Tool or Metallica. As we grew up, we all played in the high school band — Kane and I both played trumpet, and Chris (Mau) played drums. Eventually, we moved out of the high school band instruments and I grabbed a guitar. The cool thing was that Kane's dad was in a rock band around here, my family are all bluegrass musicians, and Chris' family were a traveling country band. So we all have this background in music, and from there we just got together and started writing and practicing in this rundown house, and pretty soon people were telling us, "Hey, you guys should play some shows." So, we started playing out, and eventually worked our way up to where we are booking much bigger shows. Shortly after that, we thought that we should get into the studio and record an album, so we did.
McKinny: What did you learn from the experience of releasing your first album?
Bishop: It took us a while to get into the scheme of what the industry was. We were very blindsided by the fact that people want "this or that" out of us, and we were hardheaded about the reality that there was a will to be bent to, so to speak. I mean, you can't go through life just wanting to please yourself. Even as a musician — everything comes from your own heart, but at the same time you realize, eventually, that you're connecting with people. Whether you like it or not, you need to deal with it. It's a beautiful connection if you really can uphold it and adhere to it, because that's really what it's about — spreading the word of whatever you think your message is.
McKinny: And what is the message of TROY?
Bishop: For us, our message became, "What you think can become your own reality." Thought manifests reality, and your perception of how you go about your life, day in and day out, it becomes you — that is you. Whatever you want to call it, I call it "the secret." So then from the acronym, TROY, "The Reality of Yourself" came about.
McKinny: Regarding the band's name — has it been confusing at all to your fans who try to find your music online — using the acronym, TROY versus the band's full name.
Bishop: Yeah, it has. Mostly it has to do with the music aggregators that we go through, because they won't allow us to use one or the other, and because there are so many other Troy bands now in existence— I don't think before us, but those that came after us. I know there's at least one from overseas, so we wanted to separate ourselves from that, and we love the acronym… Unfortunately, the music aggregators – the people that send your music out to iTunes, Spotify, Amazon… didn't.
McKinny: When I did a search for your band on Spotify using the acronym "TROY," it came up under "High School Musical 2!" It was some other completely different band and music.
Bishop: Yeah, we tried calling them and discussing the issue, telling them, "Hey guys, this isn't our genre, it's not our music!" We're not some kid on "High School Musical!" that's singing about jump rope on piano! For a while, we thought we might actually be losing royalties because of that guy, so we had to call the aggregators and cancel a lot of stuff, and then re-submit it all just so we'd know it was out there under our marker and our business license. So now, when you search on iTunes or Spotify, or whatever for "The Reality of Yourself" it's the first thing that comes up, and it's "Google-worthy." So we're going through this new re-branding, really trying to get that out there and to get it SEO-empowered, because that's what the new website is going to be, and everything from here on out has to take place under that moniker and brand.
McKinny: Coming back to the band's origins, realizing that you have known each other since the 5th grade, what was the genesis of the band, and when did you guys actually coalesce as a serious original band in the current form?
Bishop: Well, we actually started in high school, but we didn't put our first EP out until 2008. We had won a few "Battle of the Bands" competitions, and we won some recording time from those with an up-and-coming engineer, Kevin Gates. We also starting getting some good slots on some bigger shows, and luckily the fan base has been what's really kept pushing us to do more and more, you know.

McKinny: What happened as a result of the recording time that you won with producer, Kevin Gates? How successful was that album for you guys?
Bishop: The first album got a great reception, and at the time, we won the Ozarks CW Rockstar Search Video competition, and received a lot of regional airplay in 103 counties from here down to West Plains and into Arkansas. We shot a video because of winning that competition on Ozarks CW, and they featured us for about a year with that video. I don't know if you ever heard it, but the song was called "Out There" and it was good publicity for us, even if we weren't necessarily happy with the video we ended up shooting with them. But that song has been a fan favorite from the get-go. So, when the album first dropped, we had an 'in' with a local radio station, Hot 106.7, an area rock station that gave us daily airplay for at least a month, which really helped build up some hype around here. But as most things go, it takes more than just a little bit of hype to make something successful. It takes a sustained momentum — that's the key. And I think at the time, our young minds squandered that momentum just a little bit. But we're also the kind of band that has a 'never say die' attitude.
McKinny: How did that 'never say die' attitude help keep you and the band going?
Bishop: Well, we got back at it, recording again. We went to The Mansion in Branson, Missouri and recorded the next album. The Mansion's had its hits and misses, and it's more known for the country artists that have recorded there, obviously. But I got to work with great engineer who had done work with Waylon Jennings, George Strait, Reba McIntyre, and I got to work on an SSL (Solid State Logic) mixing board that Whitney Houston recorded her hits on, and "Tears in Heaven" by Clapton was recorded on that board… There's a lot of history in that place, and there was a good feel. Unfortunately, the producer — who we tried to kick out of the sessions a few times — would not leave us alone, and got his dirty little fingers in on everything. However, overall it was a great experience for us.
McKinny: Tell me about the loss of your original guitar player, and how you managed to cope with the change in personnel.
Bishop: So there we were — we had just finished our second release, and we went back to Kevin Gates to get it mastered. Shortly after that, we lost our original guitarist. That put the band on an involuntary hiatus for a while. After searching high and low for a new guitarist, we lucked into our current guitarist, Kyle Girth. He's such a true workhouse. I mean, he's a "head to the ground, nose to the grindstone" kind of guy. Whatever needs to be done, it will be done with Kyle. He's been such a blessing, because I think he's really going to surprise people the more they get to know him and hear him play. He has the showmanship, the technical and musical ability, and he has the work ethic.
McKinny: How did you come to hire Girth as the current guitarist for TROY?
Bishop: We had known him through a few other bands. He's been playing in bands around here since he was 13 years old, and he grew up in a family that is a bunch of "KISS-heads," and he loves KISS. Because of that, he's always loved the entertainment side of music — showmanship is very much his thing. So at an early age, he picked up a guitar and started learning how to play, and how to riff and put on a great stage show as well. Because he's such a great player and showman, I'd always kept my eye on him, whatever band he was playing with at any given time. Obviously, I wasn't wishing and waiting for something to happen to his band or ours in order to get the opportunity to play with him, but when he heard that we had lost our guitarist, he approached me to express his interest in playing with TROY. So we had set up auditions with six or seven guys before Kyle tried out, and when we all got together in the same room and jammed out on some of our older songs, it was really good. We were like, "alright, this is working out pretty damn good, so let's see what we can do." Since then we've just been rolling, and it's been nine months now and we just keep going! Thing are moving in a good direction with Kyle on guitar. He allows me to open up when I need to — he knows when to step back and really just rip the riffs, and when to let the song just be.
McKinny: Tell me a little about your rhythm section — Chris Mau on drums, and Kane Ransom on bass, and the camaraderie within the band.
Bishop: Those two guys are beasts in their own right. Chris is a natural born musician, plays piano, mandolin, guitar, recorder… He has a country music background, and he taught me how to sing harmonies. I grew up with a family of bluegrass musicians, and so I was able to learn all the picking stuff being from that background. My first name is actually Martin, after the guitars, so you know my family is serious about music. My dad used to say, "If you don't own a Martin, then you don't know what you're doing." But I've never been called Martin, though… I've always gone by my middle name. I owe a lot to the fact that I've grown up with those guys, and we've been able to do what we're doing. After TROY had been around about four years, Chris's dad and Kane's mother met on their first date at a TROY show, and now they're married! So there's just a lot of brotherhood there, you know. There's a bond, a glue that could never happen if you just pasted together four random guys to get the feel and the feeling that we have.
McKinny: How did you come about as being the singer of TROY? Did you always want to sing, or was it by happenstance or just pure necessity?
Bishop: Well, our first show — we booked it, and actually , we didn't know who was going to sing. It got to the point where it was I who said, "I can sing and play at the same time, so I guess I'll do it if nobody else wants to give it a shot." I sang on that first gig, and I guess I just grew into the role. Honestly, in my heart and the back of my mind I knew that I wanted to play guitar and be a singer. It was always where my mind started to go, as far as getting my songwriting out there with a message that means something. Not to abuse the power, but I do love my role in the band — it fits me well, but I don't think I could do it without the same brothers that have been behind me, pushing things and making sure that we're tip-top. It was a blessing, and I feel like we're ready to explode whenever we're given the opportunity. The new tracks that we're cutting now are, to me, the most stellar things that we've done.
McKinny: How have you approached the business with your last album, and now with your new album coming out soon? Have you changed any tactics in your business model, and how you deal with marketing and getting the band's name and product out there to the fans?
Bishop: For not doing any national release or anything of that magnitude with our second album, it did — and continues to do very well for us. But the game has changed since then, you know. Now, it's all about singles, and not so much full albums coming out. For me as an artist, I want to create something that's conceptual, that has a color to it and can give a listen the full aspect of what you're trying to convey, so it's a difficult concept to grasp. But at the same time, if they want to be satisfied in the first 30 seconds of a song – "Ooh yeah, I'm gonna dig this!" — Because as I said, the game is changing, and I'm going to change with that game because I know I can deliver. Maybe that's overbearing confidence, I don't know… But it's just me being who I am. Case in point: before, I didn't used to like doing interviews, or talking about myself because I was content to be a bit of a mystery, and for people not to know who I was. I was always of the mind to let the music speak, and then just let it be what it's going to be. But I realized that the music can't market itself, and it's myself growing and realizing that there's more to this gig than just writing, recording, and playing songs. It's a much bigger, more demanding game, and that's why a lot of musicians who have the passion and drive, but they don't succeed because they don't learn how to play the game. Either that or they do figure it out, and refuse to do what needs to be done, for whatever reason. It's not for everyone, that's for sure. But if you love making your music, and getting your music out there to be heard, there's no better feeling, especially when you're doing it with a bunch of guys who are like brothers.
McKinny: "The Great Dying" and "Caught in the Fire" are two of my favorite song on the current self-titled album. Those songs really speak to me. Tell me a little about how you wrote and recorded them.
Bishop: I wrote the song, "Caught in the Fire" the week before we went into the studio. I knew I had something wonderful with it, and I was so excited about getting it down in the studio that I dragged Chris down to our rehearsal spot five times that week, telling him "You've got to get this down, dude! I know this is gonna be the one, this is gonna be it!"
Our first album, and even "The Great Dying" on the current album — we wrote a lot in 6/8 time. I don't know exactly why, and I sort of knew we were doing it on some sort of subconscious level, but it worked for the songs we were writing then. But with "Caught In the Fire," we wanted to meld this point to where we could flash back and forth between time signatures. If you listen to the second verse, it comes into this almost 3/4 swing before we get back into that 6/8 time. I think of it as what I call a kind of "Tool maneuver" — counting the bars and knowing when to meet back up…
Anyway, the vibe behind the song, "The Great Dying" came about during that whole 2012 Mayan calendar "End of the World" stuff, so I locked myself in my room and wrote a song about it. The Great Dying was an actual event which happened about 100 million years ago – the Permian Extinction, which wiped out 99% of the life on planet Earth. And yet, to me, even though it was "The Great Dying," it was about rebirth, and new birth, a new beginning of the cycle that never ends. It gave us as mammals the chance to evolve, grow our brainpans, and create our incredible minds with these 'third-eye pineal glands' that allow us to communicate on a higher plane of consciousness, even though it all arose from such a destructive force as mass extinction. It inspired me to the point where I felt I wanted to write something that mimics and conveys that idea.
You can relate it to nowadays, with corporate America taking over almost everything, Big Brother is everywhere in the form of an intrusive, bullying government, and corporate advertising is the only thing you see — that is our "Great Dying," our downfall. You have people walking into street signs or crashing their cars because they're preoccupied — too busy looking down at their phones, texting or surfing the Internet. Human interaction as we knew it is dead, and it's been replaced with a false reality, a reality that is very profitable, accessible, and manipulative.
McKinny: So you definitely have some serious opinions about society as it is today. How do you see social media and its role in the music industry today?
Bishop: It's a big front, if you ask me. However, it's necessary for bands and especially for businesses today. If you negate that, then you're just being overly pessimistic in my opinion. At the time I was writing "The Great Dying," I wanted to deny it was as integral — as important as it really is to music and musicians today. Since then, my viewpoint on social media has evolved to a more realistic sense of what it is, and how the band and I can benefit from employing the various social media platforms available to us in order to promote our music to reach new fans in a global market.
McKinny: What lies ahead for you and TROY? What are your near-term plans?
Bishop: My hope is to put out some new songs, and we're looking for investors to help get us out on the road, and to pull some strings with some connections that we already have. We really are going to push this thing hard next year, and hopefully get some recognition and radio play from it to the point where we can record a full album after we put this EP out. Then, I think the next thing for us is to just get out on the road and tour our asses off to get our name out there in a more substantial way. We're in a position now where the EP is probably the smartest thing to do now, because of the changes in the industry with the demand for singles rather than full-length albums being the strong push these days. It's also much more economical to record and promote an EP to tour on than a full-length album. As a band, it allows you to space out your releases, and to continue to generate demand for your music when your fans know that a new song is coming out every six weeks or so.
We're really looking to book more gigs in college towns, and book into some of these casinos that are popping up everywhere, like the Hard Rock in Tulsa and elsewhere, so we can really grow our fan base, because that, to me is the number one option. Thankfully, the producer/engineer we're working with now has a good head for the game, and has a deep understanding of all this stuff, so look for us to be coming to a venue in a town near you very soon!
Author's Note: To find out more about TROY, check out the following links below.
Social Media Links for TROY:
The Reality Of Yourself on the Web
The Reality Of Yourself on Facebook
The Reality Of Yourself on Spotify
The Reality Of Yourself on ReverbNation
The Reality Of Yourself on Instagram
The Reality Of Yourself on Twitter
The Reality Of Yourself on CDBaby
Upcoming show dates for TROY:
Oct. 03 – Aftershock in Kansas City (Merriam), KS