Blind Melon frontman takes Apollo to the moon
by Stephen Stern, executive editor, Music Insider Magazine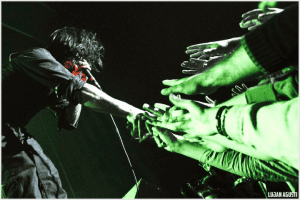 At 17, Travis T. Warren sold $250 of musical equipment to help pay for gas for a ride west in the Apollo. Compared to Amarillo, Los Angeles could have been the moon, which Warren has been shooting for musically ever since he arrived.
Rolling Stone listed Warren as one of the greatest replacement singers in the history of rock and roll, but to Blind Melon's front man, singing was an after-thought to the guitar. "Angus Young (AC/DC) inspired me to play guitar after I saw the video when I was 7," he recalled. "I got the school boy outfit and wanted a Gibson SG (guitar)."
The SG model would be a 25 percent improvement over the three-quarter-sized Fender Stratocaster his father, Terry, handed him at age 4. "My father taught me guitar, and I got my voice from my mother," said Warren, noting that while the family was musical, it wasn't necessarily harmonic.
"My childhood was not puppy dogs, ice cream and Leave It to Beaver, " he said. "My mom split early on, and my dad was always away on tour. Music is an escape for me — I don't think about daily issues when I play."
By age 9, Warren and his dad were more like band members than father and son, he said. "There were always a bunch of instruments lying around the house. He taught me guitar-playing styles like Leo Kottke, and John Fahey's finger picking. I played with my dad's band locally."
During these gigs, patrons told Warren that his mother, Tennessee, sounded nearly identical to Stevie Nicks. Blankly, he said, "I met my mom when I was 10 or 11 years old." And though Warren had no desire to sing, he acquired a record collection of Stevie Nicks and Fleetwood Mac to tether the relationship.
The same goes for his affinity for Lindsey Buckingham and interest in riffs versus lead guitar. But Warren's musical tastes are as widespread as the palette on which he paints musically — from the blues of Stevie Ray Vaughan to Alice In Chains and Blind Melon  to Pantera, Slayer and Tool, to name a few. However, it was numerous years later, while watching Tool front man Maynard James Keenan that Warren decided to move six feet to center.
Until then, Warren's intent was to merely keep the microphone warm until heavy metal 00-Metro found their front man. But Warren slowly grew into the part, with his piercing blue eyes, shoulder-length black hair and arms tatted in a colorful array of graphics and caricatures. Coupled with a Robert Plant-ish sound and his signature, epileptic-type intensity, Warren's stage presence is mesmerizing.
The transition wasn't easy. "Initially my voice was gone after an hour of rehearsal. I started to learn techniques to keep my voice alive for an entire gig." He adds, "I'm self-taught — no professional training."
Warren developed his vocal chops to a dedicated but limited heavy metal fan base. To supplement the financial void, he and long-time band member and friend Chad Land gigged around the central coast with a mellower set list. Other local artists sat in from time to time, and eventually it morphed into Rain Fur Rent.
"It was sort of a jam band with lead vocals," said Warren, who continued to infuse his preferred DADGAD sound — an alternative guitar tuning associated mostly with Celtic music and used extensively by Jimmy Page.
The band grew a rapid following on California's Central Coast, spreading in whichever direction they performed, said Warren. "We needed to move to L.A. as we reached our limits here (central coast). We got noticed everywhere we played, which led to showcases with (record) labels."
During this time, Warren was introduced to Blind Melon's Christopher Thorn (guitar) and Brad Smith (bass), at Wishbone Studios. They also attended a Rain Fur Rent performance and received an exemplification of his voice, which one Blind Melon member later defined as Warren's "Stradivarius" instrument.
This was a musical godsend to a dormant band that allegedly auditioned — to no avail  — 1,000 singers to replace the venerable front man Shannon Hoon, who died of an overdose in 1995.
Meanwhile, after six months of comments from label representatives and agents on how they needed to change to fit into the commercial box, including shortening lyrics and songs, coupled with overzealous partying, Rain Fur Rent imploded, Warren explained.
It was also manifest destiny for Blind Melon. After six years of disbandment, it seemed ironic that the band with its number one hit, No Rain, would find its voice again from Rain Fur Rent.
"Being a member of Blind Melon was a shock that didn't fully hit me until after my first tour ended," Warren explained. "I was a huge Shannon Hoon fan."
He added, "I'll never forget playing in front of 75,000 to 100,000 people in Spain. I was playing for an amazing audience and my idols: Jerry Cantrall (Alice in Chains), Steven Tyler (Aerosmith), Alice Cooper and Sex Pistols. The next day my girlfriend, Tara, and I drove to San Sebastian while listening to a radio show saying something in Spanish about Blind Melon's performance."
For Warren, the exhilaration was met with the sobering reality that he was not only a replacement singer, but also filling the shoes of a rock legend with a cult-like following.
"There were some diehard fans who didn't get it or want to get it," Warren said. "It's really hard not to be an original member, especially the lead singer. But I was not intimidated, even early on … I would get into a zone, get comfortable, and I made it my mission to change the naysayers and for everyone in the venue to leave saying, 'that was a great show.'"
Blind Melon found a modicum of success in their 2008 release, For My Friends, and members now perform infrequently, though the core fan base remains loyal. Each band member also focuses on new projects. This includes Warren, who has three projects running concurrently.  One is called The LookOut Kids, the other is a personal project with contributions from many talented friends, and the third is Warren as lead vocalist of an all-star rock band called Rockers Collective, featuring guitarists Vivian Campbell (Def Leppard) and Julian Coryell (Alanis Morissette); bassist Eva Gardner (P!NK); and drummer Mark Schulman (P!NK/Foreigner), among others.
The LookOut Kids features Warren on lead vocals and baritone guitar, and Sarah Scarlata from Rain Fur Rent on drums. "Sara and I were driving back from San Luis Obispo and talked about creating this band in March 2011. It was hard get others to commit, and I had already been experimenting on baritone, so we created a two-person band." He adds, "We called a promoter before reaching Santa Barbara, and we booked a gig three months out, without having written a song."
The LookOut Kids have performed several times to great reviews and will soon release Snitches Get Stitches.  "It's a heavier sound with lyrics about political issues Sarah and I feel strongly about. It all came about super easy — There were no expectations. After we moved to L.A. and got rejected, I started to forget why I was in music in the first place. We just wanted to have fun and feed the soul."
In the interim, Warren accepted an offer to create a record focusing on drug recovery. A poster boy for rehab and recovery (drug free for more than five years) Warren immediately connected with the project. "Initially, the focus was on struggles with addiction, but the label thought the scope was too limited." Warren said he was then given the green light to make the album he wanted.
"I had a catalogue of music I had written to pick from — plenty of material," said Warren. "But 75 percent of the record is new material. It was a spiritual process the way it came together so easy."
He added, "Beneath These Borrowed Skies is a tribute to a lot of music idols who are looking down on us. People tell me they hear a lot of my influences (idols) on the record, but it doesn't sound like any of them." The release date is scheduled for late August 2012. Contributing on the project are vocalists Aja Volman (vocals); Jena Kraus (vocals); Christopher Thorn and Chris Unck (guitars); Eli Wulfmeier (guitar and co-writer on four songs); Tony Beliveau (piano); Eva Gardner (bass); Jessy Greene (violin); Chris Columbus (drums); Femke Krone (percussion); Sara Scarlata (vibraphone); and Rob Schnapf (producer).
With Beneath These Borrowed Skies, Warren paints a highly melodic picture that is not only captivating, but also riveting in terms of lyrical content, instrumental fusion and varied tempos to compliment his Stradivarius voice.
As a songwriter and replacement singer, Warren takes particular pleasure and resolve to not sound or write songs like the idols or anyone else. Rather, he follows the wisdom of his favorite philosopher, Bill Hicks, whose sage advice for musicians is to "Play from your fucking heart."
Warren said, "Lots of bands get caught up in the moment and jump on the bandwagon, the way they sound or dress. They may get a hit or two, but they are parasite bands not genuine. Bands that make it through the test of time sing and play from the heart — that's what I try to do with my lyrics and singing; it has to come from a certain place."
For Warren, that place started in Amarillo, where it's said you can see the curvature of the earth through the Great Plains at sunrise and sundown. From L.A., it seems Warren has set his sights on the moon with Beneath These Borrowed Skies.