by Brian McKinny
Trapt is a post-grunge, nu-metal band from Los Gatos, California that caught my attention with their 2002 release of their self-titled album, 'Trapt'.  The first of three singles on the album was 'Headstrong', a raucous anthem that caught the attention of many angst-driven youth, as well as stadium PA announcers and major league players as their 'walk-in' music at sporting events everywhere.  Needless to say, their music is catchy.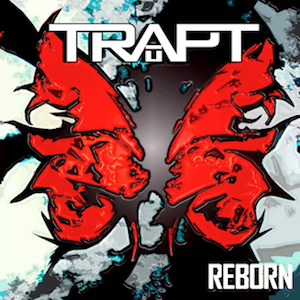 Personally, I have not been a big fan of this band, and the reasons are simple: their sound and their music has always had a very generic quality and style.  They have had no real distinctiveness to their music; there was no signature sound to define their music, or what they want to say with their lyrics.  That may be a harsh examination of their product, but sometimes the truth hurts.  That is why for me to write this review, it is a hard little pill to swallow.  Why, you may ask?  Well, because this time around, they have managed to come up with an album that I actually enjoy, and it shows that it is never too late for a leopard to change its spots.
This album is even better if you are already a fan of Trapt.  It delivers what you expect as a current fan and some new and interesting sounds for those of us who have never jumped onto the Trapt bandwagon.  'Reborn' is an apropos title for this album as it starts off with the solid, heavy-hitting song, 'Bring It'; which is sure to be showing up at your local sporting arena near you as the latest walk-up music for your favorite professional athlete.  That said, it is a good song that integrates many musical styles into a seamless, heavy brand of fighting music, that's "Gonna hit you, right where it hurts!"
'Love Hate Relationship' is kind of like what I have had with Trapt, but this second track is a heartfelt angst-ridden song. It is well written, and you can tell it is speaking from experience when you hear the lyrics and how Chris Taylor Brown sings them.  The powerfully played guitars drive the melody along with the vocals, and the drums and bass drive the bottom end like a machine gun.  Anyone who has ever been in a destructive relationship, this song puts those feelings into words and to good use.
'Experience' is about living life.  The message is about living a life worth living, and that is a great message for anyone who wants more than just to survive. It is a good inspirational ballad that makes you want to go out and do something good with your day, do something productive and worthwhile.  I like a good song that is not sappy, yet somehow it motivates you to get going.
This band is showing me that they have really grown from a musical, as well as a personal standpoint with this album.  'Living in the Eye of the Storm' is about reflecting on one's life, and taking chances to make it better.  It takes courage to keep moving forward when everything seems stacked against you, and this song is about being strong enough to take that next step forward.  The lyrics are deeper on this album than with any previous Trapt albums, and it is a great thing to see a band mature like this, and to incorporate their newfound maturity into their writing and performing.  The pace of the song is good, the dynamics are very strong and effective, and creates a somber mood that turns hopeful and moving.  We all have our battles to fight, and this song deals with one man's perspective on how to keep living through the storms.
I like the hard, thumping groove that starts 'Livewire (Light Me Up)', because it just punches you in the face and gets your attention right from the start.  It is a little reminiscent of Hoobastank in that the punch is followed by a soft, lilting verse that gets you off your guard before it sucker punches you with a forceful chorus.  The bridge is very cool because it introduces some interesting techno/industrial-inspired interludes before it goes back into the verses and a chorus that is abounding with overdriven guitars that just crunch!
'Strength in Numbers' is more of the same, with some really cool insertions of mandolin in the background, of all things!  Definitely not an instrument you would expect to hear on any Trapt song, but there it is, and it works for this song.  The backbeat is a bit plodding, but that is a result of calculation, not an accident.  It gives the song a sense of hesitation, while adding a feeling of urgency and intensity in the verses that leads up to a more dynamic chorus.
'Get Out of Your Own Way' is good advice for a lot of us, myself included.  Often in our lives we find that we are our own worst enemies, and this song puts that idea to music in a song that says so with no qualms.  As much as this album is about the band's newfound maturity, it also highlights some strong song writing.  It is a revelation for me, that this band has risen above the fray of what other bands of their genre are doing today, and they are making their own mark with this new album.
'Going Under' is the next track, and it is about bad love dragging you down to its level.  Been there, done that!  It is about being strong, staying above the depths, and pulling yourself ashore.  The song is simple, but it has a good pop-rock quality, and if my hunch is correct, it should get some airplay.
'Too Close' has a moody, sparse beginning, but the mood quickly builds to a more orchestral sound with some haunting strings in the background that help create a softer feel.  This song is much less intense, and a bit more introspective than most of the songs on this album.  That sets this song apart from the pack, and I see this song being a bit more of a pop-rock crossover winner.
'When it Rains' had a really nice, faster-paced frantic feeling about it that gets your head bobbing up and back with a fist in the air.  It has that sort of energy to it, and the vocals are a nice counter to that brashness with their more refined tones and earnestness in the singing.  The guitars are more subdued in this rocker, but they are skillfully executed, and are arranged with great effect, in the sense that they push the song forward without being obtrusive concerning the vocal melody.  This is a really well written and arranged song.  It is one of my favorites on this album.
Trapt concludes this effort with the track, 'You're No Angel'.  The bass holds the melody line really strongly in the verses, and they bring the melody to the surface in every verse.  The guitars and vocals do all the talking in the pre-choruses and the bridge, but it is really the drums and bass that are the stars of this song, and that is a refreshing idea in today's music.  Usually, that sort of thing is left to the guitars, vocals, while the drums, bass, and occasional keyboards are left to the background to be the glue that keeps it all together.  Well, that's not the case with this song, and the drums and bass are what will catch your ear with this one, and I like it a lot.  Okay, I may be a bit biased, admittedly, being a drummer myself.  However, it really is nice to see a rhythm section be put out in the forefront of a song like this, and they take full advantage of the opportunity.
If they keep on this new course, I will be more inclined to like what they have come up with, and hope that their journey does not end until they want it to.
You can find out more about Trapt online at www.trapt.com
You can find them on Facebook at www.facebook.com/trapt