Following the rules of the road
by Rich Redmond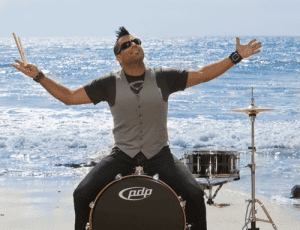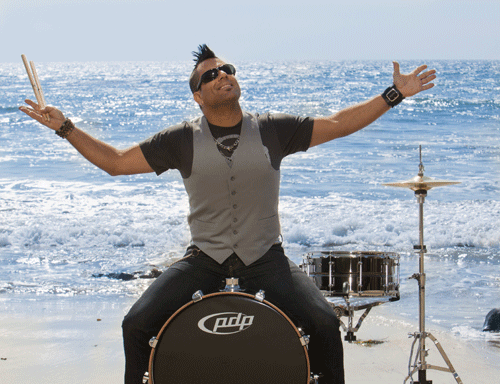 Since 1997, I have split my time as a musician between touring and recording. I find that both of these activities "feed" and support each other. Playing in the studio usually leads to cool, live playing situations, and playing with quality live musicians seems to open doors to recording projects. Many musicians draw a line in the sand and choose one or the other. I like doing both.
In my experience traveling on planes, buses, trains and automobiles, I have acquired some bits of wisdom that I am happy to share with you. Here we go!
Know the parts: Most touring musicians are hired to recreate parts recorded by studio musicians. Your job is to know those parts inside and out. My advice is to play those parts every night, note for note — with purpose, perfection and passion.
This is THE most important part of being a road musician. You have to play your parts and the show perfectly every night. Your lead singer and bandmates will appreciate the consistency. The management team and the fans will notice this as well. Secure your spot in the overcrowded and competitive music world by playing flawlessly night after night.
Be consistent: Be reliable. Show up on time or be early. Show up sober. Show up happy. Show up ready to work.
Ask yourself these questions: Can people rely on you? Do you have a great attitude and demeanor?
The people who can answer yes to these questions hold on to gigs and keep getting recommended for other great gigs. Please don't forget to be open, giving and flexible. Take direction well, and have a great attitude. People will notice that you exhibit these fantastic qualities and will spread the word. You will have the world as your no-cost marketing team.
Be kind: Kindness goes a long way in any field and in any business. I am always kind to baggage handlers, hotel personnel, bus drivers, flight attendants, road crew members, techs, stage hands, caterers … everyone. All of these people's efforts factors into the overall success of your organization.
Everyone has individual skill sets and life paths. Who's to say that your job is more important than theirs? Don't be arrogant. Be kind, helpful, approachable and friendly. Spread joy and love. People will always remember this about you over any kind of musical talent. It's a fact.
Dress the part: Every band and every style of music seems to have a corresponding fashion style. A big-band jazz group usually requires a tuxedo or tucked in shirt, tie and jacket combo. Hard rock may call for a dash of leather, studded belts and jean vests. Dress appropriately for your musical genre.
I like to mix and match stuff. I've gone through many phases over the years. Lately, I gravitate towards slim jeans, Converse low-top shoes, a funky tee, a vest and a wallet chain. I mix and match brands and colors, but that's my overall vibe. I own it, and it works for me and the group I play in. Don't be afraid to coordinate with your band.
In our group, one guy may do the leather jacket, one guy does the vest open, one closed, one cat does the long sleeves, while another does short sleeves … mix it up to create that look for your band. It's important, and you are kidding yourself if you think it's not.
Prepare for problems: Have at least two of everything. Have backups of backups (especially anything electronic like drum machines, samplers, trigger pads or computers). Have a great relationship with all of your endorsing companies. You (or your tech) need to be able to pick up the phone and have a spare or replacement part shipped out to you immediately.
For drummers, try having backups of these items:
Cymbals.
Snare drums.
Sticks.
Heads.
Hardware.
Cymbal felts.
Duct tape.
Lug locks.
Tools.
Try to get along with everyone: Be a team player. There is no "I" in team. The band behind Jason Aldean knows each other inside and out. We are aware of what makes each of us "tick" musically and personally. We get along.
Sure, we may fight like brothers sometimes, but we are committed to one thing: making the show kick ass night after night! Get along with your bandmates and everyone on your tour, from the road manager to the stage manager to the head chef. GO TEAM!
Get off the bus: The road can make you pretty weary. They don't call it "road worn" for nothing. Get off the bus, take a walk, and see the local surroundings (museums, art galleries, record shops, clothing stores, gyms). I like to go for runs and stop at the local coffee shop to make phone calls. I take pictures of my surroundings and send them to my wife. This is a fun hobby we have that helps keep us "together" while we are constantly separated. Get some fresh air! Smell the roses.
Find a hobby: I don't have any time or interest in building ships in a bottle, but I do like to decompress a bit from the stresses of touring with an awesome koumbucha tea and a movie with my bandmates. I like to read books on spirituality, music, motivation, business, as well as biographies and the occasional thriller. I also do lots of writing for magazines (like this one you are reading). These things are great distractions and are healthy.
Make friends: The most appealing part of travel is making friends all over the world. I have friends in almost every major city. We catch up, have coffee or do lunch. Sometimes friends will stop by a sound check or one of my events. It's a blast!
I like to teach drum lessons and hold my motivational drum events at colleges, high schools, music stores, drum shops and corporate events everywhere. (Check out www.crashcourseforsuccess.com). I meet lots of people and make many new friends. It's an honor and a privilege to have this opportunity, and I don't take it for granted. Do yourself a favor and make some friends in your travels. Your life will be richer.
Eat right: You truly are what you eat. This subject could warrant an entire article. A good rule of thumb here is "everything in moderation." Limit sugars and refined carbohydrates (bread, pastas, tortillas), avoid heavy sauces and cream toppings and avoid fatty meats high in saturated fats. I say no to soda and yes to water. I love coffee and tea. I always try to eat balanced and clean. Think tuna on whole wheat, salad with a chicken breast and a light vinaigrette, sushi with brown rice, lean beef with spinach or broccoli, an egg white omelet, greek yogurt with local honey and blueberries or grilled salmon with sweet potato and veggies. Always choose grilled over fried. Eat smaller meals every three to four hours.
Eating heavy bogs me down. I pull long hours, and I have to have energy to play drums in a very physical style. Don't be afraid to experiment with your diet and tweak things until you find your perfect eating philosophy. Focus on how the food and combination of foods makes you feel. Remember: Eat light, eat often!
Get some exercise: Get out there and move! Exercise burns calories, keeps your muscles toned, helps with endurance and helps rid your body of toxins. Exercise reduces your chances of acquiring a disease and extends your life span. I have found that when I exercise, it's best to regularly mimic the amount of energy that I expend while playing the drums and the cardiovascular intensity I exert when I play a live show. This is essentially a "chop" that goes away very quickly.
If I don't play a show for 30 days, and I don't exercise regularly, I will immediately notice a difference when I come back to playing live shows. You have to exercise! I prefer a mixture weight training, cardio (street runs, treadmill, stair climber, elliptical trainer) and fitness boot camps. Keep experimenting, find something you like, and stick with it. Your body will thank you.
Don't over do it: Musicians are always surrounded by a limitless supply of booze and drugs. If you want them, they're easy to find and usually free of charge. I don't use drugs. I never have. DON'T DO DRUGS! Opening that box can take you down a dark path that you may never find your way out of. I do like to relax and drink socially. Please realize that it can quickly get out of hand. Know when to say when. Alcohol is something that can very easily keep you from reaching your maximum potential in the music business. Enjoy it responsibly and make sure it never interferes with your gig, your relationships and your quality of life.
Save some money: The music business is like a roller coaster — lots of ups and downs — and very unpredictable. Tours come and go. Artists like to take time off or even cancel tours. Make sure you set aside some money to get you through these unavoidable moments. You just need a bit to get you through to the next tour or project. Save some cash.
Redmond's rules of the road
Always warm up and stretch before a show.
Always take bottled water from the back stage area for your hotel and bunk.
Bring along protein bars, nuts and any healthy snacks for future use. Dump them in your backpack and go!
Know where your luggage is and always have it with you.
Put tags and your contact information on every piece of your luggage. I use plastic tags, strips of bright-colored tape (neon pink or green) and the airline tag.
Never pass up a hot shower. Who knows when your next one will be.
Always be kind to everyone, especially the runner. The "runner" is the person the venue hires to drive people back and forth from airports and hotels, pick up food, make gym runs and take band members on personal errands (to the post office, anniversary present shopping and, of course, this one, "Can you take me to buy a couple of pairs of underwear? All of mine are dirty and we have another week on this tour!")
Don't eat too heavy before a gig. Save it for after. You don't want to look or feel bloated when you are trying to put on a sexy performance. Ha!
Use text messages, email, Skype and Apple's FaceTime app to keep in touch with loved ones, family, friends and other musical colleagues. These are indispensable and mostly free ways of keeping in touch and nurturing precious relationships.
Have a system for storing your most important items in your backpack. I have everything compartmentalized, so when I go through airport security, I know where everything has to end up after I take it all out and put it in those annoying plastic bins. Constantly perform an inventory: keys, driver's license, passport, phone, wallet, watch, computer, iPad, passport, flight itinerary, house keys, iLok for ProTools, chargers, etc. Know where all of it is at all times. It's very easy to misplace things and leave them behind fast. Have a system.
Always write down the name of your hotel or take a hotel business card from the front desk. If you are jetlagged or get turned around in a foreign city, at least you will have the name and address of the hotel.
Always have a little cash on you. It's such a cashless society now. I find myself without cash most of the time. When you want to tip that baggage handler or cabbie, it's easier to have cash.
Take pictures. Life is short! I have snapped pictures every step of the way with my journey in the Jason Aldean band. We all look back at these experiential snapshots and laugh. We've had such a great time. Pictures are the proof that it happened. Don't miss your opportunity to archive the times of your life. It's even better when you share it with the world.
Shoot videos. You will look back and smile as you remember all of it.
Share your journey with your fans via social media or website. Facebook and Twitter are very effective, free ways to promote your band or you as a creative brand. Coca Cola and Pepsi are brands. YOU are a brand. Don't be afraid to let people know you exist. There is only one you! Share your experiences. Be transparent. Be friendly. Be YOU. Build your brand. Post photos, videos and insights into your life. It's powerful! As Oscar Wilde once said, "Be yourself. Everyone else is already taken."
Need more touring tips? I'm always happy to answer questions via email (booking@richredmond.com). In addition to session drumming, you can contact me about production work, songwriting, drum lessons (via Skype or in person), drum clinics, motivational speaking engagements, guest-artist appearances with high school/collegiate ensembles or to play drums on your next recording via the Internet.
Remember: Play from the heart, it will set you apart!
Rich Redmondis an influential touring and recording drummer/percussionist whose versatile, rock-solid drumming is the sound behind many of today's top talents. Based in Nashville and Los Angeles, he has performed with Jason Aldean, Thompson Square, Lit, Ludacris, Kelly Clarkson, Bryan Adams, Joe Perry, Jewel, Miranda Lambert, John Eddie, Pam Tillis, Susan Ashton, Deana Carter, Kid Rock, Lauren Alaina, Luke Bryan, Marty Stuart, Vince Gill and many others. Redmond has recorded 11 No. 1 singles with the Grammy-nominated country rocker Jason Aldean who has sold over seven million albums and 13 million single downloads. Redmond has also played numerous TV shows, from Leno to Letterman to The Grammys. He leads a production team known as "NV" that is constantly developing new talent such as Thompson Square, whose first single "Are you Gonna Kiss Me Or Not?" was a No. 1 single and the most played song on the radio in 2011. Redmond brings his "CRASH Course For Success" motivational event to drum shops, music stores, high schools, colleges and corporate events across the country.
Twitter: @richredmond
Facebook: http://www.facebook.com/pages/Rich-Redmond/55510102555?ref=ts