Through Fire has announced the joining of the 'Generation Doom' Tour that begins on April 8th in Las Vegas, NV and ends in Los Angeles, CA on May 28, 2016. The tour will be in support of their new single "Stronger" which is making a big impact at radio. The band will be releasing their debut album later this year via Sumerian Records.
Last month Through Fire released the official music video for "Stronger" which can be seen here:
The song is available on iTunes here: https://itunes.apple.com/us/album/stronger-single/id1078897012?app=music&ign-mpt=uo%3D4
With anthems such as "Stronger" and "Breathe", Through Fire is here to make their mark in the rock world!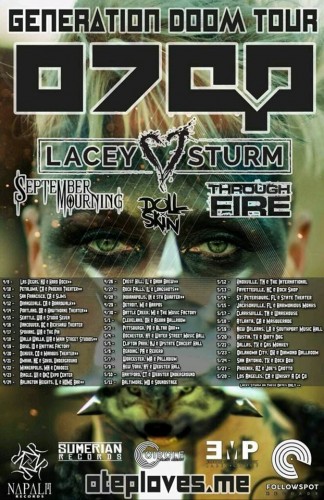 Tour Dates:
4/8 – Las Vegas, NV @ Hard Rock
4/10 – Petaluma, CA @ Phoenix Theater
4/11 – San Francisco, CA @ Slim's
4/12 – Orangevale, CA @ Boardwalk
4/14 – Portland, OR @ Hawthorne Theater
4/15 – Seattle, WA @ Studio Seven
4/16 – Vancouver, BC @ Rickshaw Theater
4/17- Spokane, WA @ The Pin
4/18 – Walla Walla, WA @ Main Street Studios
4/19 – Boise, ID @ Knitting Factory
4/20 – Denver, CO @ Marquis Theater
4/21 – Omaha, NE @ Sokol Underground
4/22 – Minneapolis, MN @ Cabooze
4/23 – Ringle, WI @ Q&Z Expo Center
4/24 – Arlington Heights, IL @ HOME Bar
4/26 – Crest Hill, IL @ Bada Brew
4/27 – Rock Falls, IL @ Longshots
4/28 – Indianapolis, IN @ 5th Quarter
4/29 – Detroit, MI @ Harpos
4/30 – Battle Creek, MI @ The Music Factory
5/1 – Cleveland, OH @ Agora Ballroom
5/3 – Pittsburgh, PA @ Altar Bar
5/4 – Rochester, NY @ Water Street Music Hall
5/5 – Clifton Park, NJ @ Upstate Concert Hall
5/6 – Reading, PA @ Reverb
5/7 – Worcester, MA @ Palladium
5/9 – New York, NY @ Webster Hall
5/10 – Hartford, CT @ Webster Underground
5/11 – Baltimore, MD @ Soundstage
5/12 – Knoxville, TN @ The International
5/13 – Fayetteville, NC @ Rock Shop
5/14 – St. Petersburg, FL @ State Theater
5/15 – Jacksonville, FL @ Harmonious Monks
5/17 – Clarksville, TN @ Warehouse
5/18 – Atlanta, GA @ Masquerade
5/19 – New Orleans, LA @ Southport Music Hall
5/20 – Austin, TX @ Dirty Dog
5/21 – Dallas, TX @ Gas Monkey
5/23 – Oklahoma City, OK @ Diamond Ballroom
5/24 – San Antonio, TX @ Rock Box
5/27 – Phoenix, AZ @ Joe's Grotto
5/28 – Los Angeles, CA @ Whisky A Go Go
Lacey Sturm on select dates only
For More Information on Through Fire please visit:
WebSite: http://throughfiremusic.com
Twitter: https://twitter.com/TFIREMUSIC
YouTube: https://www.youtube.com/channel/UCGSn6hJZ5LSmDQrwX2ejLSg
Facebook: https://www.facebook.com/throughthefiremusic
Instagram: https://www.instagram.com/TFIREMUSIC/
http://www.sumerianrecords.com/
Through Fire is:
Justin McCain (Guitars)
Grant Kendrick (Vocals)
Patrick Mussack (Drums)
Jesse Saint (Bass)