Pop-punk's traveling rock-n-roll circus brings organized chaos to the masses
Kevin Lyman, of the event production company 4Fini Inc., created the Warped Tour in 1995 as a skate punk and third-wave ska tour. It has evolved to feature pop punk, metalcore, hardcore, street punk and many other diverse genres and is known to have been a career launching pad for artists such as Blink-182, My Chemical Romance, Fall Out Boy, Green Day, New Found Glory, Katy Perry and Good Charlotte, to name a few.
The largest traveling music festival in the United States, the Warped Tour invades large outdoor venues across the country. In the case of the Shoreline Amphitheater in Mountain View, Calif., the tour even spreads into the parking lot, erecting multiple stages and other structures. Miles upon miles of pop-up tents house various vendors presenting their merchandise as well as organizations raising awareness for various causes like breast cancer, drug and alcohol addiction and overall social responsibility. Hundreds of bands are involved each year; although, not all perform at each location or venue. You must check each specific city, to see if your band(s) of choice are playing at your local venue.
In Mountain View, with the doors opening at 11 a.m., my photographer and I decide to arrive at 9 a.m., in hopes that we might avoid at least some of the crowds. However, we are not surprised to find thousands of dedicated fans, in a line like no other, stretching from the front entrance of the venue and wrapping all the way around the venue and parking lot.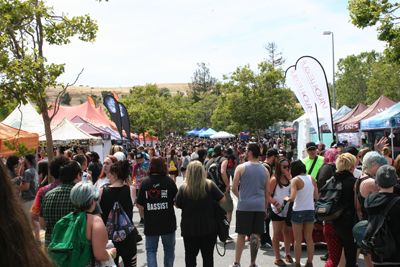 The Warped Tour has one of the most diverse crowds you will ever come across at a concert. You see parents accompanying their teenage kids, young adults meeting up with groups of friends, even young parents with strollers in tow and their newborns sporting various forms of ear protection. Once inside the venue, to realistically navigate the Warped Tour and catch your favorite band, it is a necessity to pick up a copy of that venue's "Map and Band Schedule." This handy guide gives you a layout of the grounds and the location of each of the various stages as well as a detailed scheduled to help you locate when your favorite act will play and the stage on which it will perform.
At a Warped Tour, with so many great bands, we decided to focus on two: Metro Station and Emarosa. On arriving at the press area, we were directed to a massive band schedule, taking up the entire top of a folding table.
METRO STATION
Metro Station was formed in Los Angeles by Trace Cyrus (brother of Miley Cyrus) and Mason Musso (brother of Mitchell Musso, cast member of the TV show "Hannah Montana"). After signing a recording contract in 2006, they had some immediate success with the release of their self-titled debut album and a Billboard no. 1 single with "Shake It." After some line-up changes and a brief hiatus, Cyrus and Musso have reunited with a new album "Savior" that hit the shelves on June 30, 2015.
Within the backstage chaos of the Warped Tour, I was given my five minutes to ask a few questions of Cyrus and Musso from Metro Station.

Dennis Gast: Obviously there is a connection with your sister (Miley Cyrus) and the TV show ("Hannah Montana"), but can you tell me how you two began to work together and formed Metro Station?
Trace Cyrus: Well, his brother (Mitchell Musso) was on the show ("Hannah Montana") with my sister ,and he passed a CD of his onto my dad and family, and they passed it on to me. Mason and I were doing the same thing. I was making my own solo music at the time, and he was making his. We started collaborating, and it just really took off from there. Two heads are better than one, I guess.
Gast: Tell me a bit about your musical influences.
Cyrus: My dad was a big one for me, because I grew up and toured with him and just was around him while he was doing his music. I listened to a lot of pop-punk, Blink182 and all that. There were also a lot of 80s hair bands I liked growing up as well.
Mason Musso: I grew up on and was definitely into Blink182 and all that stuff. Then I kind of got into more electronic music like The Cure, Depeche Mode and OMD. We were both big into The Postal Service when we started our band.
Gast: So how many shows are you doing with the Vans Warped Tour?
Cyrus: We are on the entire Warped Tour. It's our first time on the tour, and we are doing the whole damn thing.
Gast: How did you become associated with the Vans Warped Tour?
Cyrus: I guess Kevin's (Lyman) daughter has been a fan of Metro Station for years, and he came out to our show in Anaheim, California a few months back, after we got back together. He drove out with his daughter, and he just seemed to be a fan, and everything fell into place from there. We are doing the Warped Tour here, and then we go to London to do the Warped Tour U.K. Kevin has really involved us with everything he has going on, and it really means a lot to us.
Gast: If you could each pick one artist, living or deceased, to be able to jam with, who would it be?
Cyrus: Jim Morrison.
Musso: I would really like to play with Paul McCartney.
Gast: So what's up next for Metro Station?
Cyrus: After the Warped Tour, we take about two to three weeks off, and then we have a U.K. tour, so we're going over there for a couple of weeks. We are going all over the U.K. and Switzerland, and we are trying to book a Germany tour. That's about it through the end of the year, so we are trying to stay busy.
EMAROSA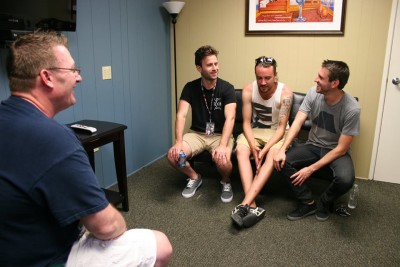 After we spent an hour or so watching a couple of the bands on the main amphitheater stage, we returned to the backstage press area in hopes our "unscheduled " interview request with post-hardcore rockers Emarosa would be granted.
Formed in 2006 in Lexington, Ky. by childhood friends Jordan Stewart and E.R. White, Emarosa have gone through multiple line-up and sound changes over the years, but now on their second "tour of duty" with the Vans Warped Tour, a new line-up and new music, the boys are feeling confident about their future direction. Thankfully, our request was granted, and we sat down and chatted with Stewart, White, and bassist Will Sowers of Emarosa.
Gast: How did you came together and form Emarosa.
E.R. White: I've known him (Jordan Stewart) since the second grade.
Jordan Stewart: We've been playing music together since the ninth grade really, through various bands. Right after our senior year in high school, we found Will and brought him into what we were doing, found a couple of other guys and got out of the basement. We started playing regionally, went through a few singers and then started to play nationally.
We just kept growing the band organically. We took a few years off, we had a line-up change, but we got through that, and we are happy with the way things are now. There is a long back story to forming this band, but the core of it is still here and still playing with the same intention and goals.
Gast: Tell me about your musical influences.
White: We're all over the board.
Stewart: And it is always changing, too. Guys are always dipping into different kinds of music and learning different things.
Will Sowers: All sorts of rock 'n' roll, hip-hop, rhythm and blues, soul and gospel. We touch on it all.
Gast: Is this your first time on the Vans Warped Tour?
White: This is our second time; last time was in 2010.

Gast: How did you connect with the folks from the Warped Tour?
White: Our agent and management just started talking.
Stewart: We did the album around the same time, and we had a bunch of friends reach out to Kevin and let him know we were interested in being on the Warped Tour, and it just worked out.
Gast: I have been asking everyone I interview this question: if you could pick one artist, living or deceased, to jam with, who would it be?
Sowers: Ian Curtis of Joy Division.
White: Maybe like B.B. King.
Stewart: Probably Freddie Mercury.
Gast: So what's up next for you guys after the Warped Tour?
Stewart: Can't talk about much yet.
White: Secret stuff.
Stewart: We are not slowing down.
Sowers: We have some shows out in Los Angeles at the end of July, we're doing some shows on the way out there and back, and then we are doing a tour in the fall.
It takes some great patience and organizational skills to do what she does, so I took the opportunity to sit down with Danielle Mardahl, press manager with 4Fini Inc.
Gast: So I am curious. How did you got started with all of this insanity?
Danielle Mardahl: I started as an intern for 4Fini, which is the production company that puts together the Warped Tour. I interned for them last spring, and I went on the tour last summer. I got hired as a press/guest list assistant, and I moved up.
Gast: Where are you from originally?
Mardahl: I'm from Orange County, Southern California. Born and raised right in the heart of the music.
Gast: Describe for our readers, a typical day on the tour for you.
Mardahl: Wake up at 7 a.m. and be out of the bus by 7:30 a.m. If I am indoors, I will set up my room. Usually, I go through my emails first thing in the morning, which takes about an hour to do, before I prepare the interview schedule. I do a lot of computer and paper work, and then I just organize the bands and their interviews throughout the day. So it's a lot of face time with bands and tour managers.
Gast: Are you a fan of any particular band?
Mardahl: I am. Last summer was my first summer, and I was a huge fan of a bunch of bands that year. It's really cool, because I have been going to Warped Tours, since I was 13 years old. Now, I am all grown up, and I am working the Warped Tour.
It's so insane that I have gotten this lucky. I am still so grateful to have this opportunity. Everyone in production, everyone on the tour is just so great. That's one thing about this music scene, everyone has each other's back, and it's so comforting to know that.
Gast: Are you riding the tour bus just like everyone else?
Mardahl: Just like everybody else. People are always like, how do you do that? Like I have a bunk, and I sleep on a bus with 11 other people. I shower in random venues. I see the best parking lots of America.
Gast: Do you have aspirations of doing more in the music business?
Mardahl: I think so. I am still in my third year of college as a communications and public relations major at Cal State Fullerton, so this is a great opportunity right now, but I eventually want to just keep building experience. I love working for the Warped Tour, and I hope to keep doing this for a while. I will just kind of see where it takes me.
Mardahl: I love the behind the scenes things. You know, it's not just the artists. It's a whole team putting every little piece of this together and working every little angle.
Author's note: The Vans Warped Tour will continue through August with U.S. dates, before heading to London for a U.K leg of the tour. You can learn more about the following at: