Welcome to the Freakshow
by Ray Rocha, editor, Music Insider Magazine
Hailing from Sydney, Australia, The Lockhearts are currently knocking 'em dead at Ziggy Pop on Oxford Street, in Sydney every Tuesday Night. Their debut video "Welcome to our Freakshow," is in heavy MTV rotation and is a free download on The Lockhearts website.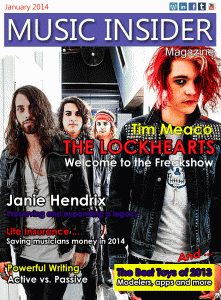 The band is on the Sunday Morning Records label and has some big plans ahead. Recently, I spoke with Tim Meaco, founder, lead vocalist and guitarist, about The Lockhearts and what the future holds for the band.
Music Insider Magazine: I lived in Hollywood during the 80s, and I saw and heard many bands. When I first heard The Lockhearts, your sound reminded of those awesome times. Was this a sound you were striving for?
Tim Meaco: Not really, but a lot of people say it reminds them of that. We are not aiming for it, but we like a lot of bands from that era. My biggest influence is Queen. We take influence from a lot of different places and genres.
MIM: I think your voice is similar to Freddie Mercury's in that you have a huge range, and your voice is very unique. When did you become aware that you had that talent, and wanted to do music and rock and roll?
TM: Thank you. One of the first things I remember is listening to Fat Bottom Girls when I was about five years old. My mom would play all these old rock records, and my favorite was always Queen. I loved music from an early age but didn't pick up a guitar until I was about 12. But as soon as I did, I wanted to play rock music. I started singing shortly thereafter. I have been playing in bands since I was about 16 years old, and I just never looked back.
MIM: Tell us about your bandmates.
TM: They are the best guys, man. I gotta tell ya. We are all Sydney Boys. Age (Age Vella, lead guitar) and I took a music course together. I was in a rehearsal room playing a Joe Perry signature guitar. He came in said, "Hey, man, cool guitar. What kind of music do you like?"
I said "I like Zeppelin, Queen, Foo Fighters and stuff like that." Age said, "That's awesome man; we are gonna be best friends." Then he walked out. He didn't even tell me his name. I didn't see him for a week. That's how I met Age.
Jimmy (Jameel Majam, bass) came on board when we needed a bassist for a show. He did the show and just kept coming to rehearsals. Then, we had to audition for drummers. We knew what we wanted but just couldn't find the right fit. We auditioned a lot of guys. Brenton (Brenton James, drums) came in, and he had the right feel and groove. We had great chemistry, and he was a bro as well. We were bros right away. He was one of us, ya know?
MIM: It seems like you guys are having fun.
TM: We are having a great time. It's what rock and roll is all about. If you are not having fun, and your heart is not in it, I don't understand why people would even do it.
MIM: What about your song development? How you write and compose?
TM: Songwriting usually starts as a skeleton idea, and then we bring it into the fold. We all work together on songs — I or someone in the band will bring in an idea. We all work together musically, and then I sometimes work on the melody and lyrics. We put it all together, and we end up with a song.
MIM: I really like the songs. They are well-thought out, and they feel good.
TM: Thanks. You can't over think 'em. When they feel good, you just know it.
MIM: I agree. "Freakshow" is a great example. How did the video evolve, and how was it to work with director Tanzeal Rahim?
TM: It was interesting. We talked about the song and what it was about. We had a few different ideas. We decided we wanted a real visual statement that played up on the whole freakshow thing. The song is about the music industry being kind of a freakshow, with everyone racing to be the next bigger and better thing. We loved working with Tan, he's a great guy, he loved the band, and we were all on the same wavelength.
MIM: The video is stunning. I love it. What did you think when you found out it was number two on the MTV rotation?
TM: We thought they were making it up. You know, tell us another one! When we first saw it, we were like, that is pretty cool. Before that, we thought we were nobody. The first time it came on, they told us when, and we were sandwiched between Beyonce and Katy Perry. Not a bad place to be stuck, ya know? We were over the moon, man. It was really cool.
MIM: What are your plans for 2014?
TM: Dude, I would love to get to the U.K. or America right now. We are focusing on these residencies here in Sydney. Currently, we are building up a crowd during our regular show at Ziggy Pop in Sydney. At the same time, we will be releasing more songs with more music videos — that's a main focus.
MIM: Anything else you'd like us to know about the band?
TM: The next song and video is called "Hush." We are really excited about it and want everyone to look for it.  We have all these songs we recorded, and we are excited about getting them out. The video for "Hush" will be great. It's like a love song set at the end of the world. It has an apocalyptic vibe to it. It will really show the face of the band more, and you will get a sense of who we are. You can also check us out on Facebook.
MIM: It has been great talking to you, and wish you continued success in 2014.