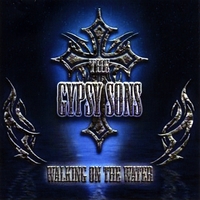 by Brian McKinny
'The Gypsy Sons' are a soulful, bluesy, country rock quartet from Northern Virginia. "Walking on the Water" is their sixth album, and they already have two hits with 'Sweet Soul Sunshine" and "Right Kind Of Lovin'", both songs are being featured on the soundtrack to the upcoming blockbuster thriller, "Deadfall", with Eric Bana, Olivia Wilde and Kate Mara due out December 2012.
The title track to their latest outing, "Walking on the Water", is a punch in the face right out of the starting gate – it showcases the power this band can bring, with the undulating bass line and the in-your-face vocal style of Johnny "The Hammer" Aguon. The guitars of Johnny "The Hammer", and Eric King, with their combined force and overall groove and feel, brings to mind shades of Robin Trower in the heyday of 'Bridge of Sighs'.  Off to a good start!
"'Til I Found You" is a well written ballad that has a simple, but thoughtful melody throughout… A nice, bluesy ballad that is easy on the ears, with good, heartfelt lyrics.
"Sweet Soul Sunshine" immediately reminds me of 'Hootie and the Blowfish', an upbeat song that makes you want to get up and dance. The melodic bass lines of John "Goose" Gies really stand out well on this track, and the guitar hook is infectious. You'll find yourself humming along to it unconsciously throughout your day…
The soulful strains of The Hammer's voice on "Rescue Me" are a good example of his ability to bring the soul into his singing. Eric King's wailing guitar leads on this track are pure rock, played for the song but still over the top enough to stand out in the crowd. Bass and drums on this track are the driving force behind the soul of the vocals, and the plaintive wail of King's guitar.
John "Goose" Gies sings on "Cigarette", and his vocal style is a nice complement to the styles of Johnny Aguon and Eric King. His voice has a smooth quality to it that is an interesting contrast to the raw power and energy of The Hammer. Goose's voice reminds me of Glen Philips from Toad, the Wet Sprocket, which is a definite compliment since Toad is one of my favorite 90's bands. 'Cigarette' is a good, straight-forward rock song with a good hook, nice vocals, and some soulful guitar licks.
Eric King sings lead vocals on "Shell of a Man". Another song that shows an obvious influence of Robin Trower, Eric Clapton, and a little bit of The Fabulous Thunderbirds thrown in for good measure. Good bluesy rock, with powerful guitar, solid rhythm section, and satisfying blues vocals. It has the taste of Texas blues rock, something that Jimmy Vaughn and Billy Gibbons would instantly recognize and be proud of. King and Aguon trade guitar licks like a couple of seasoned veterans, one-upping each other with every turn. I like this song, it makes you want to get up and dance.
If there is a weak track on this effort, the one I would have to say fits that description is "Freedom Is the Way". It's not a bad song, per se. It starts out slow, and just doesn't seem to go anywhere new. It stays where it is, and doesn't really compel the listener to keep listening. And being the longest track on the album, I would have hoped it had fit the album more as a whole. I'm sure there are those who will disagree with my evaluation of this particular song, but I think it would have been better left off this album, or re-arranged and re-recorded for another release in the future. As it is, it just doesn't work for me.
"Cutthroat" starts off with a slow rumble that slowly builds up tension, telling a story that we all have heard before. A cautionary tale of someone biting off more than they can chew, and barely surviving to tell it. Hustling in a redneck pool hall is not a smart thing for a city boy to make a living at. As Clint Eastwood once said, "Dyin' ain't much of a living, boy." This song is down and dirty, the guitars necessarily overdriven, with thumping bass lines and pummeling drums. Cutthroat paints a picture, tells a story, and leaves town as quickly as it came. Good show, guys. Clint would be proud.
Eric King's vocals stand out on "What Would You Do". His is a strong, polished voice that reminds of Doyle Bramhall II, of the band, Arc Angels. This is another strong, hard blues tune that focuses on the vocals.
"All Time Low" has some killer Wa-wa guitar parts that I love, right from the beginning. The guitar lead complements the song, and isn't overplayed. Hammer's voice fits this one well, and the band keeps pace with solid performances all around. Drummer "Cactus" Jack Bryant is in good form on this, with nice flourishes, and a heavy bottom beat. Gies' bass licks are almost menacing, they are so heavy and frantic. This song is another that gets you up and dancing.
The last track, "Hail and Farewell" is a straight-up rock and roll song, with a good mid-tempo that also is a foot-tapper. It's a nice, upbeat song to end this latest effort by The Gypsy Sons. It is an affirmation of sorts, a positive message that reminds us that there's always something better around the corner.
The Gypsy Sons are on their way to bigger and better things with this release. They have proven that they have what it takes to write solid songs, and can translate that into good music that has a sound and energy all its own. One band will always remind us of another, similar band or sound. It is inevitable, as there is almost nothing new under the Sun anymore. But a good band is one that takes what influences them, and makes into something that is wholly theirs. The Gypsy Sons have succeeded in doing just that with "Walking on the Water".