Rising pop divas
by Nicole Flores
Saying goodbye to the past with a hair-flipping brand new attitude, The Glamz are setting their sights on reaching every high note attainable within the music industry. After working together for over two years in a previous group, their love of music — empowering each other and their audience — has solidified their bond like no other.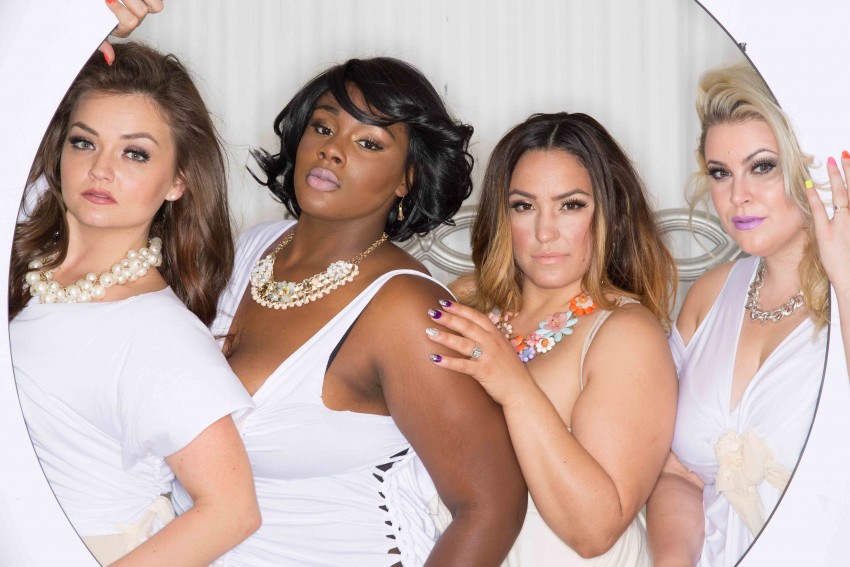 The confident, sassy and sexy ladies of The Glamz are focused on pop group stardom with their new single, "Movie Star," which recently hit the social sphere. The fab four Tina Jensen, Kenya Morris, Emma Craig and Megan Allen are moving forward from being a cover group, to opening for En Vogue at Milwaukee's PrideFest, and they "werked" the runway during Full Figured Fashion Week in New York City.
Behind the scenes on set with The Glamz during their Music Insider Magazine photo shoot with photographer Jose Pagan, music poured out of every room. From Allen and Craig in the lounge area harmonizing "Sweet Dreams" to sounds of Morris and Jensen humming as they were styled by legendary plus stylist Catherine Schuller, it is clear to see these four soul sisters are bound by the same musical thread, with each Glam serving her own side of panache.
Jensen, their fearless leader who LOVES her some Bette Midler, is a fierce LGBT advocate and arranges all the songs for The Glamz alongside industry producers who work with all four girls to compose music reflecting their individual styles. In addition to being the blonde bombshell of the group, the Minnesota native is a plus-size model managed by True Model Management in New York City and an Off- Broadway performer who collaborated with her writing partner Alex Gonzalez to produce their first screenplay together.
Hailing from Atlantic City, Morris is another glam beauty taking the plus modeling world by storm; she is also signed with True Model Management. With both parents hailing from Jamaica, the "Caribbean Queen" has been featured in editorials for various publications. Morris has been touring and performing with The Glamz since hitting the stage in front of the most elite plus fashion industry leaders in 2013 during Plus Night Out. With Morris's strong vocal stylings, it's clear to see her idol Whitney Houston shine through, as Houston played a major role in inspiring her musical abilities.
Craig is just so punk rock! Born and raised in Wichita, Kan. to a musical family, she later became the fearless leader of pop/punk/garage band Emma in the Men's Room. More recently, she performed in "Hairspray" as Tracy Turnblad back home. Amongst her many kick-ass accomplishments, she taught English in Benxi, China before moving to New York City. She also travelled with MAC Cosmetics as Magenta for the "Rocky Horror Picture Show" product promotion. Craig's idol? Why, David Bowie, of course! She has a passion for children with special needs, politics and animals. One day, she hopes to have a day-time talk show, be famous in Korea and run a theater company for special needs kids.
Hailing from the sunny state of California, Allen is a proud Native American with strong ties to the Yakima and Umatilla tribes. She emits a sultry vibe when she hits the stage. As a young girl, Whitney Houston's "The Body Guard" sound track was Allen's vocal coach. Later in life, she moved to New York City and followed her passion as a musical performer attending The American Musical and Dramatic Academy, allowing her to study everything she loved. Besides performing with The Glamz, Allen is also an ally of the LGBT community who understands the hardships many children face. Through her music with The Glamz, she wants to show and prove there is a light at the end of the tunnel — no matter what, follow your dreams.
These pop divas are rising to the top one glamorous performance at a time. Jensen says, "As a group, we have been through so much and have had to fight against all odds to get where we are. Together, we have found strength to break free, tear down barriers, and truly find our voice. Whatever happens, we will continue to make music; our bond is fierce, and no one can take that away from us!"
Follow The Glamz at:
Twitter: @gogoglamz
Snapchat: theglamz
Facebook: The Glamz
Editor's note: Follow the author at:
Twitter and Instagram: @XponentialCurve