Who Are The Beau Motives?
The Beau Motives are a 3-piece indie rock band from Ireland. Shaz Condon (Vocals), Stuart Gray (Guitar), & Jay Oglesby (Drums) have written, produced, recorded, mixed, and arranged our debut album "Beneath This Sun." Living in studio since 2012, we stepped outside the studio doors for the first time in summer 2014. Kicking off in Whelans, we were joined by Robbie Malone (bass player with David Gray) who performs as our live bass player.
Described as having the creative song writing of Kate Bush, the soaring vocals of the Cocteau Twins, the stadium attitude of Muse, we've been massively encouraged by the feedback so far. A strange mixture indeed, but The Beau Motives believe that we have produced an album that is unique in both sound and identity.
We cannot wait for the world to hear it!
Mini Biographies:
We all came from very different musical backgrounds. As a band, we are motivated to make our music heard, and not following trends can be one of the hardest things for us to do. However, the music we have created has changed us all, musically speaking. When we first started this band together, we knew where we wanted to go, and we all knew that getting there was going to be hard. Nonetheless, we have strived to create what we feel is great music, meeting in Stuarts studio twice a week, every week without fail, our dedication and long hours of music making is finally paying off. The moment we realized what we had created, we knew it had become something magical. We had succeeded in creating The Beau Motives.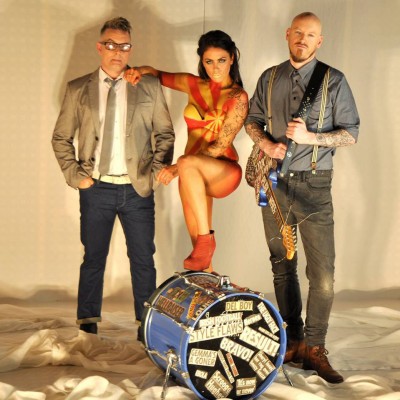 Shaz came from a theatrical music family, where her granddad would sing to her and he was a star of the stage. She and her mother joined a church choir and attended weekly. She remembers visiting her grandparents and they would have jam sessions, just singing old songs — everything from rock and pop to good old traditional songs. She is influenced by many of the artists she calls "The Greats" — David Bowie, Annie Lenox, Michael McDonald, Barbra Dixon, and Kate Bush.
"Chasing the dream from girl band auditions to every talent show corner, I knew I wasn't a typical pop star," remembers Shaz. "I always had a strong opinion musically, and that didn't go down to well in past auditions. I was often shushed and put in a box creatively, and I needed to break free from that to grow the confidence I needed to do what I wanted, and to believe I had the potential to write great songs." She still feels she is only starting to tap into what she is artistically capable of, and she believes the band will give her the freedom and opportunities to grow. "I feel very lucky to have two incredibly talented lads with me on this journey."
Jay Oglesby began playing drums at the age of 7.He was a founding member of Dublin electronic band Liquid Wheel and has played with Irish artists such as Laura Isibor, Andrew Strong ,Don Baker amongst others. He currently teaches drums part time at the BIMM Music College in Dublin. His musical influences are broad, ranging from Depeche Mode, Squarepusher, Aphex Twin, The Beatles, and Buddy Rich. When writing the album with Shaz and Stuart, his aim was to create music that was rich in texture, which drew on all our influences but copied none and which was melodically strong. Jay ultimately sees The Beau Motives as a band who will continually strive to push him creatively, and try to make music together that has longevity in a business that is becoming increasingly disposable.
Stuart Gray started playing guitar at the age of 18. He played in his first band with none other than Ronan Keating. He spend many years crafting his trade and constantly climbing the ladder to play with artists such as Una Healy, Brian Kennedy, Sharon Corr, and Sinead O'Conor to name but a few. It wasn't until years later that he started recording and producing, and opened his own commercial recording studio in 2008. The studio has opened up a huge door with an array of artists and producers such as, Ryan Sheridan, Hozier, Mary Byrne, Billy Farrell, Tim Martin and many more.
His musical influences are quite varied, including the Dave Matthews Band, John Mayer, Led Zeppelin, Pink Floyd, and Jellyfish.
Stuart feels that he really has found his home with Jay Oglesby and Shaz Condon in the Beau Motives. He says, "This is without doubt, the most creative, challenging and mind blowing music I have ever been a part of." He is looking forward to a successful future on this exciting musical journey as part of The Beau Motives. For The Beau Motives, the future is now!
Check out The Beau Motives online at the following social media links:
YouTube Video: www.youtube.com/watch?v=IqnxjNzgILc
Facebook: www.facebook.com/TheBeauMotives
Twitter: www.twitter.com/TheBeauMotives
Sound Cloud: www.soundcloud.com/thebeaumotivesmusic
For booking and other business inquiries, EPK Link: www.artistecard.com/thebeaumotives (Bio, Downloadable Tracks / Promotional Photos)