by Brian McKinny
'The Axia' are a self-described underground rock band from San Luis Obispo, California. At first listen, they immediately reminded me of a band whose overall sound and production is stuck in the 80s. Their music is reminiscent of the original Queensryche EP effort, "Queen of the Ryche", but not as hard-hitting or revolutionary as was the first Queensryche effort. But don't let that stop you from listening.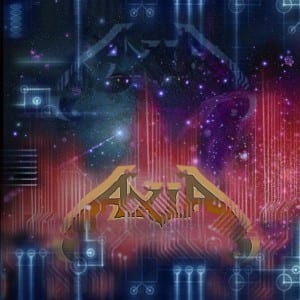 The track on their self-titled CD, "The Axia" that got my attention was the song, "K.W.A.S". It starts off interesting enough, but then it devolves into head-first double bass, all speed and fury that only serves to detract from where the song should have gone. There were interesting guitar parts in there that got lost in the mayhem of double-bass licks and wanna-be speed metal section. When they finally do gather the horses and get it under control, it turns into a bit of Spanish guitar that I thought was just incongruous enough to be interesting to the ear without becoming dissonant. There should have been more of this melody to the song to give it a more complete arrangement.  The vocals are performed confidently and competently, with a decent demonstration of range and style, but the production give the vocals an overall 80s quality that I'm not sure the band was intentionally going for or not.
'Nameless' is a much better example of what I think this band is capable of creating – an interesting cacophony of vocal and guitar melody coupled with interesting drum and bass parts, as well as a good sense of musical dynamics and theatrics. The guitar solo isn't superfluous – it matters to the song, and is musical in its entirety. The bridge brings a distinct change in the feel of the song that leads us right back into where it should – the chorus. The chorus has a good vocal and guitar hook that gets your foot tapping and your head bangin'. I like this song.
Overall, there is promise here. I think that this band could really benefit from a cohesive vision of what they want to do musically, and where they want to take their project. A bit of spit and polish is lacking from an overall sound and production standpoint, but the basics are there for this to be an interesting band to listen to and see in live performance. This band is at its best when they are working on the groove. With The Axia, it's usually a good, mid-tempo beat that makes the heart pulse along, and the song focuses its energy on the melody and the groove, combining to create a mood … A vibe, if you will… That tries to take the listener to somewhere they've never been. Sometimes they succeed in taking you there, and other times, you get lost in the frenzy of a side-trip to nowhere. But they do succeed more often than they fail on this effort.
Judging from this effort, and with the knowledge that they're working on their next production in the studio as I write this, I am eager to see where they have taken their sound and vision for the band. If the 'Nameless' track (My favorite) on this CD is any indication of what they can really do, I look forward to hearing their next CD release. Check out The Axia.