COLDCOCK WHISKEY Joins The ART OF RAP MUSIC FESTIVAL 2015 Featuring Ice T
Massive Lineup of Legendary Rappers and Hip Hop Artists Announced for Southern and Northern California Music Festivals
Saturday, July 18
Verizon Wireless Amphitheatre – Irvine, CA
On sale Friday, April 24 at 10am
Sunday, July 19
Shoreline Amphitheatre – Mountain View, CA
On sale Friday, May 1 at 10am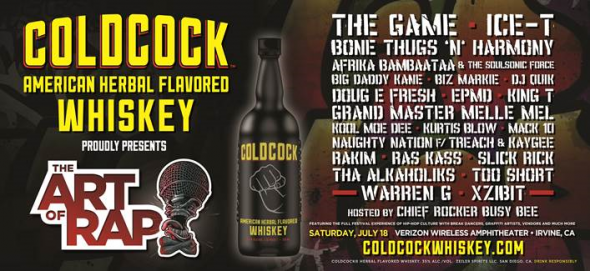 COLDCOCK American Herbal Flavored Whiskey is proud to announce their support of the first annual ART OF RAP Music Festival, which was announced earlier this week by renowned rapper Ice T.  THE ART OF RAP Festival will feature two stages and over 25 artists per date featuring a who's who of the history of rap and hip hop. The events will be a full festival experience featuring break-dancers, live graffiti artists, vendors, an interactive festival area and so much more.
The first ART OF RAP Festival will be held at Verizon Wireless Amphitheater in Irvine, CA on Saturday July 18th (tickets on sale Friday, April 24 at 10AM local time). The second event will be held at Shoreline Amphitheater in Mountain View, CA on Sunday July 19th (tickets go on sale on Friday, May 1 at 10AM local time). Visit www.artofrapfest.com for more information on tickets.
COLDCOCK WHISKEY will be served onsite and the official COLDCOCK WHISKEY booth plans to feature artist photo opps with fans. More details will be announced soon.
"We're always looking for great ways of partnering with musicians and unique festivals. When John Reese showed me the ART OF RAP lineup, I was floored and knew we wanted COLDCOCK WHISKEY to back it," states Rick Zeiler, founder of COLDCOCK American Herbal Flavored Whiskey. "It's an honor to be working with these legends and we look forward to toasting some shots of COLDCOCK WHISKEY with them."
The legendary line up for the upcoming festival follows in the footsteps of Ice T's critically acclaimed documentary film "The Art Of Rap". True to the theme of the film, the massive line up includes: The Game, Bone Thugs -N- Harmony, Ice T, Afrika Bambaataa and The Soulsonic Force, Big Daddy Kane, Rakim, Mack 10, Xzibit, Warren G, Rapper's Delight, Kurtis Blow, Too Short, Doug E Fresh, DJ Quik, Kool Moe Dee,  King T, Grand Master Melle Mel, Tha Alkaholiks, Biz Markie, Slick Rick, EPMD, Cold Crush Brothers, Ras Kass and other special guests. The event will be MC'd by Chief Rocker Busy Bee. 
"Hip Hop is the most powerful and influential cultural movement since Rock and Roll. A TRUE art form that deserves respect," states Ice T.
The ART OF RAP Festival is the brainchild of Ice T and Mickey Bentson (hip-hop entrepreneur) and produced by Live Nation's Nick Masters and festival producer John Reese and his company Synergy Global Entertainment.
Festival producer John Reese adds, "The fact that COLDCOCK WHISKEY wanted to get involved with The ART OF RAP festival is a testament to how much they love all genres of music. Plus, COLDCOCK tastes better than any other whiskey out there and I'm glad the ART OF RAP festival artists and attendees will be able to try it!"
Visit these websites below for more information on the festival!
FOLLOW:
http://www.facebook.com/ArtofRapFest
http://Twitter.com/ArtOfRapFest
http://Instagram.com/ArtofRapFest
VIDEO CLIPS:
:30 promo clip: bit.ly/ArtOfRapFest30sec
2:00 sizzle reel: bit.ly/ArtOfRapFestv4
:15 promo clip: bit.ly/ArtOfRapFest15sec
COLDCOCK American Herbal Flavored Whiskey is the world's first and only herbal whiskey and is a fast growing shot brand in the spirits industry. COLDCOCK  is touted by hundreds of bands, artists and personalities such as DATSIK, Pepper, The Expendables, Eyes Set to Kill, Sevendust, Attila, Drowning Pool, Upon a Burning Body, Texas Hippie Coalition, Mushroomhead, Nonpoint, All That Remains, Jamey Jasta of Hatebreed, Sam Bettley of Asking Alexandria, Dan Jacobs of Atreyu, Big B, Terravita, Smile Empty Soul, The Supervillains, The Vegabonds, We Came As Romans, Bobaflex, Warner Drive, Beebs and Her Money Makers, Fatally Yours, Blue Felix, Comedian Don Jamieson, Tattoo Artists Steve Soto and Paul Booth, Graffiti Artist RISK, and many more.
Established in 2012 and based in San Diego, California, Zeiler Spirits LLC is the producer of COLDCOCK American Herbal Flavored Whiskey.  The spirits importer was founded by liquor and entertainment industry veterans, musicians and action sports athletes who have collectively created some of the world's most exciting lifestyle events and cross promotions.  COLDCOCK American Herbal Flavored Whiskey is 100% aged American bourbon blended with a variety of herbs, including green tea, hibiscus, ginger, eucalyptus, cinnamon and gingko.  Currently available in 22 states and Canada. COLDCOCK American Herbal Flavored Whiskey is 70 proof  and sold in 750ml and 50ml bottles. For more information, please visit www.coldcockwhiskey.com
COLDCOCK American Herbal Flavored Whiskey, 35% Alc./Vol.  Zeiler Spirits LLC, San Diego, CA.  Drink Responsibly
For information on the ART OF RAP Festival, please contact:
Mari Ronquillo / Lyme Lite Media 818.271.0824 mari@lymelitemedia.com
Sasha Pisterman / Lyme Lite Media 818.534.7438 sasha@lymelitemedia.com
For information on COLDCOCK WHISKEY, please contact:
Maria Ferrero / Adrenaline PR 732-462-4262 maria@adrenalinepr.com