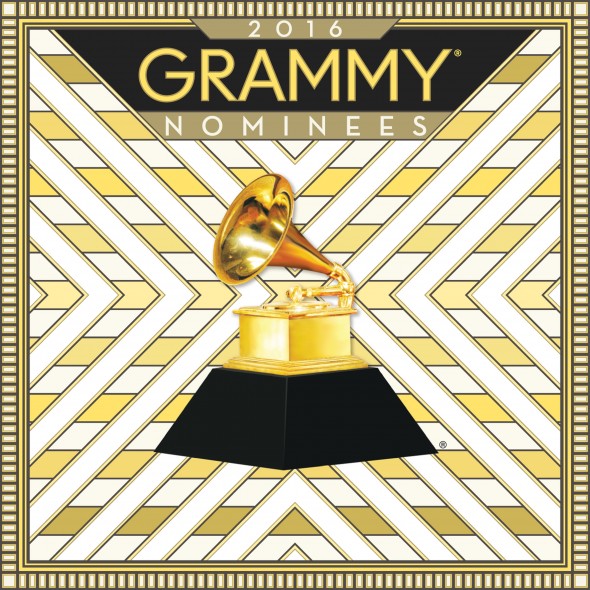 THE RECORDING ACADEMY® AND REPUBLIC RECORDS TO RELEASE THE 2016 GRAMMY® NOMINEES ALBUM
ALBUM PRE-ORDERS START DEC. 6, OFFERING FANS AN OPPORTUNITY TO ATTEND THE 58TH ANNUAL GRAMMY AWARDS®
Album Hits Stores And Digital Retailers On Jan. 22, 2016
SANTA MONICA, Calif. (Dec. 3, 2015) — The Recording Academy®'s GRAMMY Recordings® and Republic Records have teamed to release the 2016 GRAMMY® Nominees album, available in stores and via digital retailers Jan. 22, 2016. The 22nd installment of the best-selling series features an array of hit songs across multiple genres by this year's GRAMMY-nominated artists. A portion of album proceeds support the year-round work of the GRAMMY Foundation® and MusiCares Foundation,® — The Recording Academy's charitable organizations focused on music education and critical assistance for music people in need.
Beginning Dec. 6, the night before GRAMMY nominations are announced and in conjunction with "Sinatra 100 – An All-Star GRAMMY Concert," music fans can log on to GRAMMY.com/2016GRAMMYAlbum, 2016GRAMMYAlbum.com, or CBS.com to pre-order the album and enter for a chance to win a trip for two to the 58th Annual GRAMMY Awards® on Monday, Feb. 15, 2016, at STAPLES Center in Los Angeles.*
"We're proud to join forces with Republic Records to bring together an exciting mix of tracks in one album, highlighting today's most talented musicians," said Neil Portnow, President/CEO of The Recording Academy. "We're thrilled to give music fans the opportunity to experience Music's Biggest Night® firsthand through our pre-order enter-to-win sweepstakes; all while supporting the important work MusiCares and the GRAMMY Foundation carry out year–round."
"It's an honor to celebrate and pay tribute to today's most talented and inspiring artists," said Avery Lipman, Founder/President of Republic Records. "We are proud to call ourselves partners with The Recording Academy whose care and support of the recording arts remains the foundation of our business."
"Sinatra 100–An All-Star GRAMMY Concert" will be broadcast in HDTV and 5.1 surround sound on the CBS Television Network on Sunday, Dec. 6, from 9–11 p.m. ET/PT. The one-hour primetime entertainment special will celebrate the late icon's 100th birthday and features a stellar lineup of entertainers performing songs made famous by the nine-time GRAMMY winner.
*No purchase necessary to enter or win. Visit GRAMMY.com/2016GRAMMYAlbum, 2016GRAMMYAlbum.com or CBS.com for details and eligibility requirements
About The Recording Academy
Established in 1957, The Recording Academy is an organization of musicians, songwriters, producers, engineers and recording professionals dedicated to improving the cultural condition and quality of life for music and its makers. Internationally known for the GRAMMY Awards® — the preeminent peer-recognized award for musical excellence and the most credible brand in music — The Recording Academy is responsible for groundbreaking professional development, cultural enrichment, advocacy, education and human services programs. The Academy continues to focus on its mission of recognizing musical excellence, advocating for the well-being of music makers and ensuring music remains an indelible part of our culture. For more information about The Academy, please visit www.grammy.com. For breaking news and exclusive content, follow @TheGRAMMYs on Twitter, "like" The GRAMMYs on Facebook, and join the GRAMMYs' social communities on Google+, Instagram, Tumblr, and YouTube.
About Republic Records
A division of Universal Music Group, the world's leading music company, Republic is home to an all-star roster of multi-platinum, award-winning legends and superstar artists such as Ariana Grande, Black Sabbath, Colbie Caillat, Florence + the Machine, Godsmack, Gotye, James Blake, James Bay, John Mellencamp, Keith Richards, Nickelback, Of Monsters and Men, Owl City, Seth MacFarlane, among many others. Founded by brothers and chief executives Monte and Avery Lipman,  it is also comprised of innovative business ventures including American Recordings (The Avett Brothers), Brushfire (Jack Johnson), Cash Money (Lil Wayne, Drake, Nicki Minaj), Chase Records (Austin Mahone), John Varvatos Records (Zac Brown Band), Lava Records (Jessie J, Lorde), Monkeywrench (Pearl Jam), Casablanca Records (Tïesto), NBC's The Voice, XO (The Weeknd), Photo Finish Records (MisterWives), School Boy Records (PSY, Sheppard), among others. In addition, Republic maintains a long-standing strategic alliance with country powerhouse Big Machine Label Group which is comprised of Big Machine Records (Rascal Flatts, Taylor Swift, Tim McGraw), Dot Records (Maddie + Tae), and Republic Nashville (The Band Perry, Florida Georgia Line, The Eli Young Band).