Avoiding the production abyss
by Julian Coryell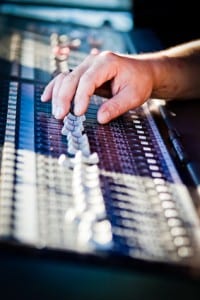 After weeks, months or even years of writing, you're finally ready to record that long awaited album but you're lost in the production abyss. Where do you begin? Here are some key components to keep in mind when searching for a producer that's right for you.
1: Someone who gets your music and your vision.
When I work with new artists I spend a great deal of time asking them about the artists that influenced them. I want the artist to describe to me what they want their record to sound like and give me examples of records they love. If you don't feel like your producer is getting you, they probably aren't.
2: Someone you respect.
You can't do good work with people you don't respect. Choose someone whose skills you admire. Most likely they are going to push you out of your comfort zone and this will only work if you respect them.
3: Someone you can afford.
You have to have a clear idea of your finances before you start the record making process. Too many times I've seen vagueness around money stop a project dead in it's tracks. Always go for quality over quantity. Three great songs are way more valuable than 10 half baked tracks. Remember, you only get one shot to make a first impression!
4: Someone who will inspire you to be your best and bring out the best in you.
Inspiration is the key to making magic happen in the studio. A great producer will know how to get the best performances out of you. If you don't feel inspired by your producer, then that's a red flag.
5: Someone who challenges you in a good way.
They say you should do one thing a day that scares you. Being out of your comfort zone is the key to growth. A great producer will challenge you in ways you can't even imagine, and if they don't, they're not doing all they can.
6: Someone whose previous work you admire.
You should be familiar with other records the producer has done. They don't have to be famous records that sold a million downloads. It should just be a record or records that you think are great for one reason or another.
7: Someone with a proven track record.
It's very helpful if the producer has a few projects under their belt. It's not that a new producer can't do a great job; it's simply easier when the producer has a history of solid records under their belt.
8: Someone who has what you want and can do things for you that you can't do for yourself.
 This is self explanatory. If you can do everything the producer can, why are you hiring them?
9. Someone who cares.
In a way this may be the most important quality to have in your producer.
No one will ever care about your music as much as you do, but if they can come close, consider yourself very lucky.
10: Someone who is talented.
This is a big duh, but too many times I've seen producers get hired because their greatest talent is schmoozing. Don't forget, you're still making music and as such, should make it with someone who knows a thing or two about that!
Julian Coryell is a child prodigy guitar player and producer. Graduating at 17 from Berklee College of Music, Coryell is a member of Alanis Morissette's band, and has played with Jewel, Aimee Mann, Rockers Collective, and many others. He also performed with and recorded numerous tracks for Leonard Cohen and numerous other legendary and up and coming artists in his Venice, California-based West Triad Studios. http://www.markdrumtracks.com/content/west-triad-studios