ALISON KRAUSS JOINS RECENTLY ANNOUNCED STARS VINCE GILL,LADY ANTEBELLUM, EMMYLOU HARRIS, MATTHEW WEST AND
CHIP ESTEN AT THE 7TH ANNUAL T.J. MARTELL HONORS GALA ON MARCH 30TH IN NASHVILLE.
Event set to honor: Steve and Judy Turner, Ken Levitan, Dr. Jeffrey Balser, Billy Ray & Bill Hearn and Becca Stevens
NASHVILLE, Tenn. (February 17, 2015) — The T.J. Martell Foundation, supporting Leukemia, Cancer and AIDS research is proud to welcome Alison Krauss to the previously announced star-studded lineup of talent. Alison will join Chip Esten, Lady Antebellum, Vince Gill, Emmylou Harris and Matthew West at the 7th Annual T.J. Martell Honors Gala to be held Monday, March 30th at the Omni Hotel in Nashville, Tennessee.
The 7th Annual Gala honorees are: Steve and Judy Turner receiving the Spirit of Nashville Award; Dr. Jeffrey Balser, the Medical Research Advancement Award; Bill and Billy Ray Hearn, the Frances Preston Lifetime Music Industry Achievement Award; Ken Levitan, the Tony Martell Outstanding Entertainment Achievement Award and Becca Stevens, the Lifetime Humanitarian Award. The gala has netted over 2 million dollars since 2009. Ticket, table and sponsorship information can be found at www.tjmartell.org or by contacting the T.J. Martell Foundation at (615) 256-2002.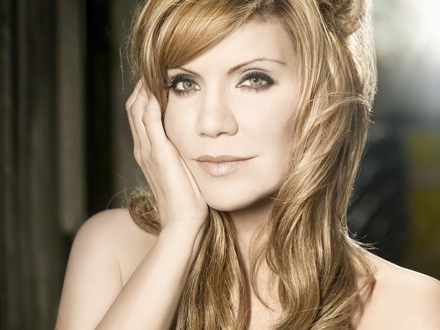 Alison Krauss is a bluegrass virtuoso who effortlessly bridges the gap between roots music and country, rock and pop. A highly sought after collaborator, Krauss has worked with some of the biggest names in popular music, including James Taylor, Phish, Dolly Parton, Yo Yo Ma and Bonnie Raitt. Since signing with Rounder Records at the age of 14, Krauss has sold over 12 million albums and won 27 Grammy Awards, the most for any female and the second most of any recording artist in Grammy history. Her work on such films as Cold Mountain and O Brother Where Art Thou has contributed immeasurably to a renaissance in American roots music. Her latest album – recorded with her longstanding bandmates, Union Station – is the endlessly impressive Paper Airplane, which debuted at #1 on the Billboard Country, Bluegrass and Folk Album charts upon its release.
The Gala begins at 5:30p.m. with a red carpet, cocktail reception and silent auction. The festivities continue at 7:00p.m. with dinner, the awards presentation, outstanding musical performances and a live auction.
The co-chairs for the 2015 event are Ree Buchanan, George Anderson and Danielle Bouharoun.
Table sponsorships range from $11,500 to $100,000. Individual tickets are $1,000.00. Ads congratulating the honorees may also be purchased in the commemorative journal. For journal ads and sponsorship information, email Allyson Baggott at abaggott@tjmartell.org or visit www.tjmartell.org.

The T.J. Martell Foundation is the music industry's largest foundation that funds innovative medical research focused on finding cures for leukemia, cancer and AIDS. The Foundation was founded by music industry executive Tony Martell and his colleagues in loving memory of his son T.J., who died of leukemia. 2015 marks the 40th Anniversary of the T.J. Martell Foundation which has provided more than $270 million dollars to top research hospitals in the United States. To learn more about the T.J. Martell Foundation, please go to tjmartell.org.