PUNK/NEW WAVE SUPER GROUP DEAD MEN WALKING PREMIERES TITLE TRACK "EASY PIRACY" FROM FORTHCOMING DEBUT ALBUM ON YAHOO TODAY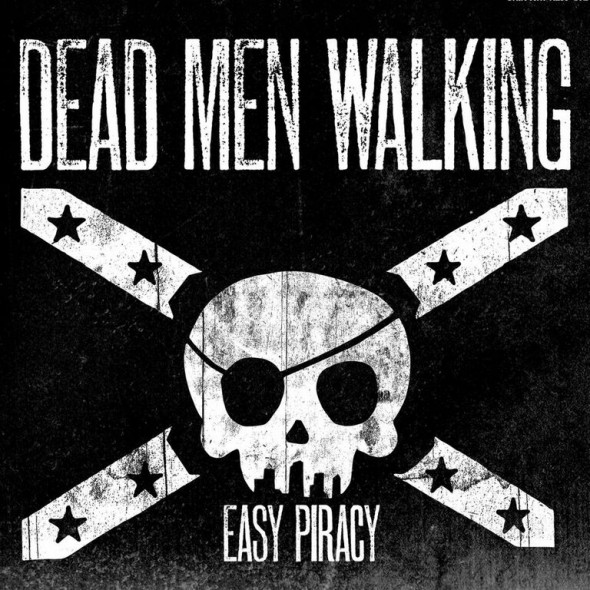 DEAD MEN WALKING FEATURES ICONS FROM THE STRAY CATS,
THE ALARM, AND THE DAMNED; DEBUT ALBUM "EASY PIRACY"
DUE OUT MAY 5TH VIA SLIMSTYLE RECORDS 
(New York, NY) – Punk, new wave and rockabilly fans around the globe can click here to check out the exclusive worldwide premiere of the title track from Dead Men Walking's forthcoming debut album, EASY PIRACY, on Yahoo today.  The track "Easy Piracy" is an homage to the band's rock n' roll roots, distinct musical influences and the rollicking parallel of pirate culture.  Of the track, vocalist/drummer Slim Jim Phantom commented, "Dead Men Walking is a legendary crew of friendly pirates who have been sailing the seas of rock n' roll for a combined 137 years.  Sometimes stormy, sometimes smooth, Slim Jim Phantom from The Stray Cats, Captain Sensible from The Damned, Mike Peters from The Alarm and Chris Cheney from The Living End have banded together to produce a modern, classic punk rock sea shanty for the masses.  Everyone deserves and should enjoy a little 'Easy Piracy'."  The full debut album EASY PIRACY, is due out on May 5th via Slimstyle Records.
Dead Men Walking is the dream punk, rockabilly and new wave supergroup comprised of musical icons Mike Peters of The Alarm (vocals), Captain Sensible of The Damned (bass/vocals) and Slim Jim Phantom of The Stray Cats (drums/vocals) along with Chris Cheney from The Living End (guitar/vocals).  Dead Men Walking will perform a limited run of tour dates on the west coast of the United States around the release of EASY PIRACY.  Please see below for tour dates.  Click here to access album art for EASY PIRACY.
Playing their first show in Los Angeles at The Troubadour on September 14th, 2014, Dead Men Walking's live shows have featured such special guest performers as comedian/actor/musician Fred Armisen, Brian Setzer of The Stray Cats, Mick Jones and Topper Headon of The Clash, Duff McKagan of Guns N' Roses/Velvet Revolver/Loaded, Billy Duffy of The Cult, Lemmy of Motorhead and more.  Of their inaugural show, Yahoo declared "…feelgood, punk-rock vibes flowed at The Troubadour."
Dead Men Walking tour dates:
MAY
 5         Seattle, WA                 Crocodile Café
 6         Portland, OR               Dante's
 7         San Francisco, CA     Brick & Mortar Music Hall
 8         Santa Ana, CA            Constellation Room
 9         Los Angeles, CA         The Troubadour
10        San Diego, CA            Soda Bar
For more information, please visit:
www.facebook.com/thedeadmenwalking