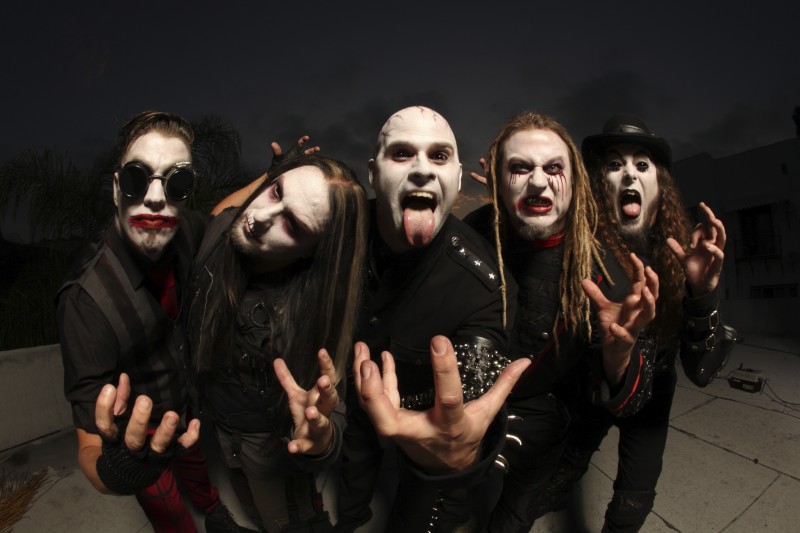 Sunflower Dead is active rock with a combination of heavy riffs and infectious hooks that are both melodic and hard-hitting.  Their anthems of chaos, disruption, life, beauty and rage, are both tragic and beautiful delivered with the passion that can only come from someone who has lived it.

Their new album It's Time To Get Weird, produced by Dave Fortman (Evanescence, Slipknot, Godsmack) and Mikey Doling (Gemini Syndrome) is a healthy dose of intense rock energy combined with honest and heart-felt lyrics that has been missing in rock radio for quite some time.
Rising from the ashes of metalcore act Droid (signed to Munky from Korn's Emotional Syphon Recordings) in early 2011, conversations began between Droid guitarist Jamie Teissere and long time fellow musicians Michael Del Pizzo (vocals, accordion, piano) and Jaboo (guitar).  The talks were about forming a band based on the simple idea of putting together a group of guys, hand picked from other bands that were the driving force behind their respective acts.  More so than that, each member had to understand the ideal of "entertaining people".  This had to be more than just more guys wearing jeans and t-shirts on and off the stage, they had to be larger than life.  Within weeks, the three added bassist Luis Gascon (Bucket Head), since replaced by Lats Kearns (Memento) and drummer Jimmy Schultz who has appeared with an array of bands (including a short time touring with In This Moment).  Instead of hitting the local scene with pointless demo's and live shows, the now 5 decided to spend their time crafting the songs and stage personas that would appear on the August 2012 Debut Self Titled Album "Sunflower Dead" produced by Christian Olde Wolbers (Fear Factory).
Sunflower Dead has been touring non stop since their formation completing 6 US tours and sharing the stage with bands such as Korn, In This Moment, Hellyeah, All That Remains, Ill NIno, Hed PE, Nonpoint, Snot, Powerman 5000, and Soil.  Their debut album was voted Revolvers Album Of The Week in August 2012.  The band continues to create an ever growing fan base of die hard self named "Evil Seeds".  In July the band will be opening for Korn in the UK for their 20th anniversary tour.
The first single from It's Time To Get Weird entitled "Dance With Death" is at radio now!
Michael Del Pizzo (Vocals, Accordion, Piano)
Jaboo (Lead Guitar)
Jamie Teissere (Guitar)
Lats – (Bass)
Jimmy Schultz (Drums)
WEBSITES
https://www.facebook.com/sunflowerdead
https://twitter.com/sunflowerdead
https://www.youtube.com/user/SUNFLOWERDEAD
https://instagram.com/sunflowerdead