August 11th 2015 – Sunflower Dead, the infectious active rock band from Long Beach, CA, will release its sophomore studio album "It's Time To Get Weird" October 30th via their own label Bloody Bat Records. The album was produced by Dave Fortman (Evanescence, Godsmack, Slipknot) and Mikey Doling (Gemini Syndrome) and consists of 12 new tracks. The title track features KORN's Jonathan Davis on vocals. The album's first single, "Dance With Death" is at Active Rock Radio now and is available for purchase via iTunes:
https://itunes.apple.com/us/album/dance-with-death-single/id1021739974
Sunflower Dead is comprised of Michael Del Pizzo (Vocals, Accordion, Piano), Jaboo (Guitar), Jamie Teissere (Guitar), Lats (Bass), Jimmy Schultz (Drums)
"It's Time To Get Weird" track listing:
1. Inhuman Lung
2. Dance With Death
3. It's Time To Get Weird
4. Just A Little Kiss
5. You're Dead To Me
6. Nothing
7. My Mother Mortis
8. I'll Burn It
9. The Rain
10. Interlude
11. Through The Blackest Eyes
12. Anthem Of The Seeds
13. Outro
The band just wrapped up a 22-date European tour with headliners, SNOT, including two dates as support for KORN in the United Kingdom this July.
Sunflower Dead have traveled the U.S. on tour with the likes of HELLYEAH, All That Remains, Ill Nino, In This Moment, Powerman 5000, Hed (PE), SOiL, Hurt, Smile Empty Soul and Nonpoint over the past two years supporting their debut release. Their brand of infectious hard rock has managed to turn the heads of new fans, effectively known to the band as 'Evil Seeds,' at each new stop along the way.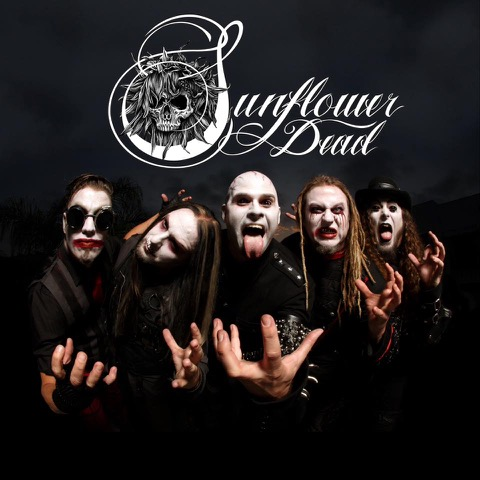 SUNFLOWER DEAD:
Michael Del Pizzo (Vocals, Accordion, Piano)
Jaboo (Guitar)
Jamie Teissere (Guitar)
Lats – (Bass)
Jimmy Schultz (Drums)
For more information, check out the band's website:
www.sunflowerdead.com
Facebook: www.facebook.com/sunflowerdead
Youtube: www.youtube.com/user/SUNFLOWERDEAD
Twitter: www.twitter.com/sunflowerdead
Instagram: www.instagram.com/sunflowerdead