March of the Leper Out Now
Drops "Damn My Eyes" Video 
"Getting March Of The Leper released has been a back and forth nightmare behind the scenes for us over the past year and a half. Now that all that bullshit is done, we are happy to get it out for our Evil Seeds. This album is us at our most unaffected by anything else going on in the music world which led to us to a very honest look into who we are. The result is 9 tracks of Fuck It, If You Don't Care then We Don't Care and We'll Just Do What We Do. Cheers to all the Outcasts!"
After three albums, constant touring and steady upward success at Active Rock Radio, Sunflower Dead releases their fourth and most ambitiously dialed-in album to date, March Of The Leper (8/5/2022, via Bloody Bat Records). During the long uneasy months of the Covid-inflicted 2020, the main men of SFD, Michael and Jaboo, took a long hard look at themselves, what they have accomplished and where they stood in the grand scheme and realized that not only are they outcasts in the rock world but that they're happy to accept this role as their own. The result is nine new tracks that come from a place of "Fuck It, If You Don't Care then We Don't Care and We'll Just Do What We Do" for the Unwanted, the Uninvited, the Left Out, the Forgotten, the Outcasts and the Damned.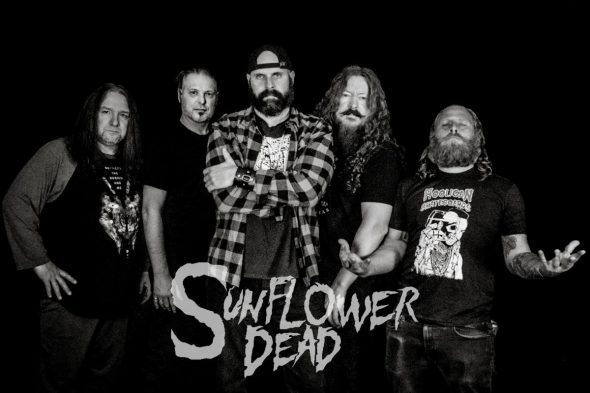 Photo Credit – Stephanie Tovar
Purchase Link – https://www.sunflowerdead.com/march-of-the-leper-album
Sunflower Dead is: 
Michael – Vocals, Accordion, Piano
Jaboo – Guitar
Kevin Vickers – Bass
Sam Hutchinson – Guitar
Jimmy Schultz – Drums
About Sunflower Dead:
In August of 2012, Sunflower Dead released its debut album produced by Christian Olde Wolbers (Fear Factory) in August 2012 and went on to complete six US tours from October 2012 to September 2014 supporting In This Moment, All That Remains, Hellyeah, Nonpoint, Powerman 5000, Hed PE, Ill Nino, Soil, Smile Empty Soul and Hurt along with one-off shows supporting Madball and Taproot. 
In the summer of 2015 Sunflower Dead toured Europe supporting Snot and also performed two sold out shows in the UK supporting Korn on their 20th Anniversary Tour for their debut album.
On October 30, 2015 Sunflower Dead released it's second album It's Time To Get Weird, produced by Dave Fortman (Evanescence, Slipknot) & Mikey Doling (Snot). The lead single "Dance With Death" was Sunflower Dead's first foray into Active Rock Radio and peaked at #52 on the Mediabase Chart. In the Spring of 2016 – Sunflower Dead broke the Top 40 on the Mediabase Active Rock Charts with the release of the title track "It's Time To Get Weird" featuring Jonathan Davis of Korn.
From April 2016 to July 2017 Sunflower Dead completed some of their biggest tours to date in the US supporting Avatar, Hellyeah, both legs of In This Moment's "Hellpop" tour and direct support on two runs with Mushroomhead.
Sunflower Dead released its third album C O M A on October 19, 2018 through David Ellefson's (Megadeth) EMP Label Group, produced once again by Dave Fortman.
C O M A had two charting Top 40 Active Rocks Hits, "Victim" (#36 on both Mediabase & Billboard Mainstream Rock Charts) and "Turn Away" (#37 on both Mediabase & Billboard Mainstream Rock Charts), along with US tours supporting Scott Stapp (Creed), Sons Of Texas & Another Lost Year.
During the Pandemic (April 2020 through March 2021), Sunflower Dead wrote and recorded their fourth album March Of The Leper (release date 8/5/22), mixed and mastered by Chris Collier (Korn).
From July 2021 to January 2022, Sunflower Dead performed 50 shows across the US supporting
The Lonely Ones & Smile Empty Soul. 
Connect & Share with Sunflower Dead:
Official Website – https://www.sunflowerdead.com/
Facebook – https://www.facebook.com/sunflowerdead
Twitter – https://twitter.com/sunflowerdead
TikTok – https://www.tiktok.com/t/ZTRADcaPL/
Youtube – https://www.youtube.com/user/SUNFLOWERDEAD
Instagram – https://www.instagram.com/sunflowerdead/
Spotify – https://open.spotify.com/artist/3GmbzsYqG43iLh8DLJaALC
Itunes – https://itunes.apple.com/us/artist/sunflower-dead/550330208
Bands In Town – https://www.bandsintown.com/en/a/3075910-sunflower-dead