Sprung Monkey is an alternative/nu-metal band from San Diego, my own hometown. I grew up there, and have nothing but fond memories of it. I mean, who wouldn't want to grow up in San Diego? The beaches, the weather, the music, the women … All those things come together to paint a picture of the best place in the world to grow up in.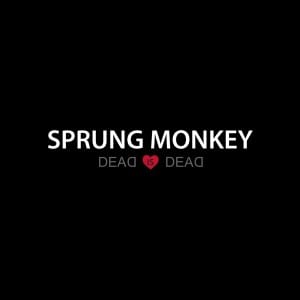 When I think back to the time I was growing up in San Diego, and what was great about rock radio then, I think of KGB 101.1-FM, and the infamous 91X. Those are the FM radio stations that I grew up listening to in the late 70's and early 80's. They were the juggernauts of Southern California radio, back in the day. 101.1 KGB-FM ("Don't touch that dial, Comrade! We know who you are!) and 91X are still two of the rock radio stations in San Diego that matter most after all these years, with KGB covering the Classic Rock genre, and 91X is still very much alive and kicking on the cutting edge of alternative and hard rock/metal radio scene. Rock 105.3 deserves 'honorable mention' as well, being a relative newcomer in comparison to KGB and 91X.
Sprung Monkey is a band that is very much a product of the San Diego music scene and culture, and that is evident in their latest release, 'Dead is Dead' on Pacific Records. Sprung Monkey has been around the southern California music scene for a long time now – they're definitely not new to the game. Originally coming together in 1991, with a few bumps in the road along the way, causing a hiatus for the band in 2002, eventually reforming in 2005, Sprung Monkeys consists of five members: Steve Summers on vocals, Mike Summers and William Riley on guitars, Ernie Longoria (no relation to Eva, guys) on drums, and Tony Delocht on the bass guitar.
The band's latest release, 'Dead is Dead' is a big step in the right direction for the band, and shows their determination to grow beyond their origins, moving forward with their particularly So-Cal brand of hard rock, separating them from the rest of the herd.
The first track on the new CD, 'Conspiracy', sets the tone for the rest of the tracks, and it does so with great effect. The vocals and lyrics exhibit a depth and conviction that is somewhat rare these days in music, and provide more evidence that this band is ready to take the next step into a bigger arena and a larger audience. The production quality on this album is excellent – it's not too slick, overly compressed, and isn't too big for its britches. Expect to hear the same quality of performance from them in a live situation as you hear on this CD.
'California' is a high-energy, fast-tempo song that gets the blood pumping and the foot tapping – or the head banging. The straight ahead bass line and the pulsing drums drive this song headlong into the screaming guitar leads, which melt right back into the chorus and brings it all home. A good, high-adrenaline driving song that's perfect cruising up and down the PCH.
The following track, 'Mr. Narcissistic' is a great way to poke fun at those self-important dickheads that everyone recognizes at a glance, especially when hanging out at the beach. It's a short, fast thrash ditty that should get the mosh pit stirred up like a pissed off hornet's nest. Good energy, fun lyrics with tongue planted firmly in cheek.
'Rape and Romance' is head banger of epic proportions, fast and furious with a serious message that could escape the casual listener, but it's there, nonetheless. It's another short, sweet, say what you mean and get the fuck out of the way song. 'Save Me' is just as high energy as the previous tracks, but the half time sections of the verses gives a good contrast to the rest of the song, which rips along at warp speed and still manages to groove its face off. The drum fills are worthy of note in this song, and on the entire album in general, as Ernie Longoria shows off the stuff that he's made of. Great groove, tasty fills, and some very good footwork on the bass drum are instrumental 9pardon the pun) in setting the sound and groove elements off on this album. My hat is off to the engineer, who obviously knows how to record drums in a manner that brings natural, deep drum tones out without too many effects, gates, or other production magic into the mix. Very nicely done.
'La Fee Verte', translated to English means 'The Green Fairy", and is an homage to the deleterious effects of that famous concoction, Absinthe. The hook on this song is simple, catchy and works very well in the succinct, frenzied ditty that sings its praises. I especially enjoy the almost punk rock vocal performance that brings hints of Johnny Rotten to the song.
'I Found My Drug' is a fun little barnburner about just how addictive rock and roll is. It's the band's way of saying that rock and roll is their liberator, and it's all they need to keep on keepin' on. Music is where it's at, baby… A very cool punk/thrash tune, it has some smoking guitar riffs, a great drum part that acts as an attention-grabbing syncopated counterpart to the guitar rhythm. A simple, four-chord tune kicks you in the ass as the bass pushes you down the road. It reminds me of a faster version of a classic AC/DC rock anthem. Simple is good!
The title track of this release, 'Dead is Dead' has a menacing sound to it right from the start, with the driving drum beat, the buzzing guitars sounding like a swarm of angry hornets, and the chanted vocals, it all comes together as an apocalyptic anthem, "We'll fight until we die!" The entire song is a battle cry, and is the second-shortest song on the entire album (tied with 'Save Me', track #5) at two minutes, seventeen seconds long. This is thrash metal at its raw, primal best – short, deadly, and sweet!
"They're just a loaded gun, put 'em right between your eyes"… 'Drugs' is a kick-ass thrash number that pulls no punches about the insidious, destructive force that drugs have on people's lives. I love that this track tells it like it is, straight shit without any candy coating. I like the message because it isn't preachy, it isn't pretty, and it isn't some shitty version of 'Just Say No' garbage they pushed on us kids in the 80's. Basically, it's a kick-ass song about something that sucks. Awesome!
Sprung Monkeys closes off this release with their final track, 'Click'. The great thing about this song is that it grooves, is catchy as hell, and is a more radio-friendly up-tempo heavy rocker that gets you moving. It's another short and sweet piece that leaves the listener wanting just a little bit more, and that's a good thing to do – keep your fans wanting more! There are a couple of songs in this lineup that are about 30 seconds shorter than I would like, but that doesn't mean you're not getting your money's worth. Rather, it's a testament to the songwriting abilities of this band, and the fact that they leave you wanting more will only work to their advantage.
Overall, I am very pleased with what I am hearing from Sprung Monkey on this new CD. It's a good example of how a band can grow out of their original mold to fit something even bigger than the sum total of their parts. The true standouts on this release are the rhythm section, vocal performance, and the songwriting. The lyrics are straightforward and honest, and the vocal performance is given with great enthusiasm and is completely believable. You never doubt the sincerity of Steve Summers' performance, and that adds a great deal of credibility to the songs.
The rhythm section is tighter than a frog's ass, and really knows how to stay in the pocket and groove, even at warp speed. That says a lot about the communication between drummer and bass player. There is a symbiosis going on there that is hard to define in words, but you know it when you hear it.
The guitars are well played, with lots of catchy hooks and some smoking hot leads that never seem to be over-played by either Mike Summers or William Riley. They work well on these songs, as a team. There are some real, honest-to-goodness flashes of brilliance in some of the guitar work; especially when speaking to the hooks that they bring to the party – they help to make these songs even more memorable.
After giving 'Dead is Dead' some serious listening time since I received it a couple of weeks ago, I can honestly say that I would buy this album – not just a song or two on iTunes, but the whole enchilada. It's a very solid release by an extremely fun band. They are the kind of band that I'd hire to play at a big-ass beach party, complete with kegs, an epic Over-the-Line tournament, and lots of pretty girls in bikinis playing volleyball and surfing in La Jolla… Good times, good times …
All that being said, it's time to give this CD a rating on our '1 – 10 Skulls' scale: I give this latest Sprung Monkey release, 'Dead is Dead' a rating of 7.5 Skulls out of 10.
The single-most important reason I didn't rate this release at 8 rating or higher is this: there is a noticeable lack of variation in the tempo of their songs on this album, save for the last track, 'Click'.
If they had shown just a little more versatility on this CD by including just one or two songs that were not at a very high tempo, perhaps something that showed just a little more musical depth, I would have given them an 8 or possibly even a little higher rating.
Some listeners may comment that this is clearly a product of this band's un-measurable energy, and that energy is put to good use in these face-melting tracks. That's a good argument to make, but I can't help but think that if the band had chosen to include a little more versatility in the tempo of their tracks, this album would have a wider appear to an even bigger audience.
But fear not! This is still very good rating for an excellent album, worthy of your attention and worthy of spending some of that hard earned cabbage in your wallets on! I look forward to hearing more from Sprung Monkey in the future, and hopefully I will be lucky enough to catch their act out on the road soon! If you are able to, I would suggest that you check them out at a live performance somewhere near you!
You can check the band out at www.sprungmonkey.com, for all the latest new, downloads, and tour dates.
Like the band on Facebook
You can pre-order their new release, 'Dead is Dead' on iTunes.
YouTube video, "Get 'Em Outta Here"