Music review by Brian McKinny
Sponge, is a typical sort of band in that they have had a sort of roller coaster of a career with lots of difficulties over the years.  This is what makes them typical.  What makes them atypical is that even after more downs than ups, they still manage to keep playing, and keep making albums.  The band is from Detroit, Michigan, and unlike their hometown, they are accustomed to making successful comebacks.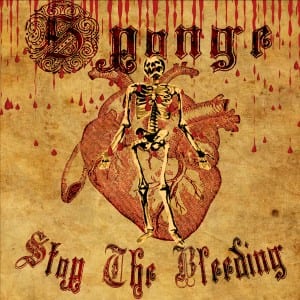 They started their musical career with an album that saw almost instant success with their '94 debut, "Rotting Piñata".  Songs like 'Plowed', and 'Molly (16 Candles Down the Drain)' were the fuel that took this album to RIAA Gold status, and received heavy rotation on MTV and flooded the radio airwaves.  After a long hiatus, Sponge is back with their new album, 'Stop the Bleeding'.
This latest release is a typical album for the band, only in the sense that it sounds like Sponge.  This latest attempt to "Stop the Bleeding' is an affirmation that they don't want to be the band they started out to be with Rotting Piñata.  They have kept their original sound, but they have also managed to update that sound with a much more modern take on the production, arrangements, and addition of more industrial and electronica flourishes and interesting percussion parts that show themselves in 'Fade From View', the first track on the album.
They continue to grow their sound with interesting lyrics, building upon a darker ambience in 'Life's Bitter Pills' that is reminiscent of something Trent Reznor would write for Nine Inch Nails.  'Dance Floor' is a pop tune that should garner some crossover listeners on both industrial/dance rock and Top 40 radio stations, but it isn't that big of a departure for the band as you would think, as they've always had a penchant for leaning towards the pop genre on occasion.  The soulful vocals help on this hybrid song, giving it an ethereal quality that will make this a staple at your local rave scene.
'What Were You Doing Outside' continues in the vein of a more industrial/trance/electronica style that Sponge has been gravitating towards.  The lyrics and vocals are moody and passionate, and convey a somber feel, contrasting with the slightly more upbeat instrumentation on this song.  The Spanish Flamenco guitar flourish at the end of the song is an interesting punctuation to the song.
'Time in a Bottle' is a very radical take on a Jim Croce folk classic, updated with an industrial flair that would make Marilyn Manson cream his panties.  It has a very twisted and macabre sound to it that is surprising coming from the Sponge of 1994, but it confirms the fact that they are also leaning towards a more industrial, electronica-inspired sound than they have ever had in the past.
'Dare to Breathe' is a more traditional rock radio song, with a good mid-tempo beat, and a prototypical arrangement and style that befits a modern rock ballad.  This is one of two songs they are "betting the farm on" for airplay on this album.  The problem I see with that strategy is that this song would be great on a straight rock album, but this is definitely not a straight rock album up to this point.  There is nothing wrong with this song at all, but it and the following tracks do seem incongruous in the context of the album's first five songs.  With that said, it does prove once again that this band still knows how to write a hit pop/mainstream rock song.
'Destroy the Boy' is an upbeat pop rock tune that is more in line with the previous track, 'Dare to Breathe'.  It is another example of the fact that this band can write hit songs in many rock genres, from the hard stuff to the pop fluff.  This song is the latter, and built for pop rock radio, and it is the other tune they 'bet the farm' on for airplay.  Is it a smart strategy, or is it going to seem too bi-polar a release for some fans to 'get it'?
'Come in From the Rain' is a big-chord, mid-tempo rocker that exhibits some powerful vocals, and big power ballad arrangement.  The guitar lead is well played and very musical as it soars over the vocals in the bridge and back into the chorus.  It has a quality to it that reminds me of Shinedown a bit with the drums out in front of the mix, with the booming vocals that are passionately sung.
I like the acoustic guitar intro on 'Star'.  The drums sound big and beefy, and the overall production is huge.  It has a good fast, upbeat feeling, and tempo to the song that moves you along.  I keep coming back to the fact that this album is really two albums in one – it starts off with a very heavily industrially-influenced sound and style, and then at the half way mark, the band does a 180 and heads back in the direction of their past albums.
'Before the End' is the confirmation that this band is still moving forward with the first half of this album, while looking back at their own musical past with the second half.  Even still, as the second half of the album may seem like it is looking backwards, the writing style, production and arrangement qualities on the entire album prove that they are still looking forward with their retro sounds on the second half of the album.  I just hope it doesn't confuse their audience to the point of alienating them.  With that in mind, I'd have to give this album 3.5 out of 5 skulls – the half a skull is for the confusion of styles that may confuse their target audience.