by Brian McKinny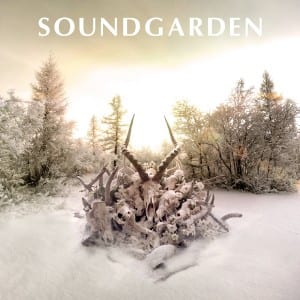 When Soundgarden was in their heyday during the 90's, there wasn't a bigger fan of the band anywhere to be found on this spinning blue rock we call the Earth than I was. The eclectic time signatures, and massive sounds of drummer, Matt Cameron was just the stuff I was looking for in music at the time. Someone with an intense groove, and who could create that 'bottom-end', full depth of tone in his drums, while at the same time embracing the odd time signatures of a drummer like Stewart Copeland of The Police.
Another attraction to the band for me was the tonally darker, Eastern influences of the sounds that guitar conjurer Kim Thayil wrote into his parts. Very haunting guitar sounds coupled with the plaintive wails of extraordinary vocalist, Chris Cornell, combined with the rhythm section of Matt Cameron and bassist, Ben Shepherd were a welcome change from the hair bands and glam metal that had, until the appearance of the 'Seattle Sound', which had dominated album-oriented rock music up to that time. And yet again, when the powers that be at the record companies couldn't paste a label to the sounds that were coming out of that dreary, perpetually wet northwestern town at the time, they pinned the label "Alternative Rock" on anything that came out of Seattle. The locals gave it another name – Grunge – and it stuck.
Soundgarden has always been a very workman-like band, creating their music without all the drug problems, arrests, and self-loathing of their contemporaries like Curt Cobain, and tabloid drama that seemed to follow several of the Seattle 'Sub-Pop' grunge-era bands around. Somehow they've managed to mostly stay above the fray and still leave their mark on the business, releasing solid albums along the way, until they disbanded in 1997.
Their latest release, King Animal picks up where they left off, and to some that can be viewed, rather pessimistically in my opinion, as a problem. In the fifteen-year interval since they disbanded, members have gone and done their own things, playing in different projects, most notably Chris Cornell working with the remnants of Rage Against the Machine (Tom Morello, Tim Commerford, and Brad Wilk) in 2001 creating the 'super group', 'Audioslave'. And with all the various music projects the members of Soundgarden have been involved in since they disbanded in 1997, most notably the solo works of Chris Cornell, some people would have expected their latest album to have shown more musical growth, and that 'King Animal' is the album that should have followed 'Down on the Upside' in 1998 or '99. Conversely, it is my opinion that if Cornell's wanderings in the musical wilderness of a solo artist are any indication, I'd say that this release has been more of a healing process for him and the rest of his musical compadres, and that it shows maturity and a certain contentment with where they are now, both personally and professionally. That, to my mind, IS growth.
'Been Away Too Long' has all the elements of a big Soundgarden single, and from front to back the album is inundated with frequent moments of real inspiration from guitarist Kim Thayil. This is Cornell's personal statement that after being gone from his home for years that he feels like a stranger in his own hometown, a feeling that I can relate to myself.  This is a good song to kick it all off with, and was sure to be the first radio single off of this album.
'Non-State Actor' is a relative throwback to the 'Superunknown' era, with a heavy, fast and funky groove that infects the listener with the urge to move in violent jerks and heaves to the rhythm. 'By Crooked Steps' has a great off-beat groove with the odd time signatures that have become the hallmark of Soundgarden's drummer, Matt Cameron. The guitars punctuate the mood with alternating melancholy and manic riffs that turn this into a rollercoaster ride. Still, this track feels like it's about a minute too long.
The interesting flavor of 'A Thousand Days Before' is a highlight on this album, again highlighting the sounds of eastern influences in the guitar parts.  Chris Cornell's vocals stand out on this track, with a smoothness and control that shows maturity.
'Blood on the Valley Floor' is full of lavish, brooding guitars and vocals – the heavy hitter of the bunch. It is dark and moody, and takes great pleasure in the evil tone.
Once this album takes flight, it levels off with a steady feast for the ears, full of all the complexity and subtleties that weave a tapestry of sounds that we have come to expect from these monsters from the Great Northwest. With that said, this new release from the reconstituted Soundgarden is overall, a very strong album; one that I enjoy listening to immensely.  I must admit that even though there are very few examples of reunion albums that are as successful as bands previous releases, 'King Animal' is the exception to the rule. I freely admit to being happy that the band is back together and creating new music, as I have been (and still am) a big fan of their work. I appreciate the fact that this effort shows more growth and maturity within the band and in their music since they last graced us with their presence.  They took the long, hard road to create this album, rather than them just picking up where they left off. That's what really good musicians do.