The name doesn't matter, reaching buyers does
by Meryl K. Evans, Editor, Professional Services Journal
In the late 1990s, I discovered the new world of bloggers who shared their lives and Internet resources with others. Inspired by these bloggers, I wrote my first blog post on June 1, 2000. The blog has morphed from a personal one to one covering web design and now business, marketing and productivity.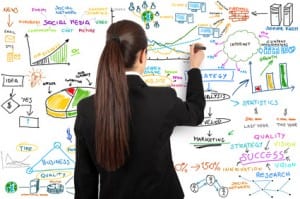 At the time, little did I know I had stumbled on an effective way to optimize my website for search engines and to connect with clients and prospects through content sharing. Today, that activity has a name: content marketing.
Content Marketing Institute defines content marketing:
"Content marketing is a marketing technique of creating and distributing relevant and valuable content to attract, acquire, and engage a clearly defined and understood target audience — with the objective of driving profitable customer action."
Examples of content marketing activities include blogging, writing articles for websites, creating reports, producing email newsletters and offering webinars. Even before the Internet existed, companies completed content marketing activities by creating guides, magazines, recipe booklets and more. The fact all these activities fall under content marketing isn't important. The key is sharing helpful knowledge and resources with customers and prospects.
Enter participation marketing or [fill in the blank] marketing
This key also applies to participation marketing, engagement marketing, social media marketing and whatever other term you've heard. Deep research reveals no official definition of participation marketing, but I like Jon Henshaw's definition: "Participation Marketing includes marketing efforts that are participatory in nature, and can be accomplished both online and offline."
Many companies have been doing these customer-interaction marketing activities for years, such as producing surveys, answering questions through webinars, interacting with customers on social networks and so on. Other examples: Trade shows give attendees the opportunity to get information from companies at their booths. Networking events qualify as participation marketing because you interact with others, which gets your name and brand out there.
What really matters
I posted a query asking for the definition of participation and engagement marketing and its value. The answers varied. One respondent made a great point. Nikolas Allen, BAM! Small Biz Consulting, said that engagement marketing is "essential in our info-saturated world where consumers have become experts at tuning out irrelevant marketing messages."
The truth is that all these marketing activities belong in a corporate marketing plan not as stand-alone tactics. For instance, some companies create social media marketing plans separate from their marketing plan, but I believe social media isn't separate. It's another channel, avenue or tool for spreading the message about your company.
Every company relies on accounting to take a temperature of the company's financial health. Yet, there are two types of accounting methods to record a company's transactions: cash-basis and accrual. No one says, "Have you checked our cash-basis accounting data?" Most of us refer to it as simply "accounting."
Consider the definition of marketing from the American Marketing Association:
"Marketing is the activity, set of institutions, and processes for creating, communicating, delivering, and exchanging offerings that have value for customers, clients, partners, and society at large. (Approved October 2007)"
Social media, engagement and participation marketing all fit, yes?
Companies build a marketing plan around the company's goals and target audience. Using this information helps marketers decide what activities to do, such as create blogs, publish a monthly email newsletter, set up Facebook pages, join Twitter or attend a trade show.
Do what's best for your company
The most important thing is to choose the right tools for the right reasons, not because they're the hottest thing. A company that uses Facebook and Twitter shouldn't just add Google +, Pinterest or another network on its to-do list.
These four social networks have business success stories. Yet they won't be success stories if your company cannot make the most of its selected networks. It's better to pick the ones your company can invest in rather than do the minimum to get by on all four.
Participation results in buyers
I don't blog as often as I did. My priorities and plans have changed because I've added Twitter, Facebook and Pinterest to my marketing strategy. No matter which marketing approach I use, the more participation, conversations, feedback received from prospects, the higher the chance they'll turn into buyers. I modify my marketing plan to fit the current needs of my business and my clients, as do most successful businesses. As long as you find ways to keep and build relationships, your company will engage more and grow.
Editor's note: Have a new marketing approach to share with other professional services firms? Or want to stay informed about the latest marketing techniques? Share your ideas in comments or privately, and keep reading Professional Services Journal to see what others say. (If you're not already a subscriber, please subscribe to the monthly newsletter for content we think you'll find valuable to your business.)
About the editor
Meryl K. Evans is senior editor at InternetVIZ and the content maven behind the Organizational Excellence Journal, IT Solutions Journal and Professional Services Journal. Follow her on Twitter @merylkevans and Facebook.