Reveals cover artwork for Rare Breed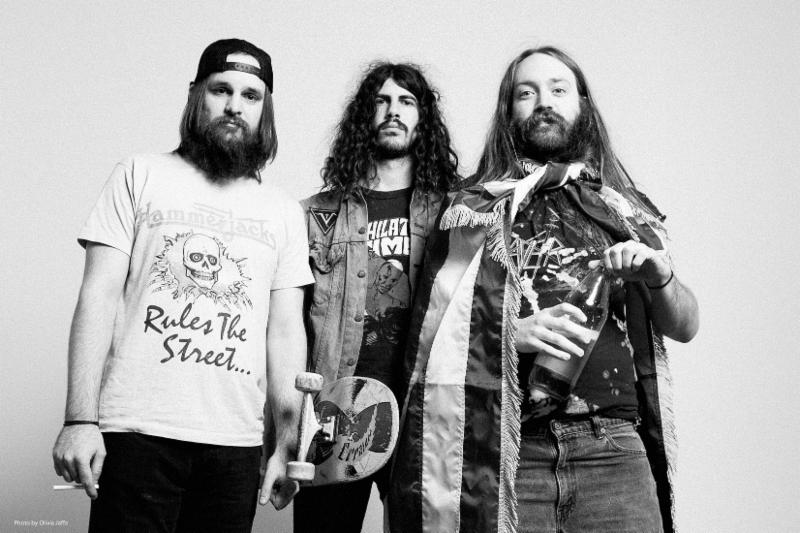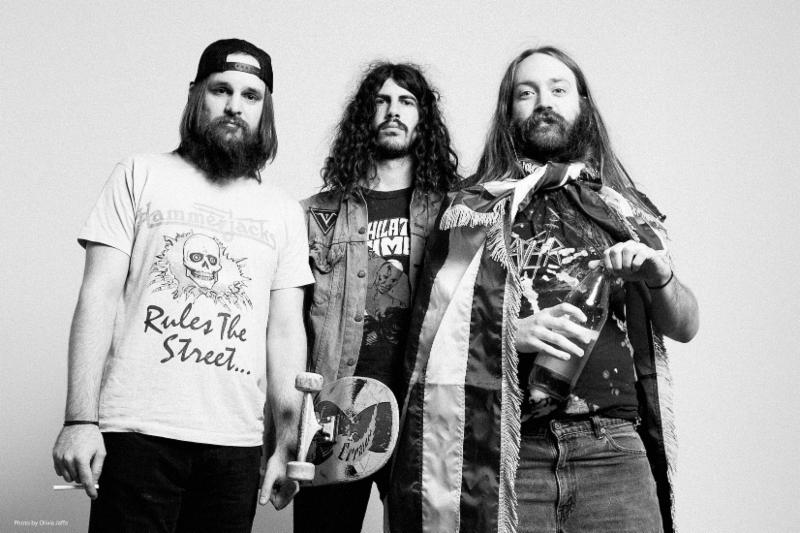 Venice Beach, California's purveyors of Psychedelic Violence, The Shrine have unveiled details about their upcoming Century Media Records debut, Rare Breed. Oozing with old-school flair, punk aggression and unbridled rock 'n' roll fury; Rare Breed has been set for North American release on January 15, 2016 (with extended content) and October 30, 2015 in Europe and UK. Album artwork for Rare Breed, done by Kris Kirk, can be seen below.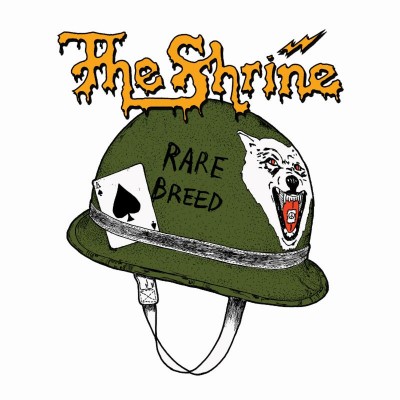 With anticipation for the album's release already at a fever pitch, The Shrine and Noisey.com have joined forces to give the band's growing legion of fans a taste of things to come with the exclusive premiere of the video for "Death to Invaders." The Shrine guitarist/vocalist Josh Landau commented on the video, "'Death to Invaders' is pretty much the shortest straight ahead fast song on the album. The title was inspired from the old Dogtown graffiti at POP Pier, but the lyrics kinda don't have anything else to do with that."
"Death to Invaders" is now playing at: http://noisey.vice.com/blog/the-shrine-video-death-to-invaders.
Fresh off of a headlining tour of Japan, The Shrine is gearing up for a 16-city trek of epic proportions with Clutch and Corrosion of Conformity, followed by an European tour with Kadavar and Horisont in November/December. Before striking out on what promises to be this fall's most debaucherous rock 'n' roll road show, The Shrine will hit the high seas and join the likes of Motorhead, Slayer, Suicidal Tendencies and more on Motorhead's Motorboat Cruise.
"We just returned from Japan where they absolutely worship rock and roll. California is burning and we're taking off on a heavy trip around the USA," said Landau about the upcoming tour. "We couldn't be more stoked that Lemmy is back on stage and we're playing Motorhead's Motorboat. We have our new jams from 'Rare Breed' and we're kicking them out."
Produced by Dave Jerden (the venerated knobsman behind such classics as Alice In Chains' Dirt, Jane's Addition's Nothing's Shocking, Social Distortion's self-titled, The Offspring's Ixnay On The Hombre and Eno/Byrne's My Life In The Bush of Ghosts) and recorded through the very amp that Greg Ginn recorded Black Flag's Damaged on, Rare Breed exists in a space that once was was bleeding with razor sharp lines separating punks, metal heads and hippies, where a violent clash in the parking lot of the Cuckoo's nest was inevitable.
For more on The Shrine visit www.theshrineband.com and on Instagram @theshrine.
**The Shrine will be available for in-person interviews during the Motorboat Cruise. Members of the press attending the cruise can contact ryan.ogle@concretemktg.com for inquiries.
The Shrine live dates:
* The Shrine headlining
# w/ Clutch & Corrosion of Conformity
9/22 – Scottsdale, AZ – Pub Rock *
9/23 – Ft. Worth, TX – Lola's Saloon *
9/24 – Austin, TX – Sidewinder *
9/26 – Tallahasse, FL – Pug's Live *
9/28-10/2: Motorhead's Motorboat Cruise w/ Motörhead, Slayer, Suicidal Tendencies & more
10/3 – Revolution – Fort Lauderdale, FL #
10/4 – Jannus Live – St. Petersburg, FL #
10/6 – Marathon Music Works – Nashville, TN #
10/7 – Amos's Southend – Charlotte, NC #
10/8 – Brooklyn, NY – St. Vitus *
10/9 – Hampton Beach Casino Ballroom – Hampton Beach, NH #
10/10 – Upstate Concert Hall – Clifton Park, NY #
10/11 – Toad's Place – New Haven, CT #
10/13 – The Vogue – Indianapolis, IN #
10/14 – House of Blues – Chicago, IL #
10/15 – Orbit Room – Grand Rapids, MI #
10/16 – Pop's Nightclub – Sauget, IL #
10/17 – Bourbon Theater – Lincoln, NE #
10/18 – Schiels Arena – Fargo, ND #
10/20 – Al Bedoo Shrine Auditorium – Billings, MT #
10/22 – Knitting Factory – Spokane, WA #
10/23 – Knitting Factory – Boise, ID #
10/24 – Santa Ana – Beach Goth – The Observatory *
10/25 – Los Angeles, CA – The El Rey *