The first high quality wireless headphones to tackle age-related hearing loss
Old Lyme, Conn. March 12, 2015 – Audio specialist Sennheiser has developed a new wireless headphones with the Fraunhofer Institute for Digital Media Technology IDMT. The RS 195 compensates for age-related hearing loss through personalised sound adjustments that can be adapted to each user's preferences and individual hearing levels.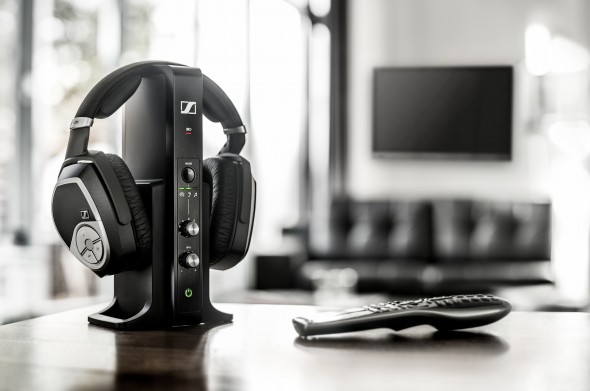 The RS 195 is specially tailored to the needs of people who suffer from hearing loss, and is the first wireless headphones that compensate for hearing limitations while also delivering high audio quality. The user can optimise the sound quality and speech intelligibility to reproduce every detail of their favorite TV programs and music. To achieve this, Sennheiser worked with Fraunhofer IDMT, which has developed signal processing strategies based on hearing aid technology for use in consumer electronics. In addition to providing technical expertise, researchers conducted comprehensive user studies to ensure that the RS 195 is optimized for the needs of people with age-related hearing loss.
Better intelligibility for age-related hearing impairment
"Everyone has their own sound preferences for speech intelligibility. Individual sound adjustments therefore benefit everyone. Moreover, from the age of fifty onwards, many people begin to experience hearing loss. The transition to impaired hearing is very gradual," explained Dr. Jan Rennies from the Project Group for Hearing, Speech and Audio Technology of the Fraunhofer IDMT. "Studies of participants in the 50+ group with age-related hearing loss have shown that the signal processing we have integrated significantly increases speech intelligibility."
In addition to providing sound quality adjustments, the headphones automatically optimize the volume so manual readjustments are no longer required.
Individually adjustable sound
The RS 195 transmitter also serves as a charger and has numerous settings, so that the sound can be customized to each user's preferences. In addition to TV noise suppression and switchable modes for speech and music, the device has seven presets options with different sound profiles. These profiles compress, accentuate or reinforce the high, mid and bass ranges, while also compensating for individual hearing loss. "This means that the sound is not just louder, but can be adjusted to the specific needs of each user," says Annegret Meyer, Vice President Sales Europe Hearing Care at Sennheiser Electronic GmbH and Co. KG. "Users with impaired hearing no longer have to forego the pleasure of excellent sound quality across the entire frequency range." Moreover, it is possible to modify the balance between the right and left stereo channels. Thanks to intuitive user controls on the headphones, both volume and presets mode for voice and music can be controlled directly by the user. The closed, circumaural design of the RS 195 also ensures the clear reproduction of voice and music, while being comfortable to wear for extended periods of listening.
State-of-the-art wireless technology
In order to ensure consistently reliable, high-quality audio transmission with minimal latency, the RS 195 uses Sennheiser's latest digital wireless transmission, which is based on 2.4-GHz band and has a very stable range of up to 100 metres. The transmitter has an analogue 3.5 mm input jack, as well as optical digital input. It comes with a fast charging function, which allows continuous use for up to 18 hours.
The RS 195 is available now.
About Sennheiser
The Sennheiser Group based in Wedemark near Hanover, Germany, was founded in 1945 and has gone on to become a leading manufacturer of microphones, headphones and wireless transmission systems. Sales in 2013 totaled 590.4 million euros. Sennheiser employs more than 2,700 staff worldwide and operates plants in Germany, Ireland and the USA. The company has a worldwide network of subsidiaries in France, Great Britain, Belgium, the Netherlands, Switzerland and Liechtenstein, Germany, Denmark (Nordic), Russia, Hongkong, India, Singapore, Japan, China, Australia and New Zealand, Canada, Mexico, and the USA. It also has long-established trading partners in other countries. Georg Neumann GmbH, Berlin, a maker of studio microphones and monitor speakers, and Sennheiser Communications A/S, a joint venture making headsets for PCs, offices and call centers, are also part of the Sennheiser Group.
More information about Sennheiser is available on the internet at www.sennheiser.com