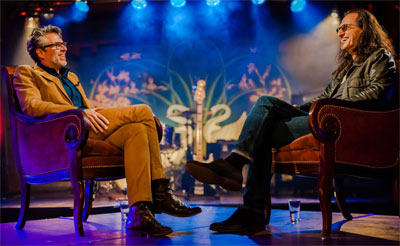 Program Features Roger Waters, Geddy Lee, Carlos Santana, Nile Rodgers and John Mellencamp

Old Lyme, Conn., – February 23, 2015 – The last couple of decades have presented an enormous challenge for some of the world's most accomplished artists and musicians, as their 'canvases' and distribution mechanisms have experienced unprecedented change and upheaval. As business models change and consumer preferences evolve, artists continue to seek an unspoiled, clear path through which they can express their uniquely creative visions to the public. Speakeasy, which debuted last month on public television and which features pristine audio from Sennheiser and Neumann, is that show.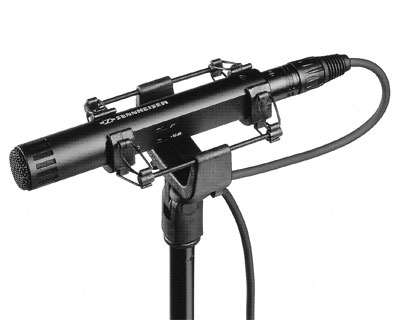 Speakeasy is produced by Front and Center Entertainment's Don Maggi and Denis Gallagher and directed by Pierre and François Lamoureux of FogoLabs. It is new public television interview series that casts Rock 'n' Roll Hall of Fame inductees, Grammy Award winners and some of the world's most iconic musicians in an unrestrained and pure light, delivering the most authentic possible experience to living rooms across North America. Behind the scenes, the program is supported by an uncompromising technical platform consisting of an array of Sennheiser MKH 20 omni-directional microphones and Sennheiser's renowned G3 wireless system for the recording phase, and a fully equipped 5.1 surround system with Neumann KH 120 nearfield monitors for mixing and post-production.
The program is regularly taped in the McKittrick Hotel, originally built in the 1930s as one of Manhattan's most lavish and luxurious temporary residences. The recent renovation of the landmark building, which is also home of the theatrical production Sleep No More, served to create the ultimate, prohibition period backdrop for each of the interviews, which are stylish, intimate and rich in creativity.
"At the end of the day, our job is to stay out of the way of the content and deliver programming in the purest sense," says Producer David Belafonte. "Staying 'out of the way' is a gift that should be left to only the best technical professionals and equipment." This is one reason he is pleased to be collaborating with Sennheiser, he explains. "Over the years, this is a brand that has always delivered a consistent, qualitative value add for the artist." His own relationship with Sennheiser began in the 1970's, helping set up his father's stage shows.
Making viewers 'feel like they were there'
Pierre and François Lamoureux, both music graduates from Montreal's McGill University who have extensive experience in audio for video, were responsible for creating the ultra-realisitc 5.1 audio experience that has become such an integral component of each Speakeasy production. To create such a sonically rich and detailed viewer experience, the pair relied on a combination of wireless lavaliers on the talent, in addition to an array of seven MKH 20 omnidirectional condenser microphones, which were placed around the perimeter of the room in a standard ITU specification to capture every nuance of the audience's reaction.
"We tried to develop something unique with this series, where it really looks and sounds different than most talk shows," explains François Lamoureux. "I wanted to have the option of having an omni and a supercardioid mic on the talent, and the other thing is that I knew I wanted to mic the entire room for surround. For the room mics, I had no hesitation choosing the Sennheiser MKH 20s — I knew it had the gain I needed, as well as an exceptionally low noise floor so it would be quiet during passages where no one was speaking. I also knew it would deliver the most realistic experience for the viewers, making them feel like they were there."
Making a 'smooth translation' with Neumann monitors
Before mixing the shows, which included such illustrious and diverse guests as Roger Waters, John Mellencamp, Geddy Lee, Nile Rodgers, Carlos Santana and equally illustrious hosts of the guests' own choosing, François acquired a 7.1 monitoring system, consisting of seven Neumann KH 120 near field monitors, set up to faithfully recreate the recording environment at the McKittrick Hotel as accurately as possible. Though the program is currently mixed in 5.1, Lamoureux intends to mix next season in 7.1 "The Neumann KH 120s were unbelievable," he exclaims. "As soon as I started mixing these shows, my mixes started translating extremely well, everywhere I played them."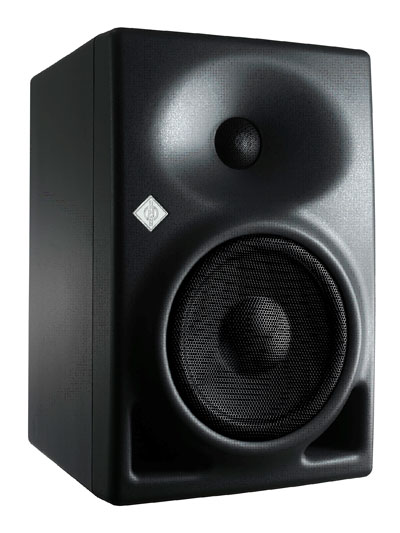 During the taping of Speakeasy, Lamoureux monitors on Sennheiser HD 650 and HD 280 headphones before bringing the audio files to mix on his 7.1 Neumann monitoring set up at FogoLabs.  When mixing, Lamoureux is looking for an authentic translation of what actually occurred in the room during the interview. "I don't do any tricks, I just work with depth," he says. "Since this is an interview show, my goal is to recreate the space so that the audience at home feels like they are in that room with me. I want it so when I shut my eyes, I can actually 'see' the talent and the audience."
Ever since Lamoureux has been using the Neumann KH 120s, he has not had to compensate for any speaker limitations. "These speakers have a very linear frequency response," he observes. "While testing them, I realized I could mix according to what sounded good to me — the only EQ I was doing was EQ that was needed. When I mix these shows, I very rarely have to make any changes. I attribute this in large part to having the right equipment."
A program still in its infancy, Speakeasy aims to continue bringing out the individual perspectives of a diverse range of artists. For David Belafonte, one of the more poignant moments was when Carlos Santana chose to be interviewed by his father, Harry Belafonte. "When that came to pass, it made for a very interesting interview on both a spiritual level and a socio-political level, since both Carlos and my dad are very well versed in these topics."
For both Lamoureux and Belafonte, having Sennheiser at their side is critical. "If you consider that the audio chain is only as strong as its weakest links, then you better have solid links throughout. We have that with Sennheiser," says Belafonte. Lamoureux agrees: "Audio is just as important as video," he says. "If the camera fails, well, we have a great audio recording. But if the audio dies, we've got nothing. You can't listen to a light show."
*Speakeasy photo credits: Kat Villacorta
About Front and Center
Front and Center is the critically-acclaimed concert series that was launched in the Spring of 2012.  The original one hour, commercial-free, all-music program airs nationwide on public television.  Through the years it has presented an eclectic mix of Grammy winning, multi-platinum selling industry vets and chart toppers, including the likes of Jack Johnson, Keith Urban, Train, The Avett Brothers, Cyndi Lauper, Little Big Town, the Goo Goo Dolls and more.
Front and Center is a production of Front and Center Entertainment, LLC in association with WLIW21 for WNET, and distributed by American Public Television.
About Sennheiser
The Sennheiser Group based in Wedemark near Hanover, Germany, was founded in 1945 and has gone on to become a leading manufacturer of microphones, headphones and wireless transmission systems. Sales in 2013 totaled 590.4 million euros. Sennheiser employs more than 2,700 staff worldwide and operates plants in Germany, Ireland and the USA. The company has a worldwide network of subsidiaries in France, Great Britain, Belgium, the Netherlands, Switzerland and Liechtenstein, Germany, Denmark (Nordic), Russia, Hongkong, India, Singapore, Japan, China, Australia and New Zealand, Canada, Mexico, and the USA. It also has long-established trading partners in other countries. Georg Neumann GmbH, Berlin, a maker of studio microphones and monitor speakers, and Sennheiser Communications A/S, a joint venture making headsets for PCs, offices and call centers, are also part of the Sennheiser Group.
More information about Sennheiser is available on the internet at www.sennheiser.com