How do you sell yourself to those who have never seen you live?
by Chris Hulbert
Today's music business has become an ever-morphing entity where everything can change in an instant. Before you even think about walking into a meeting, you better have the look, sound, lyrics and at least a basic knowledge of how to market yourself.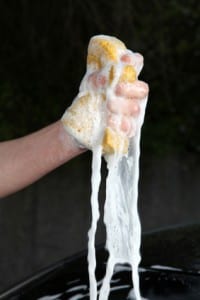 As most of us in the business know, the industry drastically changed in the past 10 years. If you plan on being noticed by a publisher, management group or label, that "something special" just won't cut it anymore. These execs want to know you are confident, strong and won't flake on them when the wheels start rolling. In today's market, launching an artist is a very expensive, risky investment. In an uncertain economy, that risk doubles.
Hitting it big in a saturated market is no easy task. For example, Nashville, Tenn. singer/songwriters are a dime a dozen. All you have to do is walk into any local pub on Broadway or Division Street to realize this. The bartender, the server, even the bouncer are likely aspiring musicians. They come from all over, hoping to get noticed and hit it big.
So what does it take to stand out more than others? Besides having the look, sound and lyrics, marketing your band is extremely important. Sure, websites, street teams and social media are great for building your target audience to gain a fan base. Another option is videos.
Many new artists want to jump on the music video bandwagon to promote themselves. While this is a great idea down the road as an established artist, early on, tends to be a loss of cash. Oftentimes, a visually stunning video that sounds great is still a studio cut. So unless your live show is exactly like how you are in your video, you may want to rethink your strategy.
How do you sell yourself to those who have never seen you live? How does an undiscovered artist convince and convey to a potential investor or A & R person that you are the next big thing? The answer is an electronic press kit or a live concert video.
A proven marketing tool
Visual, live concert recordings have been around for some time. For instance, broadcast shows such as "The Ed Sullivan Show," "Grand Ole Opry," "American Bandstand," "Johnny Carson," "Saturday Night Live" and "Jay Leno" have been great marketing tools over the years for people to see and hear a newly signed artist. By the late 70s, you could purchase a copy of your favorite band's live concerts on 8 mm, Beta or VHS videotape. By the mid 80s, laser disc and S-VHS had arrived. Now, people have access to DVDs and digital downloads.
Concert recordings in some of these formats often were produced after the artist had a "deal" and hit the charts. Thanks to Internet sites such as YouTube and Vimeo, it's now possible for an unknown teenage garage band to post homemade smart phone videos for the world to see.
Yet herein lies the problem. If you are looking to land a deal, the last thing you want to do is post any video online for the world to see. This has the potential to open Pandora's box. Traditionally, the management and label want to be the ones to introduce you to the world as not only an artist, but as their artist.
So how does one address these issues without feeling like you are throwing away money on making a video? First, find a production company or independent professional, depending on your budget, and shoot an EPK or a live concert video.
Elements of an EPK
Your standard EPK video consists of three, sometimes four songs and an interview with the artist. The usual arrangement is a montage that cuts between the live performance/behind the scenes b-roll and the artist/band's self-reflection of who the artist is and what makes its music stand out. This gives any sponsor, publisher, management/label a real good idea of the overall package.
The EPK reflects performance, motivation, ambition, stage presence, band interaction, fan base and, of course, business savvy. Besides having a video EPK to put in front of different music business entities, you have gained at least three live songs and lots of raw footage that you can cut later for a DVD or digital download.
Live concert videos
Depending on what you are willing to spend, live concert videos tend to open up even more possibilities for end use. For about the same cost as one regular music video, you can end up with a very professional 8- to 10-song DVD. The bigger your budget, the more you have to spend on better equipment, audio, lighting, operators and post-production to produce a top-notch product.
Once you complete your video, you can email a live video song along with your studio cut in hopes to get that deal. What about the rest of the songs? Simple, you now have a full DVD and a live CD that you can sell at shows or online once that deal comes to fruition. Since you paid for it out of pocket, you can negotiate a larger cut when it goes to distribution via your management/label or sell it yourself. It's up to you.
Professional video production is not cheap, but remember it's those first 15 seconds that can make or break and artist. you want a long term contract, so shooting this like a reality show audition is not recommended.  First impressions count, so if a video is the road you want to take; be prepared to spend a little.
Why not do 'em both?
EPKs tend to be the cheapest route and really the best for an artist with a limited budget without breaking the bank. Many live concert venues throughout the U.S. have robotic camera systems for recording purposes. If the operator knows what he or she is doing, you can end up with a professionally done live concert for a very reasonable price, but just like any high-end video production, the multi-track audio recording could be a separate cost, but usually gets built in.
If you have a larger budget, go with the entire live concert. You can create an EPK with the concert footage and add it as a bonus in the DVD. When you are ready to shoot a traditional music video to go on VH1, MTV 2, GAC or CMT, you can add the live footage to it or behind the scenes b-roll to a live song.
Regardless of whether you reel in that big record deal or not, you will have a timeless professional product that reflects your passion for music and love of your craft. That's something no one can ever take from you.
Chris Hulbert is an independent director, producer, videographer and editor in Nashville, Tennessee.  Hulbert, a native of Birmingham, Alabama honed his craft starting at a young age. By 15, he was co-designing and building sets for his high schools theatre department. A few years after high school, Hulbert started a small business specializing in photography and graphics catering to local and regional bands in the area. Realizing this was the career path he wanted to take, Hulbert enrolled at The University of Alabama at Birmingham, jumping head first towards a Communications degree while taking on a videographer and graphics position at the local NBC news station. Since then Hulbert has worked in all facets of multi-media from shooting video, photography and editing local commercials, tv shows and live concerts to directing a national tv series for the SPIKE network. Hulbert has worked with artists such as Maroon 5, Kenny Wayne Shepard, Monte Montgomery, Kenny Olson (Kid Rock,) Colin Hay, The Cramps etc.  Hulbert is currently working on his latest project with Samhain co-founder and former Danzig bassist, Eerie Von on his upcoming documentary, Misery Perfectum.