Get Your Copy on November 13, 2014
via Megaforce Records 
Watch SCOTT IAN's Hilarious One-Man Storytelling Experience at Home!
Order it Here: http://www.pledgemusic.com/projects/scottian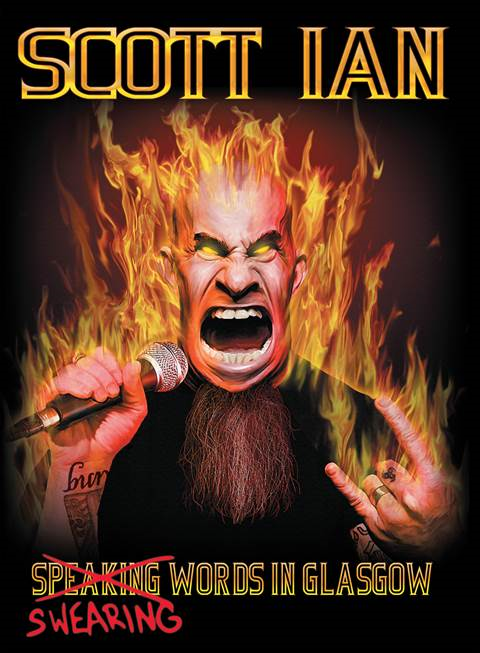 "I always knew Scott was a pioneering musician, who knew he was also such a great storyteller? His observational, self-deprecating humor is like Henry Rollins crossed with George Carlin." – John Wiederhorn, co-author of Louder Than Hell: The Definitive Oral History of Metal
"Geek, author, guitarist, icon: when it comes to recounting the history of metal, SCOTT IAN is the man – catch him while you can." – Alex Milas, Editor, Metal Hammer
Legendary heavy metal musician, author, and television personality SCOTT IAN had a lot to say on the European and United States legs of his groundbreaking Speaking "Swearing Words" Tour. After decades-worth of international touring with Anthrax, bumping elbows with illustrious (and sometimes ridiculous) characters all over the media spectrum, and undergoing general "you won't believe this" experiences— SCOTT IAN certainly had some hilarious and surprisingly personal stories to share.
"Swearing Words" is an honest look at the insane life that Scott has led for the last 31 years, the people he's met, and the events that coincide. Now, you can experience Scott's "Swearing Words" Tour by way of Swearing Words in Glasgow, available via Megaforce Records on November 13, 2014.
The Swearing Words in Glasgow DVD is a full performance recording, filmed towards the end of the tour run in Glasgow, Scotland, and is being funded by a wildly popular PledgeMusic campaign, which surpassed its goal with the help of gracious and dedicated fans!
To pre-order the DVD or for more information, visit the PledgeMusic campaign page here here: http://www.pledgemusic.com/projects/scottian
For press inquiries and additional information, please contact Adrenaline PR and Maria Ferrero at 732-462-4262 or maria@adrenalinepr.com.