Leading a rock revolution
Saving Abel is a hard-working, perpetually touring hard rock band from Memphis, Tennessee. They are as blue-collar as it gets.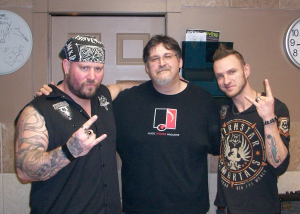 Their work ethic reflects that upbringing and their musical ethos. That "band of the people" image isn't something that they or their PR people just dreamed up as some marketing scheme, either. It is a credo that the band lives by every day on the road, and it's especially evident when they're on stage in front of their screaming fans. From what I've seen and heard, this is a band that puts the fans before all else. They have toughed out the long, arduous hours,
countless towns, and multitude of miles to get their music out to the masses.
In this day and age of independent bands going their own way without the resources of the big record labels behind them, it's been a hard slog through the usual, and sometimes unusual, ups and downs. Sometimes they might find
themselves playing in smaller venues to smaller crowds, until they had built up necessary momentum again to get them and their music in front of the larger crowds.
Saving Abel started out as two friends Jared Weeks and Jason Null in Corinth, Mississippi got together to write original hard rock music with a southern twist. The music they wrote was not your typical Southern Rock music, to be sure, but it was unquestionably tinged with Southern Rock influences – ala The Allman Brothers Band, and the guitar-heavy blues and country influenced rock music that it implies. Theirs is a style that fuses those Southern Rock
influences with the heavier styles of more contemporary hard rock acts of today.
The band has gone through changes that would have made lesser bands call it a day, namely the departure of their original singer and co-founder, Jared Weeks, who left the band to pursue a solo career in Nashville, Tennessee under the production of Skidd Mills. Such a loss usually signals the death knell for most bands, but not Saving Abel. They regrouped as a cohesive unit under the frontage of their long-time friend and new singer, Scott Austin, formerly of Trash the Brand. Under the banner of Scott Austin, Saving Abel has released their first album without Jared Weeks at the vocal helm, called "Blood Stained Revolution" and are commencing their 2015 touring season this April, with shows all over the US — from the Texas, the Deep South, the Midwest, to the Eastern seaboard, and beyond.

I recently caught up with the band in one of the remote corners of the Ozark Mountains at the Royal 66 Club in Mountain Home, Arkansas and sat down with Scott Bartlett and Scott Austin to talk about the band's latest album, their current tour, and some special causes that are near and dear to their hearts.
Brian McKinny: The founding members, Jason Null and Jared Weeks (departed in 2013) are from Corinth, Mississippi. Scott, you live in Memphis, Tennessee. Memphis is a town whose cultural history is steeped with all manner and style of music — legendary gospel, rhythm-n-blues, jazz, and early rock music have strong associations with the City of Memphis. What's it like living in such a musical town like Memphis for a guy like you?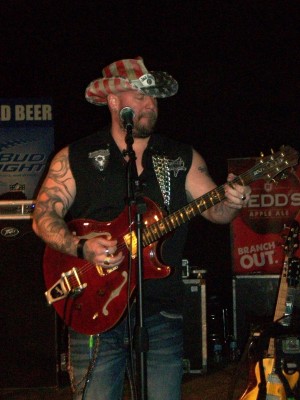 Scott Bartlett: It's pretty awesome, actually. I should clarify, because I grew up in Baltimore, Maryland, and I moved to Memphis when I was 18. I own a home and make my residence there, and in spite of some high crime areas, I love it, and am proud to live there and call it my home. I'm also proud that Memphis has called me their own, because I've lived there more than half my life now.
I moved from Baltimore to the South on purpose, because I love Southern Rock music, primarily the Allman Brothers Band, all that 70's guitar rock. I got into a few schools down there in the South — the favorite I went to visit and ended up attending was Rhodes College, because of the Memphis music scene. So I convinced my parents that I'd be a good boy, and I wasn't a good boy. I got my degree and everything, but I partied pretty hard, and I still do to this day — I'm a guitar player in a rock band — it's what I do.
Memphis is great, you know? It's the home of Elvis Presley and Graceland, B.B. King, all the great clubs on Beale Street. I love it, man. That Johnny Cash movie, "Walk the Line" really helped put it back on the map again, because it
was such a huge box office hit, and put the spotlight on the music scene here again with Sun Studios and Stax Records from the old days. Led Zeppelin's "Houses of the Holy" was recorded there. The Allman Brothers recorded at Ardent Studios there, as well. There's just so much going on with music in Memphis. You can't ever separate the two. Music is the air that Memphis breathes. It's in the blood.
McKinny: The band was originally signed by Virgin Records while performing at a VFW hall in Jackson, Tennessee. Tell me a little about the experience of being signed for the first time, and what that was like for you and the band as a whole.
Bartlett: Oh man, it was about 105 degrees outside, and about 120 inside the hall. The heat and humidity was just stifling, and my dad was there in a coat and tie! I kept worrying, "Oh my god, I hope my dad doesn't stroke
out!" We had some important people there, and we weren't that tight yet. We had written some great songs and had a good product, but we were still getting our feet under us. I was a session guy, so I kind of knew how to slink my way by and follow the changes, but the band together wasn't really a tight unit. All of us as individuals could play, but we hadn't really built the sound together on stage yet, so that was where it all started to happen. As the story goes, Jason
Flom (then CEO of Virgin Records) was on the 18th green of a golf course when he got a phone call — he heard "Addicted" on his cell phone, and immediately said, "That's it, sign them! We've finally got ourselves a Southern Rock band for the label." At the time, Virgin was looking for a rock act that was going to shake things up a bit, because they were primarily focused on other music genres — they had just signed Katy Perry, and other pop acts. They've since signed Alice in Chains, and rock is in a different position now than it was then, around 2007. The last song on our first album was "Addicted," and that sort of dictated where we were going, because it was a sort of harder rock, mid-tempo song, with a lot of heavy guitar mixes and guitar solos.
McKinny: Did you see that song as helping to give the band the focus that you needed at the time to drive the band in the direction that you wanted to take it?
Bartlett: I think so. When I first got to it, Jared and Jason had six acoustic songs, no band name, and there was no real sense of direction. They had kind of been revolving around the confines of what had been this little box — it
was very singer-song writer oriented, and our producer was trying to push The Black Crowes style of band and music, and I felt like, "I really love The Black Crowes, but I don't see this outfit bringing a (Hammond) B-3 organ into the mix." I don't see different instrumentation; I see hard, cutting guitars with Humbucker Pickups, and in-your-face lyrics — think more contemporary, active rock with a Southern "twang" to it.
McKinny: What were the logistics of rehearsals and recording like at the beginning, with half the band living in Memphis, and the other half living in Corinth, Mississippi?
Bartlett: It was a bit weird, because the band was traveling to Memphis to record, and I live in Memphis, so I had to travel to Corinth to rehearse. We couldn't just meet in the middle, because there was nowhere to go, and I could remember going to our producer after about six rehearsals, and saying, "Look, you signed me up for this, so I need some gas money because I can't afford this commute!" I had quit my teaching job, and I was only making
money playing music – I was in something like six bands in Memphis at the time, and teaching guitar lessons was working for me because I had a private studio with around 45 kids as my students. When you have a degree in Classical Guitar Performance, there's not much else you can do, except teach. I had done an internship back in Baltimore writing jingles for commercials and to me that felt like, "Great, I'm selling out and I'm 26 years old." And then, our producer convinced me to roll the dice, saying "I really think there's something good here." It's kind of a cool story, because I literally had to defer payment on recording six songs to just try to be in a band for a month — we formed the band, and I just knew we were onto something; we all did, obviously, but it was, at the time, a big financial risk, and I'm just happy it worked out for all of us.
McKinny: Back in 2009, Saving Abel toured Canada with Nickelback, Hinder, and Papa Roach. There was a trumped up controversy back then in the media between your band and the guys in Hinder. What's the real deal on that situation?
Bartlett: Yeah, that was pretty funny, because those guys are some of my best friends. I'll give you a little side note: that was entirely their doing. It was a publicity stunt, and it worked! The first time I met them, they were like, "We're going to fight," and we were back stage at a massive event for the troops — it was at the NBC Building at Rockefeller Plaza in Ney York City. We had just released our song, "18 Days" and we were second to last to go on, Hinder was on the bill and their dressing room was right across the hall from ours, and they invited us to come over. So we were in our dressing room, and we were doing push-ups, and getting pumped up thinking, "Alright, I guess this is going to happen!" So we go over, and the guys in Hinder are just sitting around, and they ask us, "Do you guys want a shot of Jager?" I said, "Sure! Hell, let's have seven!" So it was pretty funny and everything worked out. They said, "We were just poking fun at you guys, because you're the hot ticket and we were the hot ticket about three years ago, so we figured we'd ride on your coattails for a bit," and it was all great free publicity. It was actually a brilliant move from a public relations standpoint.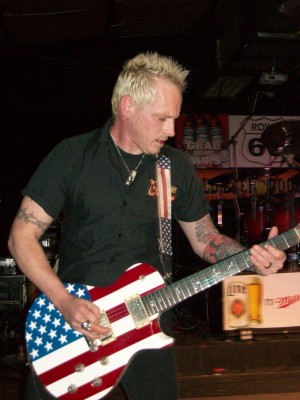 McKinny: Tell me about the tour, because both Hinder and Papa Roach were on that tour with you, in support of Nickelback. What was it like to be on such a mammoth tour, and what did you learn from being on that tour with those bands?
Bartlett: That was a lot of fun, man. Being on that tour with those bands was a great experience, because none of the guys in those bands take themselves too seriously. One of my favorite quotes is "Rock and roll is way too serious to be taken too seriously." That's how those guys on that tour, including our band, approach it, I mean, you're sitting here talking to me back stage while I'm getting dressed and warming up for the show and getting it all on tape. We just roll with it.
McKinny: You and the band have been around for a while now, and have toured and traveled with many different bands. Who are some of the bands you've toured with over the years who stand out most in your recollection, and why?
Bartlett: Well, for sure one of those would have to be Nickelback. Everyone likes to talk, and whenever a band gets as big as Nickelback, it starts to become cool to hate them. But they're one of the most accommodating people I
think we've ever met on the road. They would rent out entire movie theaters on our days off — literally an entire movie theater in Chicago, just so the entire crew and all the bands and people that support the tour could go watch a movie, and they'd even have it catered and an open bar, and we'd sit around and watch movies all day. You don't get much cooler people than that.
They would have private parties, but they'd invite people from around town, and we'd run into that a lot — people who had been through the grind of going up and down in the industry; they understand that thing we talked about earlier, not taking it all too seriously. So when people just let their guard down, you see people – you get close to people, like seeing Jacoby from Papa Roach crying on the phone with his wife because he loves her and he misses seeing his kid when he's out on the road. There's just something endearing about that, because it's human, and it becomes like a family when you're out there and start to get close to the people you're working with. So every badass you see on stage at a rock show has a life outside of that realm, and they're just as human, flesh-and-blood as everyone else. They miss their wives, girlfriends, kids, family. But this is what we do, how we make our living and it comes with the territory. We've been very lucky to have met and become good friends with a lot of the bands we've toured with, and that's one of the best things about this business.
McKinny: You and the band have been very active supporters of our military and veterans. What guided you to do those shows in support of the troops? What's the philosophy behind your patriotism?

Bartlett: Well basically, it boils down to the fact that they asked us if we would. We had a song that started out being about this sheriff, Buford Pusser, from the "Walking Tall" movies. He's from Corinth, Mississippi, and a local legend. He was shot in the head, and his wife was killed right there on Highway 72 in Corinth. He was trying to clean up a local crime syndicate in town, and he literally used to walk around carrying a two-by-four piece of lumber with him. Anyway, they finally ambushed him on the highway, and shot his wife, and shot him and left him for dead. But he survived, waking up in St. Jude Hospital. The first line in his memoirs was "It's been 18 days since I had to look at myself," because he had had a bandage over his entire head because of the bullet wound and surgery. So that song turned into a love story of sorts, and then the military adopted it as their own on our MySpace page, and they had a video of soldiers returning home from combat with our song playing in the background, which was a very powerful thing. Our label wanted to take advantage of that popularity, but we bristled at that suggestion. We told them, we'd love to go overseas and play for the troops, but just don't exploit the song. I mean, we turned down a tour with Motley Crüe just so we could go play for the troops in the Middle East. It's just raw patriotism – that's what it is. We drop everything if they ask us to do something. We love our country, care about our troops, and the belief that democracy works, and our troops make sure that we enjoy our freedom every day. It's the least we can do.
McKinny: Aside from supporting the USO and our troops here and overseas, what are some of the causes and charities that you support as a band?
Bartlett: (Yelling across the dressing room) Hey Scotty (Austin – singer), come over here and talk with Brian about autism!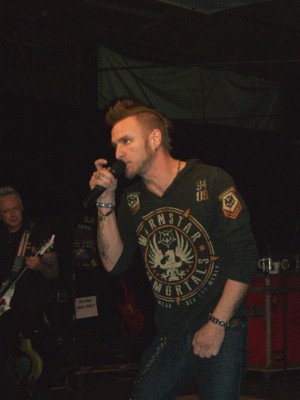 Scott Austin: Yeah, it's my boy. He's the most important person in my life. He was diagnosed with autism when he was two years old. He's four and a half now, and I just sent him off to school on the school bus for the first time
today, this morning. His mom is picking him up from school, but I'm curious how he did today – I'm waiting for the text message… I want to know! I'm already proud of him. He's going to a special school that keeps the kids together and not isolated from the rest of the class. It helps to expose him to everyday things and to learn to deal with the sometimes overwhelming stimulus that can be a great distraction for autistic children. Autism doesn't discriminate — it affects children from all walks of life, every social class and level of society. We support an organization called Autism Speaks that helps parents find the resources they need to help them deal with their children's autism – things
like doctors who specialize in autism, speech and behavior therapists, and they support the research into finding the causes and hopefully, one day a cure. Autism has become such an epidemic that it's affecting more and more people, and Autism Speaks is a great organization that we support.
McKinny: Let me turn now to the new album, "Blood Stained Revolution." This is the first album with you as the lead singer. If you had to sum it up in one sentence to a potential fan who had never heard your music before, what would you say to describe it?
Austin: Rock and roll. It has a lot of different emotions in it, kind of like the human spirit with its ups and downs, positives and negatives — we tried to cover all of it. Actually, 2014 is the best way to sum it up for me, because we played 306 shows last year and at the same time we found the time to record a new record. The record is all about the things that happened over the last year. All of it is the story of how we live, an amalgamation of what it is
like to walk a mile in our shoes the last year or so. The whole past year has been non-stop for us, doing so many shows, recording the new album when we had the chance, and all the changes that we've gone through – it was meant to inspire the imagination.
McKinny: What was the most difficult part of all those changes of the past year, with you coming on as the new singer of the band, and having such a heavy touring schedule, while trying to record a new album when you can find the time to do so?
Austin: We all play with a distinct style of our own, and that comes across when we get together and play. I mean, the band has done so many shows over the last decade that they're really like a machine, and over the past year
with me singing it's really come together well, so that when we're on stage we can communicate so much between each other with just a look, it's almost telepathic, really. I mean, we're really having a blast, writing music that
makes our heart swell.
As far as how things have changed in the band, I don't have the best frame of reference, because we're my favorite band, you know? And I'm the new guy, even though the guys in the band make me feel like I've always been the guy, and so it's hard for me to speak to the changes, other than from my perspective. For me, I'm just feeling extraordinarily blessed to be able to play music with these guys, write the music we want to write, and to go out and perform on stage for the fans, new and old ever night.
McKinny: I understand that the band have created your own record label, Tennessippi Whiskey Records, and released this new album on that label.
Austin: Yeah, we started our own label, and it's working out for us very well. We own the publishing rights to all our music, and not some bunch of suits, and we don't have a bunch of suits telling us what they like or don't like, what to record and what not to. It's really given us much more freedom than we would otherwise have dealing with an outside record company. We're handling our own distribution as well, selling at shows on the road, and through
all the regular online music outlets as well — iTunes, Amazon.com, and all the rest.
McKinny: It seems that this band has weathered all the recent changes in the music business rather well, starting your own label, distributing and selling your own product. What have been the biggest changes you've seen as far as the business end of the industry goes?
Austin: Well, most of the suits are gone, and so what's been left is what matters most – the artists and their music. I think that the industry has come a long way in a very short time, but that there are still parts of it that have yet to be figured out, and some things are going much better because the live shows are really more the focus of the industry now than they have been in a long time. The live shows are our bread and butter — that's where we get to
interact with our fans, play our music in a live situation, and to market our music directly to the fans in a much more personal way, and we think that's pretty cool.
Saving Abel will be out touring in full force this April, and will be touring all across America the rest of the year, so look for them to be coming to a venue near you sometime soon!
Band Links/Social Media:
Facebook:
https://www.facebook.com/savingabel
Twitter:
https://twitter.com/SavingAbel
Instagram:
http://instagram.com/thesavingabel
YouTube:
https://www.youtube.com/user/officialsavingabel
Google+:
https://plus.google.com/109045396027250197893
ReverbNation:
https://www.reverbnation.com/savingabel
For tickets and VIP reservations: