Northern California has always had a rich and diverse musical history. The likes of Santana, Journey, Ronnie Montrose, Night Ranger, Chris Isaak, Bonnie Raitt, Jefferson Airplane/Starship, Pablo Cruise, Primus, Third Eye Blind, Eddie Money, Y&T, Green Day, Sly & The Family Stone, The Doobie Brothers, Smash Mouth, and MC Hammer to name a few.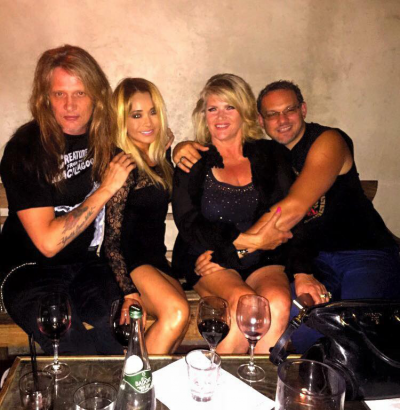 There is no doubt that these artists spent countless nights, lugging gear in and out of some of the small, dark venues, scattered throughout the San Francisco Bay Area. Playing till wee hours of the morning, to share their gift and hopefully gain a few new fans along the way. As long and distinguished as this list may be, these are just the few artists that persevered, and it is actually a small list, when you think of the hundreds of other artists whose blood, sweat and tears have been poured into performing in some of those same venues even today.
Most of us have a hard enough time keeping up with a day job, taking care of business at home and finding some time to share with family and friends. But for the musician, whose passion for music sometimes pushes them beyond their own limits, juggling all of these things while actually finding a decent place to be able to share their passion for music with others, is sometimes an impossible task. These "starving musicians" are faced with the development of original music, or the selection of quality cover tunes; Craig's List ads searching for band members or other collaborators; hours upon hours of rehearsal time; hundreds to sometimes thousands of dollars for quality equipment, to deliver the music; time and effort to create quality recordings, video and other marketing ventures, to help promote their music; and of course, good old banging on the doors of local bars, pubs or restaurants, that sometimes have live music. These are not "Music Venues", in the true sense of the word. Don't get me wrong, if you happen to be one of the many struggling artists, musicians or bands based in the San Francisco Bay Area (or anywhere for that matter), you are happy to have any place to be able to share your music with audiences. However, a cramped area over by "the big screen TV" does not a stage make.
As a musician myself, who also takes on the responsibility of securing quality gigs for my band, I know exactly how tough this can be sometimes. Most available "venues" are small local bars, pubs or taverns that have discovered if they clear some tables from one corner and move the pool table, they just might have enough room to cram a live band in the corner and hopefully bring in more patrons to buy alcohol. Not necessarily ideal for a hard working musician and from an audience perspective, how much fun can it be to have to fight your way through countless elbows and underarms, for the two or three song length trek to get to the bar for a drink?  If you are lucky, you might actually see the band play one or two tunes. Since some of these "venues" do not have their own sound system, sound engineer, stage or stage lighting, its a good thing you went to see a cover band and already know all of the songs, because there is no way you could understand a word with the poor acoustics and unbalanced sound. And where is one supposed to go to see the national touring acts that don't play the HP Pavilions and the Shoreline Amphitheaters of the world?
Enter San Jose's NEW, RockBar Theater (cue the angelic choir). This self-proclaimed, "One of a kind live entertainment theater, with catering for up to 1000 guests, offering a Rockstar decadent setting" not only talks the talk, but they seriously walk the walk.
The RockBar Theater offers plush seating, specialty "Rocktails" from either the main bar or their
Specialty Vodka Bar (a bar located inside the bar) with over 100 types of Vodka.  The RockBar offers a VIP space that includes a stage side lounge with full service for special functions and events. As if that weren't enough, co-Owners Susan Cramer and Robert Farrell, brought in a culinary rock star in Chef Gray Rollin. Chef Gray is renowned for his wide variety of experiences and culinary creativity. Since 2008, he has served as a celebrity Tour Chef for many well-known performers, including Motley Crue, KISS, Black Eyed Peas, Sarah McLachlan, the Rockettes, Katy Perry, Blink 182, Godsmack, and Tori Amos. Since the summer of 2011 and before joining the RockBar staff, Chef Gray had traveled exclusively with Linkin Park to more than 40 countries with tours to Asia, Europe, South America, Africa, Australia, New Zealand, Mexico and more.
The RockBar Theater is a sophisticated, luxurious venue that boasts a state of the art sound system, lighting and 50 feet of stage area, more than adequate enough for rock heavy hitters that have already graced their stage in their short history such as Billy Idol, Blue Oyster Cult, Sebastian Bach and Michael Schenker.
When my own band was fortunate enough to book a show at the RockBar, we could feel it from the minute we walked in the door. Even though we are just a local tribute band, we were given the same VIP treatment that they provide for their customers and national touring acts; We truly felt like rock stars from the moment we got there. The professional and friendly staff treated us like one of the family. We were provided with a REAL green room, stocked with water and towels as well as plenty of room backstage to chill and warm up before the show. The stage crew had us set up and ready for sound check in a flash and as I sat behind my drums, listening to the amazing sound coming off the stage and imagining the room filling up with people it was obvious this place was the real deal.
Music Insider Magazine is very excited to be a media partner of the RockBar Theater and I had the chance to sit down with owner Susan Cramer at a their recent Rockstar Gala event.
Dennis Gast: Tell me a bit about yourself. Are you from the Bay Area originally?
Susan Cramer: I'm originally from Amarillo, Texas. I've lived in the Bay Area for several decades, and San Jose for 11 years. I love living in Willow Glen, San Jose … It's a Great city!
I'm in commercial and industrial real estate investment and development partnerships. I've always been involved in community volunteering and philanthropy. Continuing in this vein, I've donated the RockBar Theater to several charities in the few short months we've been open and will continue to donate the venue to charities near and dear to my heart. Also, I love the idea of local musicians having a world class stage to perform on and the opportunity to build their careers by opening for national acts and our local showcases.
I have also always helped to support and encourage other women in business and in the music business. We've had some Fabulous Women Who Rock events and I will continue to do so. I love art, enjoy collecting art, and listening to live music of all genres. For fun, I enjoy painting, gardening, cooking, discovering new restaurants, playing tennis, traveling, cooking, horseback riding, supporting live music, museums and art galleries and spending time with friends and family. I'm always ready for a new adventure!
GAST: How did your connection with music begin?
CRAMER: I've loved music and art since I was a young girl. I began playing the viola at age 9 and continued through college and symphony. I love Symphony to Slayer and every type of music in between. I also began playing drums about 12 years ago and love it!
GAST: Have you been a club/bar owner before? How did you get started in the business?
CRAMER: The RockBar Theater has been a long time dream of mine. Over the years of concert going I've been fortunate to meet many people in the music and entertainment industry, together with my business experience and lifetime love of live music, entertainment and hospitality this project was destined to happen. I have an Amazingly talented team of people on staff who each have decades of experience in their fields. Getting the right team in place is critical and I believe The RockBar Theater's staff is Outstanding! It has truly has become a one of a kind live entertainment theater, restaurant, and unique bar.
GAST: How did the concept of the RockBar Theater come about and what made NOW the right time to do this?
CRAMER: The Bay Area and specifically the South Bay Music Scene seemed to be dying to me. So many clubs were closing down. There are a few very small clubs and summer only outdoor venues left…and I do love them all and I will continue to support them and the Bay Area music and entertainment scene. The Big less intimate venues like SAP and Levi's Stadium are great and I enjoy them for large sporting events and big shows! But…There was a niche that needed to be filled! And now was the time. San Jose is the 10th largest city in the United States and was in need of  a larger midsize Venue. We fill that niche. I wanted to bring a unique luxurious entertainment venue to the South Bay. Together with world class entertainment, delicious and beautifully presented food, Rock Star Service to patrons and Rock Stars alike, in a high end comfortable environment. Our motto is: "Livin Like a Rock Star."
GAST: What were some of the challenges you faced, when trying to get the project off the ground?
CRAMER: This project has actually gone very smoothly. This is a huge building and was a "Casino" so getting the buildings systems and sound dialed in was a challenge (And we are continually improving systems.) We have a world class sound system and some of the best sound engineers here. Also our Uniqueness has been a bit of challenge in itself! We are not just a typical "Event Venue" in that we have a full ROCKBAR Restaurant open 7 days a week, lunch, dinner and we serve a full menu until close! That's Unheard of in the South Bay. We book Corporate Events and Private Parties, Weddings and Special Events and we have a separate High End Luxury Bar, "The VodkaBar" inside the ROCKBAR Theater that can run independent events simultaneously to ROCKBAR. We've faced the usual challenges most new businesses have, but all in all we have burst onto the Entertainment Scene and we aren't looking back!
GAST: Do you have any plans to expand?
CRAMER: Yes I do! Details coming soon!
GAST: When you want to just listen to music on your own, what is your go to? What is cued up in your car stereo or iTunes right now?
CRAMER: Depending on my mood … Classical: I love Vivaldi, Mozart … Vegas Style: Frank Sinatra, Dean Martin etc. Lots of 70's 80's and 90's music: ZZTOP, Velvet Revolver, BOC, Mötley Crüe, … Alternative: Nirvana, Pearl Jam.. Rock: Metallica, Saxon, Volbeat, Dio etc. Just a few examples. I always say, if it's good music, it's good music then I like it! No matter the Genre.
GAST: Do you have any bucket list artists that you would like to bring into the RockBar?
CRAMER: Yes! There are so very many artists I'd love to get here at RockBar Theater, here are a few examples: Neil Young, Metallica, Sammy Hagar, Green Day, Volbeat, Lynyrd Skynyrd, Foo Fighters, Heart, Halestorm andTesla.
Music, to me, has always been about passion and Susan Cramer is very passionate about The RockBar Theater. In a very short period of time, they have established themselves as the premier entertainment destination in the South Bay and beyond. Whether you are a national touring act looking for an ideal West Coast venue to add to your tour, a local band wanting to know what it is like to play a real stage and be treated like a rock star or just someone who loves great live music and would like to enjoy it along with some great food and beverage, in an upscale environment, it is very clear that the RockBar Theater is an oasis in a desert of dive bars.