Every Six Seconds with Every Twenty Years EP
Every Twenty Years, Out May 7 via Megaforce, to Feature Re-Recorded Tracks with Current Band Lineup
First Single, "Your Disease" Available Today via Billboard 20th Anniversary Documentary Slated for Spring Release
SALIVA will celebrate the twentieth anniversary of their breakthrough major label debut, Every Six Seconds, with a special project called Every Twenty Years, an EP of classic songs re-recorded with current vocalist Bobby Amaru on May 7 via Megaforce.
"In the 10 years I've been with the band, I've realized how strong our fan base really is," says vocalist Bobby Amaru. "I wanted to do something for the fans for embracing me with open arms. Fans have asked me all the time if we ever thought about recording some of the old hits with my voice. I've sang those songs enough that they have become an important chapter of my life. What better way than to revive this album with an EP to mark the 20th anniversary? People of my generation and all around rocked these tunes before and will continue to. 'Every Six Seconds' brought SALIVA abundant success and we are all grateful."
The first single from Every 20 Years, "Your Disease," is available today via Billboard at https://www.billboard.com/articles/news/9546534/saliva-every-twenty-years-ep/. The single is available via digital music providers at https://orcd.co/yourdisease. A documentary on the band's journey through the years is also slated for release this spring.
Every Twenty Years track listing:
1. Your Disease (2021 Version)
2. Click Click Boom (2021 Version)
3. After Me (2021 Version)
4. Greater Than/Less Than (2021 Version)
5. Spyhunter (2021 Version)
6. Spoonman (2021 Version)
Pre-orders for Every 20 Years are available at https://orcd.co/everytwentyyears.
Formed in Memphis is 1996, SALIVA released a self-titled a debut album the following year. After selling 10,000 copies of the self-released album, Island Records took notice of the band. Every Six Seconds and its hit singles, the Grammy-nominated "Your Disease" and "Click Click Boom," catapulted SALIVA into the mainstream and is now certified Double Platinum.
After nearly 15 years, SALIVA parted ways with vocalist Josey Scott. In 2011, Bobby Amaru stepped in to fill the roll, infusing SALIVA with new blood, spirit and an energy similar to that which launched the band's career a decade earlier. From modern metal to straight up hard rock, SALIVA continues to write in-your-face, anthemic songs, and win fans over through tours around the world with the biggest names in rock and appearances on the main stages at countless festivals and the most well-known motorcycle rallies.
SALIVA is:
Bobby Amaru – vocals
Wayne Swinny – guitar
Paul Crosby – drums
Brad Stewart – bass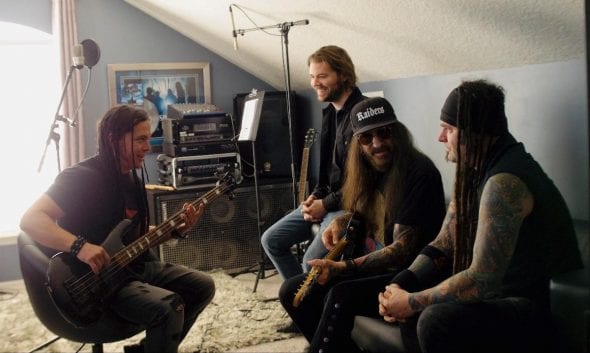 ABOUT US:
Adrenaline PR is a boutique independent public relations, marketing and branding firm that taps into entertainment, culture, and niche lifestyle communities while effectively marketing clients by crossing them over into the mainstream. Adrenaline PR boasts a collective five decades of experience in launching thousands of brands and careers, successfully building scene giants. Adrenaline PR is recognized for their credibility and success in promotion of talented bands, artists (fine art, photography and tattoo), labels, tours, events, musicians, film and books. Adrenaline PR is trusted to deliver campaigns beyond what is expected. Our roster includes (but is not limited to): 10 Years, 2010 American Idol winner Lee DeWyze, All That Remains, Amaranthe, Anthrax, As I Lay Dying, As The Palaces Burn (Lamb of God documentary), Atreyu, Black Flag (tribute album), Paul Booth – The King of Rock and Roll Tattoo, Vincent Castiglia (surrealist tattoo artist and painter), Chevelle, CueStack (featuring David Hasselhoff), Derek Hess (artist), Dethklok, The Devil's Carnival (film), Dimmu Borgir, Down, Every Time I Die, Ferret Music/Good Fight Music (label), Five Finger Death Punch, GWAR, Hank3, Hatebreed, Hesher (film), Housecore Records (label), Jeremy Saffer (photography, seminars), John5, KMFDM, Lamb of God, Louder Than Hell; The Oral History Of Heavy Metal (book), Machine Head, Miss May I, Motorhead, Mudvayne, Norma Jean, Nuclear Blast Music (label), Peter Murphy, REPO! The Genetic Opera (film), Sevendust, Suicidal Tendencies, Super Duper Alice Cooper (film), Superjoint Ritual, Testament, The Aristocrats, The Merciless Book of Metal Lists (book), The Punisher (soundtrack), BRAVO's Top Chef (judge booking), Ronnie James Dio: Stand Up and Shout Cancer Fund events and Ronnie James Dio: This Is Your Life (tribute compilation, winner of 2014 Best Metal Performance Grammy for Tenacious D's "The Last In Line), Smashing Pumpkins (tribute album), and Uli Jon Roth. Adrenaline PR has lead the charge on an impressive number of tours and events, such as Live Nation club events, MTV2 Headbanger's Ball Tour I and II, REPO! The Genetic Opera Road Tour, Rockstar Energy Drink Mayhem Festival (2010 – 2015), Scott Ian's Speaking Words, Sounds of the Underground, Journeys AP MUSIC AWARDS (Fueled By Monster) and the Alternative Press Magazine 20th Anniversary (My Chemical Romance, The Used and Say Anything). APMA's RED Carpet and Award show – 5 years in a row. Incarceration Festival 3rd Annual, SUAS – Ronnie James Dio Cancer Fund Events, Annual Bowl for Ronnie, Ride For Ronnie and The Dio Gala, Astromicon 1,2 +3, Big Apple Comicon, Rockit Foundation and Academy… and more.