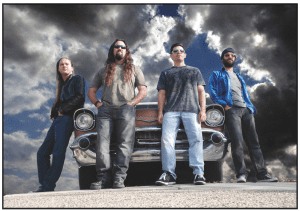 Rusted Stone is Guitarist/Vocalist Shawn Logan and Guitarist/Vocalist Galvan, Drummer David Sigler and Bassist Aaron Miller. Rusted Stone has a unique sound. It has been described as a mix of Hard Rock with edgier Blues based Rock. The band has been together since 2009 and has grown stronger and tighter as a band with each passing year.
Recently Rusted Stone put out a 12 Song CD of all original music, which is available at all live shows as well as itunes, CD Baby, & Amazon. The band just finished playing the California Mid-State Fair. This was the 3rd time in 4 years to play the fair, no other local Rock band has accomplished that.
Rusted Stone has shared the same stage with Black Stone Cherry, Vains of Jenna, London, Warner Drive, Motorgrater, Cage 9, and just last month …. Charm City Devils.
To get more info on Rusted Stone visit their facebook page at: