The Scorpions — Unplugged in Athens
by Brian McKinny, senior editor, Music Insider Magazine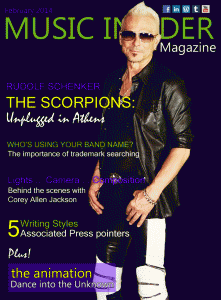 Before Rudolf (Rudy) Schenker founded the Scorpions in 1965, he was 16 and just another teenager from Hildesheim, Germany with dreams of becoming a professional soccer player. Forced to choose between playing soccer and playing guitar, he decided that the guitar would offer him the long-term opportunities he wished for in his life. His goal was never being the best or even fastest guitar player. Instead, he concentrated his efforts on becoming the best composer of original rock music that he could be. Honing and nurturing his skills as a composer has paid off for Schenker with numerous chart-topping hits to his credit and the credit of the band he founded, the Scorpions.
The Scorpions are one of the world's best-selling bands of all time, with conservatively estimated sales of between 75 to 100 million records worldwide. The band has a new project under their belts with the release on January 24, 2014 of the new MTV Unplugged concert, "Scorpions Unplugged in Athens," a DVD/CD set featuring the band playing in the first outdoor venue for an MTV Unplugged concert. When the band was approached by MTV about doing an unplugged show, they immediately decided they wanted to do their show in Greece, and the venue they chose was the Lycabettus Theatre, at the top of Mount Lycabettus overlooking the picturesque city of Athens.
For this concert film project, each band member presented one song that he had penned, and performed the song for the eager Greek audience at various points throughout the show. Matthias Jabs (guitarist) chose the instrumental track, "Delicate Dance" as his song, a self-described fusion of "the psychedelic glamour of Pink Floyd and the boogie folk sounds of Led Zeppelin." "Love is the Answer" is a ballad that Schenker took over as lead vocalist on — a daring choice when you have someone like Klaus Meine as your vocalist, but Schenker's performance of this song is quite moving. Meine chose to premiere a new song he'd written, "Follow Your Heart," a power ballad that seems, if only by the title, to be the guiding mantra of this band over the last 40 years.
I recently had the distinct pleasure of speaking with Schenker while he was at his home in Germany, just prior to the release of the Scorpions' latest project. We discussed his beginnings as a musician growing up in post-war Germany in the 1950s, his early musical experiences with his brother Michael, and the phenomenal worldwide appeal of the Scorpions. We also talked about the politics of music, including being in the front row as the Iron Curtain fell in Eastern Europe and the former Soviet Union; the Scorpions' mega-hit song, "Wind of Change" became the unofficial soundtrack of an entire revolution.
Music Insider Magazine: When did you start playing guitar and what was it that propelled you toward the instrument?
Rudolf Schenker: Actually, I started with the flute, because I thought it would be an easy instrument to learn, but I found out it wasn't. It's especially difficult to learn any instrument for somebody who spends his whole day after school playing soccer. Soccer was my passion, and soccer almost kept me from becoming a musician. I had a guitar, and I was learning to play it — the next step for me was to form a band, which I did. But then I found out that when you have to play live shows, you play mostly on Saturdays from the late evening until the next morning. The soccer games in my league were played from 10 a.m. to 12 p.m. on Sundays, so when you come home at five o'clock in the morning from the gig the night before, it's hard to drag yourself out of bed and onto the field to go play soccer.
An accident at a job I had pulled me away from soccer, pushed me toward the guitar, and becoming a musician. I had broken my foot on the job, and this injury really forced me to make a decision — soccer or music? So it was, "Soccer, goodbye!"
Still, that wasn't the end of my love for soccer. Always, when we're on tour, we play against teams from other bands — we've played against the guys in Iron Maiden, Rainbow, Def Leppard, Deep Purple and many other bands. It's all good fun and a great way to blow off some steam when we're on tour. We've even played on tour against local city teams, and we usually win — the rockers are the stronger!
MIM: Who were some of your earliest musical influences? What was it about their music that caught your attention?
Schenker: Very clearly, in the beginning it was Elvis Presley, Jerry Lee Lewis and Little Richard. They were amazing, but when they first came out, I wasn't playing guitar yet. I just loved their music, and when I started playing guitar, the Rolling Stones and The Beatles had come out, and I recognized that was what I wanted to be a part of — four or five friends, playing music as friends around the world. That was the sign for me to start learning to play guitar and to form a band. At that time, one band was really important to me, even more so than The Rolling Stones — the Pretty Things. Dick Taylor — he was one of the guys, along with Alexis Korner who was with The Rolling Stones when they started —the Pretty Things, they were more dirty and harder than The Rolling Stones, and that was very appealing to me, with songs like "L.S.D." and "Empty Heart." They influenced the direction I wanted to go with my own band's music.
Another band I liked very much is the Yardbirds, with Jeff Beck, Eric Clapton and even Jimmy Page played with the Yardbirds, and later on, of course, Led Zeppelin. I had a great experience three or four years ago — we were playing the Hammersmith Odeon in London, and who came into my dressing room? Jimmy Page! It was fantastic! Jimmy Page — the combination of producer, composer, guitar player, and what he did with that combination — that is what I've always admired about him. He surrounded himself with great people in his band, like John Paul Jones, who was really a music "specialist." And then there was (John) Bonham — simply an unbelievable drummer! Robert Plant, such an incredible performer — I think the chemistry with Jimmy Page and the rest of the guys of Led Zeppelin was just perfect.
When you listen to Led Zeppelin's music, there's just so much there, and their sound is just so musical. That sound is a big part of the reason we used open tuning in our MTV Unplugged concert in Athens, because of Jimmy Page — I think on their second or third album they used a lot of acoustic guitars with open tuning. If you tried to play the same stuff in standard tunings, trust me on this — it's impossible. But with open tuning, it's easy. His being creative enough to find this out — that alone is genius. We used a lot of open tuning on the songs for this concert, which meant that even though I wrote a lot of the music, I had to go and re-learn almost everything for these shows on the concert DVD in open tuning. It was a learning experience that we really enjoyed, a real eye-opener.
MIM: Who started to learn the guitar first, you or your brother, Michael?
Schenker: I am older than Michael is, and I started learning to play guitar before Michael did. I started learning to play after I broke my foot and was unable to play soccer while I recuperated. I got a very good instructional book from Holland about learning to play guitar that I had read about in a magazine article, and it helped me a lot. But after learning all the lessons, I got bored playing them by myself. My brother was always hanging around with me, and I had already showed him some of the things I was learning, how to play some chords, and I wanted to see what he could do with the guitar.
I had heard him playing around with our father's violin, and he had already made some nice sounds with it; somehow, it was a musical noise. So one day before heading off to work, I told Michael, "See if you can learn this song, and when I get back home, maybe we can play this song together." Later that day I came back home, and he played the song perfectly! For me, this was a sign that my little brother had more musicality in him than he probably realized. So we started working together, composing a little bit, and playing things here and there, but he was seven years younger than I was — I was 15 or 16, and he was 7 or 8 years old — very young.
At the time, I was already working on my band, and my brother came with my father to one of my band's shows. Michael got up on stage with us and played a Rolling Stones song, and then he did "Under the Boardwalk" by The Drifters. He was playing the lead guitar parts already and singing, too! So he was already on the right track at such an early age. Later on, in 1970, Michael was playing in a band with Klaus, called Copernicus. Both Michael and Klaus left their band to join what would become the Scorpions, and in 1972, we released "Lonesome Crow," our debut album, which was the beginning of a music career of more than 40 years.
MIM: When you started the band back in 1965, did you ever imagine that the band would still be together in 2014 and beyond?
Schenker: I'll tell you an interesting story about that. When I seriously started on my career as a professional musician, people would tell me, "You're stupid for doing this! What will you do when you're 30?" But I've made it until now — I'm 65 years old, and I never thought I could've played this long.
Believe and make things good. That attitude gives you the chance to make your life as you dreamed it could be. And the people who back then asked me, "What will you do when you're 30?" They have no job anymore and are living on government pensions, but I still have mine, and I don't want to stop now. I'm so happy that I'm still able to do the things I do as a musician — traveling around the world, playing our music and meeting our fans. It's all I ever wanted.
Right now, we've got 4.3 million Facebook fans, most of which are between the ages of 16 and 28, so here we are with a completely new generation of people who enjoy our music and come to our shows. The crowd at our shows gets younger all the time, and I think that's fantastic! Music really has no borders: no age restrictions, belief borders, national borders — we always try to connect people from different places, religions and cultures with our music.
The Scorpions' philosophy has always been about good music — but also about people and making lasting friendships with our fans and the bands we've played and toured with over the years. It's the reason why the Scorpions still exist, and why we have so much fun on the road — because we enjoy what we're doing. It's why, after we accomplished our goal of being successful in America in the 1980s, that we felt we had to go to Russia. The record companies said to us, "Why go to Russia? There are no record companies there, there's no money to be made, there's no market, so why go?"
We went anyway, because we felt very strongly that we had to show the Russian people that we were the new German generation — one that wasn't coming there with tanks and death, but with guitars and music and love. In the end, it was fantastic that we took it upon ourselves and went there anyway, because we now have so many wonderful fans in Russia. That's the power of music. We were one of the first major western bands to play in Russia in 1988, before the walls came down. We did 10 shows in Leningrad, before the fall of the Soviet Union in front of tens of thousands of people every day, and it really gave us a different view of the country and people.
(Author's note: UB40 is universally acknowledged as the first major western band to play in the Soviet Union in 1986, followed by Uriah Heep in December of 1987. The band played 10 consecutive nights at Moscow's Olympic Stadium to a total of 180,000 people. The Scorpions played in Leningrad to 10 consecutive sold-out shows in 1988.)
The next year, we played a huge festival in Russia with Bon Jovi, Motley Crüe, Ozzy Osborne, Cinderella and a few Russian bands. It was unbelievable, and it was a sign that a big change was happening right in front of us, that sooner rather than later things would really turn around for the Russian people. That was when Klaus came up with the song, "Wind of Change," which became the soundtrack for the biggest revolution the world had ever seen. Helmut Kohl, George H.W. Bush and Mikhail Gorbachev made it happen without bloodshed after decades of living in fear, and it was amazing to be in the front row for such amazing changes in the world. Mikhail Gorbachev invited us to the Kremlin in 1991. It was fantastic to meet this amazing man, and what was even more fantastic was that this world leader, Gorbachev, was listening to the Scorpions!
MIM: Not counting your latest release, what is your favorite Scorpions album, and what makes it stand out in your mind above the rest?
Schenker: Oh man, that's a difficult question … Okay, I'll start with five, and then I'll go to one. "Lovedrive," "Blackout," "Love at First Sting," "Crazy World," and "Sting in the Tail." But if I had to pick only one, I would go for "Blackout."
MIM: "Blackout" is incredible — it's my personal favorite Scorpions albums. What made you pick it over the others?
Schenker: After the near-tragedy with Klaus's vocal cord situation of seriously injuring his voice, and then his coming back after going through two surgeries and therapy and really finding out whether or not he could ever sing again, and then for us to make an album like "Blackout"… There are just so many memories and so much uncertainty attached to the making of "Blackout," but so many great songs came from that album. "No One Like You" became the most-played radio song of 1982, and the album was in the top-10 worldwide, and the cover is amazing — the whole album is fantastic.
We were able to come up with the sound for "Blackout," because we used a special machine to record it, called "Telefunken," which was a very good, 32-track machine, but the problem was you had to make sure that you weren't playing the song too often, because somehow the machine had one mistake (flaw), that if you played a track over and over, the tape would degrade quickly. You had to handle this machine very carefully and not play the tracks too often — but the sound was unbelievable! The Telefunken multitrack recorder was a big part of how we got that sound for "Blackout."
MIM: In 2010, after releasing "Sting in the Tail," the band announced that it would be your last album. What happened since that announcement that changed your minds?
Schenker: First, we said that it was our last studio album, and on that, we all agree. So there really is no change of heart on that decision. The album we released after that announcement was "Comeblack," which was a compilation of our favorite songs from the 60s-70s era, and it's all Scorpions-owned material. We had a little problem with our label that arose, because we didn't want to renew our contract for new releases. So we said, "Okay, because we have so many new young fans who want to be able to hear our older stuff — "No One Like You," "Blackout," and all that music from back then — for these new fans, we made and released the album, "Comeblack."
Another album will be a sort of "bonus track" one, because back in the 70s and 80s, when you recorded on vinyl, there was the possibility of only including nine songs, due to the length of our songs, on most of our albums. We always recorded about 14 or 15 songs, so we have a lot of never-released songs in our library, and we can re-mix and master, or in some cases finish, the songs and release them ourselves.
We've taken two songs for this project, because before the idea of doing "Comeblack" came to us, we were already dealing with these bonus tracks to put them all together on another compilation. So when we were approached to do the MTV Unplugged show in Athens, we thought we could use these two songs we already had in mind and had been working on for our bonus tracks, which we thought could fit perfectly into the Unplugged show. Those songs were "Rock and Roll Band," and "Dancing in the Moonlight."
MIM: Are there any places where the Scorpions haven't played that you'd like to play before you decide to hang up your guitar for good?
Schenker: The Scorpions have played all over the world, but two places we have not played are Spain and Portugal. In Spain and Portugal, unemployment is at historical highs, somewhere around 50 percent, so the promoters thought that the people don't really have any money and can't buy tickets to our shows, so no, we can't do it because they were afraid they'd lose a lot of money. But our agency convinced them, and when the promoter went online to check out our ticket sales for the Spain and Portugal shows, they were all sold out in less than two hours! So now, we have two shows sold out in Spain, and one in Portugal. After we do those shows, we're going to Asia, because we haven't done the whole of Asia before, only Thailand. Then it's on to England and back to Asia with shows in Japan.
As we announced our farewell tour after the release of the last studio album, we said we would always be open to special projects, and we would continue touring, but in bits and pieces, not the enormous worldwide tours we used to do. Instead of doing hundreds of shows a year, we'll maybe do 15 to 20 or so shows a year. But out of all this comes another interesting circumstance — the addition of so many new young fans. They're constantly popping up on our Facebook page, asking us to play here or play there, and we love it!
There's demand for more live performances, not just in Europe, but all over the world. Promoters are showing great interest, the fans are doing the same, and this gives us the ability to control when and where we play, and we will continue to play wherever we can, as long as we can, until we can't jump around on stage anymore.
I see a lot of bands from the 70s and 80s, and they're constantly playing, but they're going downhill. With the passing of every year, fewer people are attending their shows, and they're playing smaller and smaller places. We didn't want to go this way, so we came back to our roots with a twist, which gave us the possibility of gaining the attention of the young kids.
MIM: How did you and Jabs work out who would take the lead on solos when writing new music?
Schenker: When I compose a song, if I have a feeling I can play a great solo, I'll play it. When Matthias can beat that solo, I say, "Okay, Matthias is playing it." That's the good thing about Matthias and me, we are two guitar players with different styles of play that complement each other very well, so there's no competition for solos. Everything just comes naturally.
MIM: Tell me about your new DVD concert, "The Scorpions — Unplugged in Athens." How did this come idea come to fruition?
Schenker: We played our last gigs a week before Christmas last year in Munich, so we thought we had a little time for vacation, but in January our manager called and said, "Look guys, MTV called and they want you to do their show, Unplugged. Back in the late 80s, MTV came to us about doing that show, but we never got it booked because of conflicts with our busy touring schedule. This time, it was an opportunity we didn't want to miss, because we recognized it would be a great way to punctuate our career, as well as reach out to a new, younger audience. So we called our producer and asked him what he thought, and he said, "Yeah, I think it would be great."
However, we had already done an unplugged sort of thing with "Acoustica," back in 2001. So if we did this, it had to be something completely different. Our producer said he already had some ideas for the concert; we had our own ideas for it as well, so we came together. We went through our back catalog, and agreed that we didn't want to do songs we had already done on "Acoustica." We wanted to do songs we hadn't played on stage or were very old, which are favorites of our fans. So we were arranging somewhere between 40 to 45 songs from our back catalog, and we ended up with 21 old songs and three new songs. Some of the songs we had never performed live before.
We arranged them partly here in Hanover and partly in Stockholm, Sweden — Matthias was often in Stockholm because Klaus and I were too close to the arrangement, because we already had arranged the songs a few times. So we decided, "Okay, let's see what the Swedish guys (show producers, Mikael 'Nord' Andersson and Martin Hansen) can do." They came up with some great arrangements — on the one hand, it was very good to do it this way, and on the other hand, it was very time-consuming, because we had to learn every song over again, because of the new arrangement and tunings. It was all completely different from how they were played on the albums — with open tuning, lower tuning, up-tunings, using 12-strings, and on and on … Everybody had a different part, and in the end, we had this completely new program to play, including, of course, all of the other musicians! For this concert, we had five guitarists — Matthias and myself, and then these three Swedish guitarists whom our Swedish producer had brought with him.
These three guitarists called themselves the "Swedish-Swiss Knives," because they're such highly trained musicians that they can play harmonica, piano and a ton of other instruments besides guitar. Then we had an amazing string octet from Greece, an incredible percussion player, backing vocalists, and we had to do arrangements with all these other instruments and musicians for our songs, so it was quite a huge undertaking, but it was also thoroughly enjoyable. It was really an outstanding moment in time for us, and for it to take place in the birthplace of democracy was fantastic.
One of the added bonuses for all of us was being able to do this whole thing as the first MTV Unplugged show under the open skies, instead of in an enclosed television studio in front of 250 people. This show was done in front of 3,500 people on the highest mountain in Athens, in an amphitheater cut out of the solid rock face during the same year that the Scorpions were born. So that was another mystical moment in our long career with the Scorpions.
To follow the Scorpions on tour, or to purchase a copy of their latest concert on DVD/Blu-Ray, CD, Vinyl, or Digital Download, visit the Scorpions website.
"The Scorpions – Unplugged in Athens" is also available on iTunes.