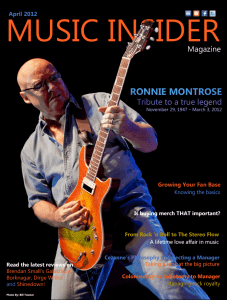 Tribute to a true legend
by Gene Baker
This is my first article for Music Insider Magazine and I'm very glad to shed my point of view being a struggling artist, and all the trials and tribulations that I deal with in my own band, Mean Gene Band, who is just like most local bands across America. I'm no youngster to the industry and beyond the age where most bands get signed although I never give up the purpose of the dream, I'm constantly trying to re-invent myself to stay fresh and not become complacent with ourselves or our local region. Always looking to expand horizons and meet more people.
As many are aware, we lost one of the original guitar heroes, Ronnie Montrose, on March 3, 2012. The news rocked me to the core and I can't say I have ever had someone passing touch me so deeply. For days I couldn't even pick up the guitar, but as the news spread and all the fans weighed in, and the countless radio interviews replayed, and people sharing videos, allowed me to see and hear many things I had never watched before.
One of the most inspiring details was that I, like countless other guitarists, telling the same story of how the first Montrose album was a major turning point in how we approached the guitar. It's noted to be the first Heavy Metal album even though today we may view it as one of the Top 10 greatest rock records ever. So I choose to celebrate his life rather than mourn his death.
I have been blessed to have built Ronnie's personal guitars for the past 13+ years, and was first introduced to him while working for the Gibson West Custom Shop, and then again when I workied for the Fender Custom Shop where I built a few custom Strats, with the most prized one named "Skinny," which was inspired by his involvement with Sega Genesis. This sparked the beginning of a friendship that exceeded any expectations, as if Zeus himself came down from Mount Olympus and plugged in. Soon I began designing my own line of Baker guitars and built Ronnie "The Beast" and later "Red," and "Silver" followed..
We connected on many levels and yet he was 19 years older than I, but he took me under his wing and I looked to him as the big brother I never had. He never allowed me to give him a guitar; he would open up his garage, his heart and give me anything as well as any cash he could offer. He cooked me dinner and genuinely made me feel like a close friend. We went thru divorces and marriages together, as well as my own father who battled with two bouts of prostate cancer close to the same time Ronnie was dealing with his cancer.
My MGB band was lucky enough to host a jam on October 2010 for our guitar company Premier Builders Guild. I asked Ronnie if he would like to come and sit in with the band. As the date grew closer, we learned most of the 1st Montrose album and Ronnie just had to add his signature lead guitar. So we took over a rather small club that held about 250 people, zero advertising and just let the rumor go viral via Facebook, the house was packed and free. For us in MGB we were smiling ear to ear and never rehearsed with Ronnie. There are YouTube videos of it by various guests, and the best is when Ronnie was smiling ear to ear as well.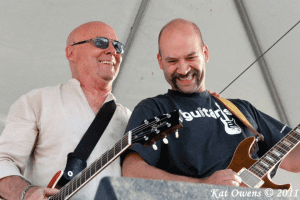 Our singer at the time Kelly Atwell impressed Ronnie, when he was asked to fill in because Ronnie's singer couldn't make a gig. The band really liked Kelly and Ronnie asked him back for another show as a test bed for a few singers that Ronnie was auditioning live. I was his personal guitar tech for a few gigs and sat in with his band a couple times. Even our drummer Jon Dittman and bass player Johnny Punches went on to audition for Montrose in mid 2011 placing very high. This touched us all that Ronnie believed in us enough to let us on board, so we began to create what could be the first Montrose Tribute Band dubbed "MTB" a spin off of "MGB" covering a variety of his work including Van Morrison, Edgar Winter, Montrose, Gamma as well as supporting cancer fundraisers as it meant so much to him.
But Ronnie was far more than a great musician, he was a genuine wonderful human being; not  limited by his music. He loved all life … camping, fishing, tinker, thinker, designer and dreamer. I never in my life saw him angry and he dealt with any circumstances with soft kid gloves that diffused any situation. Just listening to him talk in person, or in videos, calms me down and makes me smile in fond remembrance. 2012 was revving up very well for him with his first and only live DVD under way, countless gigs on the tour schedule with piles of more dates to confirm. Ronnie seemed on fire again with the aid of his band, agent Jim and his amazing wife Leighsa, as tour manager.
Some of the many things I learned from Ronnie over my years.
Space is the key to all music and builds bridges to great song structure.
His favorite guitar player Jimmy Page and easily recognized in many songs from acoustic to slide guitar work, Ronnie recorded.
In any band situation each member must be a balanced wheel. One bad wheel and that vehicle will have a hard time getting down the road to the next gig. Friendships are essential, but it's also about business.
Be true to yourself as an artist, it's not always about the money, it's really about the fans, the music you create and the message it sends.
When cooking spinach, very low heat a small amount of olive oil, and don't over cook it.
The best part is that I have introduced Ronnie to countless friends and can truly say he treated/greeted everyone as if he had known them forever, that's a true rock star in my book. Ronnie even had dreams of marketing his own line of sausage as he loved to cook and BBQ. He had many irons in the fire that made you think he wasn't slowing anytime soon from an amplifier design in progress, potential coffee signature line and I'm sure much more than I am even aware of. I promise you what he started will carry on thru many for a long time to come.
Ronnie "Daddy-O" love ya like a brother and I'll be there to carry you home with a lot of friends.