BELOVED ENTERTAINER ON ROAD WELL INTO 2015
NASHVILLE, Tenn. (November 4, 2014) – Ronnie McDowell has been bringing his unique style of Country Music to fans for four decades now, and the singer will continue to log the road miles well into 2015.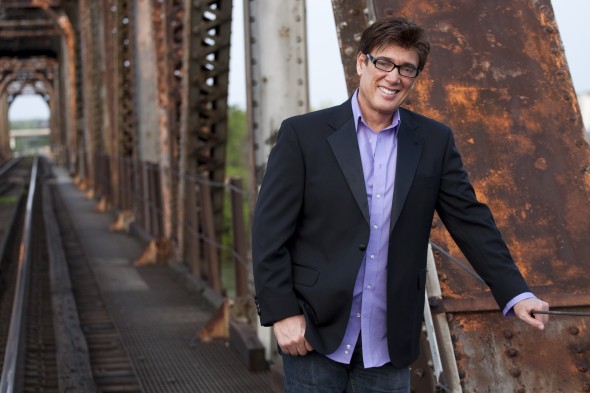 Just having released his tour schedule for the coming year, McDowell has concert dates lined up through the fall of 2015. With over thirty appearances on the Billboard Country Singles Chart, the Portland, Tennessee, native has been a favorite of radio programmers and fans alike since his tribute to Elvis Presley, "The King Is Gone," launched his recording career in the fall of 1977. The single has gone on to sell five million copies worldwide. McDowell's vocals have been widely compared to Presley's over the years, earning his voice spots in such film projects as the 1979 biopic Elvis as well as Elvis and Me, a TV-movies inspired by the Priscilla Presley autobiography of the same title.
But, there's a lot more to McDowell's talent. He immediately followed up "The King Is Gone" with the top-ten hit 'I Love You, I Love You, I Love You," and was a regular presence on the charts with future singles such as "Wandering Eyes," "Love Talks," and "In A New York Minute." He earned number one records with "You're Gonna Ruin My Bad Reputation" and "Older Women." Later hits included duets with Conway Twitty ("It's Only Make Believe") and Jerry Lee Lewis ("Never Too Old To Rock And Roll"), as well as a very well-received version of the standard "Unchained Melody" in 1990.
To date, Ronnie McDowell has released twenty-four studio albums, such as Good Time Lovin' Man, I'm Still Missing You, and his most recent disc, Lost In Dirty Dancing. McDowell is also an avid painter, and has released several art prints of his work.
For more information on Ronnie McDowell and updated tour dates, check out www.RonnieMcDowell.com
Ronnie McDowell Tour Dates
11/06 Tupelo, MS / Elvis Presley Birthplace Theater
11/07 Gulfport, MS / Corporate Event
11/08 Birmingham, AL / Workplay Theater
11/10 Huntsville, AL / Rocking At The Lumber Yard
11/20 Nashville, TN / Benefit Concert
11/29 Franklin, KY / Good Night Auditorium
12/04 St. Joseph, MI / St. Joe High School-Performing Arts Center
12/05 Greenville, MI / Greenville High School-Performing Arts Center
12/06 Sturgis, MI / Sturgis Young Auditorium
12/07 Ionia, MI /  Ionia Theater
12/14 Somerset, KY / Center For Rural Development
12/31 Bardstown, KY / Bardstown Opry
2015
03/06 Fulton, MS / Itawamba Agricultural High School – Elvis Presley Charity Event Memorial Dinner
03/14 Clarksville, TN / Austin Peay University Mabry Hall
03/20 Pace, FL /  Emmanuel Baptist Church w/T. Graham Brown & Jimmy Fortune
03/21 Russellville, AL / The Roxy Theater
03/27 Liberty, KY / Central Kentucky Ag Expo Center
04/19–26 Ronnie McDowell's "Dream Cruise"
05/09 Warsaw, MO / Truman Lake Opry
05/15 Ocean City, MD / Ocean City Jamboree
05/29 Crossville, TN / Palace Theater
06/20 Chocowinity, NC / Tar Heel Variety Theater
08/22 Richmond, VA / The Henrico Theater
09/18 Celina, OH / Bearcreek Memories Dinner Theater
09/19 El Dorado, IL / Town & Country Days
**Please contact the venue before traveling to performances as dates and venues sometimes change without notice
To Book Ronnie McDowell for a Concert Appearance, contact:
Brent Taylor / Joe Taylor Agency, 615-385-5666