A lifetime love affair in music
Teri Doty, editor-in-chief, Music Insider Magazine interviews Dan McConomy of The Stereo Flow
What started out at a high school in Los Angeles turned into a lifetime love affair in the music business.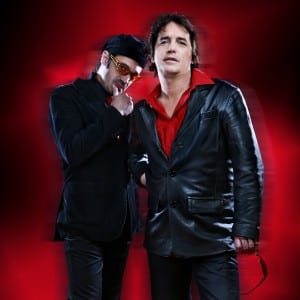 Working after school at New Direction, a management company owned by his father, Kevin Hunter, who handled careers like, Natalie Cole, Peabo Bryson, Peter Paul & Mary, Wilson Pickett, and Dusty Springfield. Dan McConomy's responsibility was to make compilations for the week's top hits on the R&B, Pop, and Rock charts.
Buying all the records at Tower Records on Sunset Boulevard every Monday and making tapes after school, Dan ended up working at the world renowned recording studio, Muscle Shoals Sound in Alabama as a production assistant for legendary producer Barry Beckett.
Dan has also had the privilege to work with artists that include Bob Seger, Frankie Miller, Billy Vera, Bob Dylan, The Oak Ridge Boys, and Alabama just to name a few.
After a year or so, he became an assistant engineer, which soon led him back to LA to begin producing demos for bands that he once played in as a drummer. Of one of these bands was Agent Steel, who ended up getting signed to Combat/Relativity. Four tracks used from the demos were added on the actual release Skeptics Apocalypse, and at the age of 19, Dan was managing and producing SA himself.
Driving the van, selling merchandise and mixing the sound live, he was given the nickname Vampy. That name stuck with him because he never slept, or so it seemed.
From there came Exposure Management with Zoom Zoom (EMI), Kid Rocker (EMI), Candy (MCA), Terry Wood (Polygram), Angelyne (Blue Records) and came to learn the business inside and out. While on tour, McConomy met up with every radio, press, and retail person there was to meet and in time ended up opening a label and marketing company called Sonic Underground, with the late Bill Larson (radio promoter and original Manager of Motley Crue). That venture turned out to be very successful until INDI went bankrupt and closed 200+ labels in one day.
Then The Stereo Flow came about. After being a DJ in Paris, France for many years Dan came to realize that there was no way to advance further without having product in the market place. As a DJ, Dan played a mix of Progressive House, Trance, and Dance music.
He had produced every kind of music above in his career so it was not evident where to start. A friend of his had introduced him to Michael Buyens, who worked as a staff producer at Sony Dance floor for years and had developed the careers of Jean Claude Ades and many other DJs by helping them write and produce tracks for Dance music.
After producing a song or two together in the Studio, McConomy and Buyens discussed turning this partnership into something permanent. "I remember the conversation actually. Michael asked me where I was going with this project and I responded without hesitation, 'all the way… you want to come'? He obviously laughed out loud and said 'absolutely!'"
Buyens and McConomy also collaborate with Susan Z (Mylaboo Records), Shawn Barry (Sony Records), Lily Haydn (Atlantic/Nettwerk), Katja Rieckermann (sax diva for Rod Stewart) who were all my friends from Los Angeles and San Francisco. During the process they came up with seven titles and needed another three to make it full length. As they collaborated on the three songs, they brought in vocalists Dorothy from France (Rose Records) and Shirin from the UK (Parallel Records) to complete what is now the full length CD entitled "ELECTRO MAGNETIC LOVE REACTION," which features all of the wonderful talents.
Dan not only favors the Progressive House/Trance/Electro and Dance, he also has a colorful palette of other mixed genres that he listens to. He states that, "Great music is great music." And indulges in the sounds of Metallica, Pitbull, Rick Ross, Madonna, Celine Dion, Miles Davis, Sinatra and many others, back to back to back.
"I listen to be touched by music which has always been my mission in life, and to also have others be affected positively with my music as well." Says McConomy.
But the music that inspires him the most is Dave Aude, Moto Blanco, Armin Van Buuren, Tiesto, Daft Punk, Dash Berlin, Deadmau5, Antoine Clamaran and David Guetta.
Aside from Dan's busy schedule producing and running their independent label, he finds the time to tour. The Stereo Flow will begin their tour this year to support of their single and MTV style clip THE STEREO FLOW ft SHIRIN – ALL THE THINGS YOU DO, which comes out on May 14th worldwide, and their ELECTRO MAGNETIC LOVE REACTION tour to support the full length of album of the same name will start May 23rd in Ibiza and will continue through the summer.
Download All the Things You Do (feat. Shirin), by The Stereo Flow on iTunes.