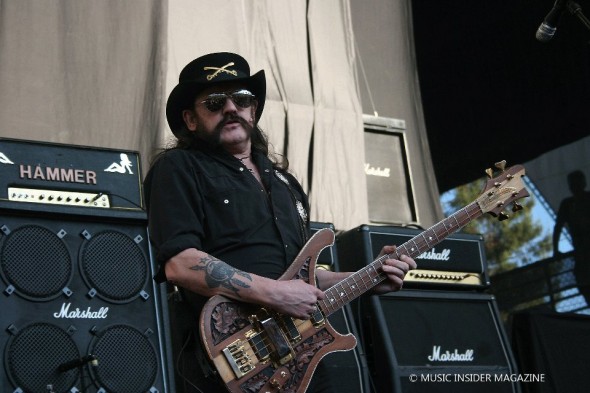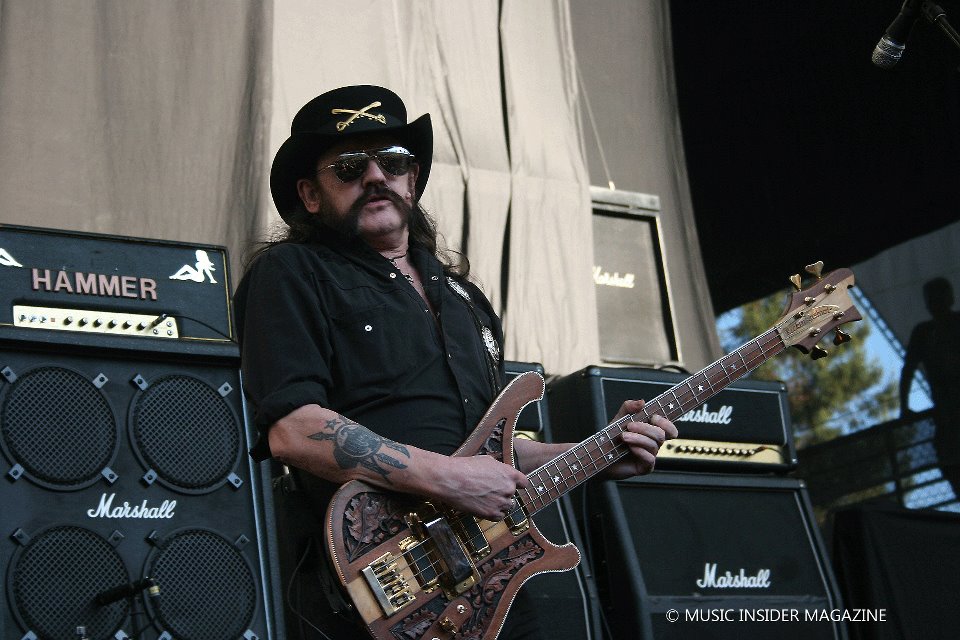 To say that Ian Fraser "Lemmy" Kilmister was an icon in rock music would be an understatement of epic proportions.
Born in Burslem, Staffordshire, England mere months after the conclusion of the Second World War, he grew up during a time which saw the birth of the "British Invasion" of the US by such popular rock bands as The Beatles, which led to his playing in several 1960s rock groups, one of the first of which was Rev Black and the Rockin' Vickers, later abbreviated to The Rockin' Vickers.
Lemmy later joined the band Hawkwind in 1969, which incorporated numerous musical influences into their style of music, including proto-punk, heavy metal, progressive rock, and psychedelic, and included the likes of Ginger Baker, Huw Lloyd-Langton, and founding member, Dave Brock, who today remains the long original member of the band. Lemmy was fired from Hawkwind in 1975 for "doing the wrong drugs", as he said, after being arrested at the Canadian border for suspicion of cocaine possession, spending 5 days in jail, which caused the band to cancel some of their North American tour dates.

Lemmy went on to form what many have come to regard as the quintessential heavy metal band, Motörhead in 1975, shortly after his firing from Hawkwind. Lemmy's legendary statement on what he wanted Motörhead to be when he set out on its formation, his aim was to "concentrate on very basic music: loud, fast, city, raucous, arrogant, paranoid, speed freak rock 'n roll… It will be so loud that if we move in next door to you, your lawn will die" made it known to everyone who would listen that his brand of rock 'n roll was a purely raw sort of thumping that only he could bring to life. The original lineup of Motörhead included Larry Wallis on guitar and Lucas Fox on drums. Lemmy said in numerous interviews that they used to have to steal equipment to rehearse because they were "short on the necessary gear."
The band's first gig was at The Roundhouse in London on July 20, 1975. By October of the same year, they had become the supporting act for Blue Öyster Cult at the Hammersmith Odeon. Going into the studio with producer Dave Edmunds at Rockfield Studios in Monmouth, Wales in early 1976, Lemmy replaced drummer Fox with Phil "Philthy Animal" Taylor, an acquaintance of Lemmy's, and when the record label wasn't happy with the material they'd recorded and consequently refused to release it, Lemmy decided that two guitarists were required for the album – which was subsequently released in 1979 as "On Parole," the band auditioned "Fast" Eddie Clarke. Wallis, who was splitting his time between playing with Motörhead and a tour with the now-reformed Pink Fairies, decided to quit Motörhead immediately after the audition of Clarke, and Clarke remained as the band's sole guitarist.
This was the lineup that would make Motörhead famous – or infamous, as some might say. There have since been other iterations of the band, including members Brian "Robbo" Robertson, Michael Burtson, Pete Gill, Phil Campbell and Mikkey Dee, but this was the lineup that would be famous for such legendary stuff as "Ace of Spades," "Bomber, "and "Iron Fist."
Motörhead also gained the reputation as being the loudest rock 'n roll band in concert, ruining the hearing of an entire generation, albeit the crowd suffered the decibel assault at every concert almost unanimously, and willingly, as the throngs of fans crushed ever forward towards the stage at every Motörhead concert I ever had the privilege of attending. Such was the magnetism of Lemmy and the music of Motörhead.
His reputation was also well-earned as a hard-living, hard drinking sonofabitch, and that reputation – as well as his earning it over the span of his career – was ultimately what put his health at serious risk.
After decades of drinking, smoking, and doing mounds of illicit drugs, his health suffered immensely towards the end of his life, most recently with the public revelation that he was diabetic, causing him to alter his entrenched lifestyle to that of a healthier model. He had recently sworn off his whisky-swilling days for the – according to him – (dubiously) "healthier" vodka and orange juice combination, and he had sworn off smoking for good.

Lemmy's personality, as much as, or even more so than the music, created his legacy in heavy metal/hard rock n roll. Despite his gruff exterior and a fearsome visage of tattoos, the ubiquitous mutton chops and bent-brimmed cowboy hat, Lemmy was almost universally regarded as one of the good guys in rock n roll, and was very much respected and well liked.
Always willing to indulge a fan wanting a picture taken with him, or for him to sign an autograph, Lemmy made himself available to his fans the world over, wherever he happened to be perched.  His favorite perch for many years was at the end of the bar, in front of his favorite video poker game at the famous Rainbow Bar & Grill in West Hollywood, California. The Rainbow Bar & Grill is scheduled to held a 12-hour long memorial tribute to the legendary front man on January 9, 2016.
owner Mikael Maglieri, upon learning of Lemmy's dire illness had his favorite video game removed from the bar and sent it to the musician's home to be setup so that he could enjoy his favorite game in his final hours at home among his family and closest friends.
Among those who will pay tribute to Lemmy are some of the biggest names in rock n roll, including Flea, bassist of the Red Hot Chili Peppers, Ozzy Osbourne, Corey Taylor of Slipknot, Slash, Dave Mustaine, Gene Simmons, Billy Idol, Scott Ian of Anthrax, and many more.
Lemmy may be gone, but his legacy will live on in the minds of all who knew and loved him, his music, and his character. Born to Lose, Live to Win. Well, I'd say he won, alright.
Godspeed, Lemmy.