Huntington Beach, California's RadioDrone came together as a four-piece band in the beginning of 2014.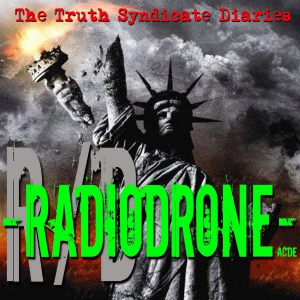 Described as being "part schizoid Five Finger Death Punch on the heavy edge, part Foo Fighters rock with the commercial aspects, and part 'hard grooves' (Nu-Metal)" — the perfect trifecta for their particular brand of music. To top it off, a heavy dose of political and social commentary in their thought-provoking lyrics engages listeners' cognitive center as well as their ears.
As a new band on the So-Cal music scene, they have made valuable in-roads with the live-music crowd and have performed some great gigs in a very short time, helping them tremendously in reaching the goal of getting their music out to much larger audiences in the region.
With their first release, "The Truth Syndicate Diaries," they establish their sound and boldly reach out to their target audience with their music and their message. Of the 21 tracks, 10 are music tracks. Make no mistake, since a serious message in the lyrics accompanies the music, if your political outlook differs greatly from theirs, this could work one of two ways — it could either open your eyes to a political viewpoint you may not have been aware of, or it could turn you away from their music, depending on how receptive you are to their message.
"Game Change," the first music track on the album, which I think is a standout track, has a very strong Godsmack-like feel in the guitar tones and tempo changes, but it doesn't pigeon-hole the band in that style. The song immediately goes into a very original RadioDrone feel in the choruses, especially with the strong vocal performances by the band, all of which sing, save for the drummer. Any of the guys out front — both guitarists and the bassist — could be the front man for any other band.

The next music track on the album, "Want It Back," has a very cool, crunchy guitar riff that gets my head banging right along with the rhythm. It's another tasty track with strong lyrics, more-than-competent guitar riffs and leads, with a solid bottom end held together nicely by the bass and drums. This track has more of a nu-metal feel to it, but it keeps from becoming "poppy" and maintains a hard edge throughout.
"Get Your Head Down" starts out with an ambient feeling, a sparse drum beat and some ethereal guitars in the background, and then launches into a very heavy groove counterbalanced by the smooth vocals. The guitar leads on this track are quite melodic and not just played to see how many notes can be squeezed into each bar. Tasteful guitars seem to be a hallmark of this band, along with the excellent vocal capabilities of the entire band.
The rhythm section stands out quite well on this album — I'm particularly impressed with the drum tones and the drummer's fills — they're not overly complicated, yet not simplistic, either. They are played to fit the song and the part, and the drummer achieves this quite well. The bass lines are tasty, groove very well with the drums, and offer a counter to the guitars that is effective and adds a dimension to the groove that a straight-forward bass line wouldn't offer. Nicely done, rhythm section!
"Battle Call" is the last track I'm reviewing, because it's the one that I want to stick in your heads the most — it is the seminal track on the album, in my humble, yet honest opinion. This is the track you will start hearing on the radio before all others. It has the melodic, clear vocals and lyrics that a wide audience can relate to, the great tempo changes that will get the harder rock fans pumping their fists in the air and the driving beats that will cause heads to bang to and fro. "Battle Call" is the radio-ready track du jour for this release, and should be on the lips of any hard rock radio programmer's lips and list. This track just has it all.
Depending on where you fall on the political spectrum these days, and whether or not you agree with the message being put forward in this debut album, you cannot deny that RadioDrone's music is high quality, as is the production and thought that went into putting this entire concept together. You must give props where they are due, and this is one of those rare first albums that achieves more than it advertises.
I'm not an easy sell, by any stretch of the imagination, especially when it comes to debut albums by unproven bands. There are just too many "flash in the pan" bands out there that show immediate promise and then renege on that promise, never to be seen or heard from again. RadioDrone is not one of them. Their concept is unique in today's music, and I think that they will attain the promise they hold, as long as they remain true to their concept, music and the message they bring.
RadioDrone are an obvious musical package — every member is needed to make their music. If one should fall by the wayside, I believe they'd be hard-pressed to find another to fill that slot. So let's just hope that they can stick together through the rough patches and keep it going for the long haul.
I, for one, already have this entire album on my phone's playlist, so I can listen in my car via Bluetooth connection — I like it that much. I am guessing that you will like it that much as well. I give this release a solid 8 out of 10 skulls on the MIM Review "Skull-o-Meter." Check out RadioDrone's video interview on YouTube and visit them on Facebook and ReverbNation.