by Brian McKinny
Josh Homme is one of those personalities that attract the weird and wonderful, the irregular, and the outcasts. It's that kind of spellbinding attraction that QOTSA has bestowed upon their listeners. When someone hears their music, they instinctively know they've never heard anything quite like it anywhere – ever. "…Like Clockwork", the first release of a new studio album by QOTSA since 2007 is just such a distinctive album. "…Like Clockwork" is monumental in every respect.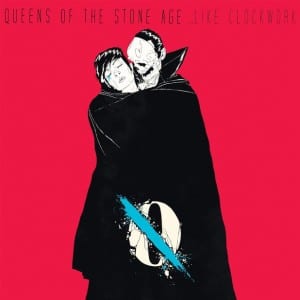 I just can't get enough of this album. I keep playing it over, and over, and over… It's brilliant in most every respect. The lyrics are intelligent, deep, and yet they're relatable to everyone. The music doesn't pretend to be anything other than what it is. It has a raw, savage feel to it, but at the same time, you are forced to appreciate the virtuosity that this music demands in order for it to be created and controlled by the writer and performers.
It takes a certain kind of openness to 'the new', as well as a musically inclined intellect to appreciate the beautifully controlled bedlam that this album brings – a luminous kind of musical chaos that shines for the listener. The blending of styles and sounds on this album are analogous to that which a master impressionist painter from the late 19th century would paint with oil and canvas, using sounds to create aural imagery with colors and textures that are vaguely familiar, yet painting a picture completely new, in a style all their own. It's perhaps not an entirely new concept; however, the presentation and performance is fresh and unique to them, as well as the audience.
'Keep Your Eyes Peeled', a dark and somber little ditty starts out with a slow, throbbing bass line and a simple, clean and fat drum beat that is soon accompanied by Homme's soulfully sweet, yet forcefully powerful voice. The song is dark and ominous in the verses, creating a heavy mood that grooves and mingles seamlessly with the prototypically eerie melody and hauntingly beautiful mixture of dissonance and chaos in the choruses. Lace all that with the surgically precise falsetto flourishes from Homme and the song has all your neurons firing off in new and wonderful directions.
"I Sat by the Ocean" is a fresh, upbeat twist on a pop rock song, made wholly a QOTSA song by maintaining their signature sound as well as including interesting twists on the beat and changing time signatures and guitar riffs and hooks that are as catchy as any Beatles song ever written. This song will get them the most airplay from this release. It's this album's, "No One Knows".
"Vampyre of Time and Memory" shows off Homme's newfound introspection since his narrow escape with mortality. It's a nicely textured, mid-tempo ballad, and the vocals really stand out on this track. There are a lot of intriguing nuances going on in this entire album, but this song begs for headphones with all the little things going on throughout. The guitar tones and riffs are engaging and interesting, and not at all overplayed. Some people might think that some songs on this release are a little uncharacteristic coming from Homme and company, but those who see that as a problem are victims of their own expectations, and I prefer to be pleasantly surprised with the unexpected, especially when it's done as brilliantly as it is on this album.
Another obvious pick for good airplay time is the track, "If I Had a Tail", which is almost the quintessential QOTSA song. It's as majestic and cocky as a good rock song that sprang from the midst of the California desert and survived the dry, searing heat should be. Complete with a driving bass line, and drum beats courtesy of long time friend and collaborator Dave Grohl,  with soaring power chords spewing from the guitars of Homme and Leeuwen until it's time for the guitar solo, and what happens then is a delightful bait and switch with Homme taking the minimalist approach and delivering a tastefully staccato riff that is as catchy as the common cold. The verses of the song are sparse and groove with a good old foot-stomping tempo that pushes you right into the chorus, full of depth and girth, and an ostentatious sound that fills your ears.
"My God is the Sun" is a full on, double-time rocker that had me playing air drums from the first drumbeat. It's fast and frenetic, but never falls into chaos. It's such a wonderful example of how tight this band is, especially when you see them perform this one live. The guitars of Troy Van Leeuwen and Homme get you going right away, and then drop off to a rhythm element as Homme's vocals take over the melody and pull you along like someone trapped on a runaway train.
The production on this album is phenomenal, and has that old analog sound and feel to it, with all the warmth and fullness of sound that goes along with analog recordings on vinyl. "Kalopsia" is the perfect example of this point of analog fullness of tone and warmth, once again insisting that you strap your best headphones on and jam out to this rocker. "Fairweather Friends" has a more progressive feel to the song, with more orchestration and an almost operatic drama to the arrangement, especially the guitars and vocals, with a piano part played by Sir Elton John that is somewhat reminiscent of Styx's "Grand Illusion". It's a new-age rock opera song, with an updated style and sound. I know what you must be thinking of my analogy with a Styx song, but I believe you'll agree with me when you hear it.
The contributions of long-time friend and collaborator, Trent Reznor are very apparent on "Smooth Sailing", giving a funky industrial feel to the song that be-bops along at a good, danceable pace. "Smooth Sailing" acts as an interesting segue to the next track, "I Appear Missing", which returns to the overall newer sound and style exhibited in the first seven tracks. I really enjoy the guitars and feel of the vocal melody on this song, as the chorus is very strong and the lyrics are catchy and memorable. The drum and bass fill to the bridge is just mesmerizing, and the song is extremely dynamic, displaying a level of musicianship that is thoroughly impressive and enjoyable. The textures in this song are delectable, like a rich layer cake filled with booze – delicious and intoxicating.
The title track, "Like Clockwork", closes out this album on a striking note, with Homme playing piano and singing a beautifully soulful ballad that exposes his heart for all to see. Open to appreciation and understanding, this song has Homme's heart on his sleeve. The guitars wail plaintively as the bridge kicks into a higher gear before coming back down to Earth, and the soft falsetto of Homme's voice fills the verses with his lyrical questions of the fears we all have within ourselves, and how we go on in spite of it all. The performance by QOTSA newcomer, Jon Theodore, taking over the drumming responsibilities from the outgoing longtime drummer, Joey Castillo is nothing short of excellent. Castillo's were some big drum shoes to fill, and Theodore has done a more than admirable job at it, making the part his own with some fresh and exciting drumming on this album. Granted that Dave Grohl plays drums on fully half of the tracks on this album, Theodore's contribution to this album cannot go unnoticed, and I can see that his will be a worthy contribution to the band in the studio and on stage
Josh Homme knows the key to writing superior, intelligent, and meaningful lyrics to accompany the virtuosic music that he and his fellow band mates have written for this album. Homme knows that the key is to put his own truth and honesty into what he writes, and he has put that principle to work on this release to great effect. Over the period between "Era Vulgaris", and the release of "…Like Clockwork", Homme's writing style has evolved tremendously, in part due to a recent near-death experience he went through that gave him a singular, more focused perspective on music, and what music means to him and his life. That new focus and perspective is evident in this album, to our benefit as much as it has been to his, for we are the beneficiaries of this new and wonderful music he and the rest of QOTSA have given us.
"…Like Clockwork" is the kind of innovative and imaginative music that gives me real hope for rock music, and the industry as a whole. When this kind of incredibly deep, nuanced, and inspired music can still exist and be commercially viable and marketable is amazing to me, especially in this day and age where digitally-regurgitated pop garbage is spewed forth daily on the radio and elsewhere, being jammed down the public's gaping maws. This is simply some amazing work, and in my opinion, it is the best album I've heard so far this year. Josh Homme is a musical Dr. Frankenstein – a genius, a musical mad scientist who creates fascinating, mesmerizing musical marvel for the world to enjoy. They really created a monster with this one. To coin a phrase, it's the "Feel Good Hit of the Summer"! I give this album 9 out of 10 Skulls!