You need a fast, functioning Website.
(warning some bias here towards Studio Press themes and affiliate links may be attached)
by John Overall, WordPress Specialist, Training, Design, Consulting and setup
A website is no longer an option for a business or organization in today's marketing world if you want to reach the max number of people. Choosing the right type of website to have created or create yourself can be a daunting task and give you sleepless nights.
Today it is more important than ever to have a great and fast website but more and more people just put up anything and call it good.. Or worse they put up something that could be great and leave it half done.
Many people will do it themselves or choose the $100, $200 or even the $500 special to get all setup and running. While this will get you online it may not give you that great website you need. Often in today's market what you get for this price is the setup of WordPress with a couple free plugins installed and a Free theme or a cheap one from somewhere like Themeforrest.
Many people are choosing WordPress to build their website and after 6 years of working with it (while biased I admit) I fully understand why they do. Since WordPress can be used to build anything from a simple splash page to something as convoluted as an e-store and web community combined.
I have been asked many times to define what WordPress is and well the simple answer is it's a CMS/Blog platform but the best explanation came from the co-host on my podcast Marcus Couch he describes WordPress this way.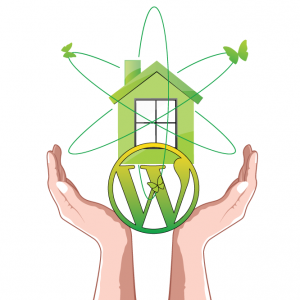 "Think of the internet as the new land expansion of the 21st century and you need to build some buildings to do all the many things people need to accomplish. You need living buildings, storage buildings, shipping buildings, stores for selling stuff and many more types. Well WordPress is the bricks, mortar and lumber that these building are made from. The theme is the paint on all the walls both inside and out. The plugins are the stuff in the walls like your wiring and plumbing."
WordPress itself is solid and great as the base. But, as you build it though theme and plugin choices you begin to add complexity that is hard to undo as time goes by. Understanding this important information is why you need to be careful when planning out your website.
Once a website is up and running most people do not want to, nor do they care to make any real changes in design and functionality. In other words they simply want to add more content and focus on their business after a site is setup. But like the paint on their house or in the living room after some time it begins to fade and needs to be redone. This is where your original choices come into play for how much work will be involved in repainting that website.
"Back to our analogy about what WordPress is.. Suppose you had a house built and the builder did this beautiful job on everything but, now some time has passed and it's begun to fade and all you want is to repaint the outside of the building. Surprise you discover something unexpected.. To repaint the outside of the house you also have to remove and redo the plumbing in the bathroom and replace the wiring in the kitchen. Makes sense right??"
Well this is what happens to many people who have chosen a theme that handles functions that should have been left to a plugin for their website. When they want to replace their theme (the paint on the house) the discover the theme was doing crucial work best left to a plugin (the plumbing and wiring) One of the most common examples here is the SEO for your site. Many themes boast built in SEO but when your change that theme you lose all those customizations to the titles, meta data, snippets and tags that where created. Another common example is functionality for items like maps and image sliders.
"Beware of themes that have plugin functionality built-in."
Almost everyone gets used to whatever functionality they have chosen when they first setup the site and sometimes when they do the repainting they discover that they have some major renovations to do if they want to change that paint.
"Never let your themes handle any functionality that should be a plugin"
Making choices for the creation of your web can be broken down into easy steps.
What is your brand's visual aesthetic?
What are Your Desired Features
What is The Purpose of Your Site
Decide on Navigation
How flexible does your site need to be?
What is your budget (if any) for your theme? Free or Paid?
Choose a Responsive Theme
Build and Enjoy
1. What is your brand's visual aesthetic?
Your theme needs to properly represent your brand in tone and style. Suppose you own a skate board shop then using corporate-looking theme is not the way to go. But if you're building a site for your brothers accounting practice, a conservative theme would be the way to go. Colours, Fonts, and Layout all say something about your brand, so make sure they say the right things. Potential customers or clients make judgments about a brand or company by the look and feel of their website.
2. What are Your Desired Features?
Making a bunch of design customizations to your WordPress theme after you install it takes time and some experience so it's best to select a theme that has the major design features you want.
For example, do you want two columns? Three columns? Customizable theme colors?
Make a list of the features most important to you then search for themes that meet as many requirements as possible. (A great place to look for themes is Studio Press.) This way you don't spend time tweaking the code design later.
This is especially true if you decide on one of the free themes provided by WordPress. They are often more challenging to customize.
WordPress is very easy to setup if you use the theme "as is", but making design customizations depends on how customizable your theme is and how much CSS you're willing to learn.
For the average WordPress user, I would highly suggest finding a theme that looks pretty much the way you want it too before you use it.
My preferred themes come from, Studio Press.
3. What is The Purpose of Your Site
For example, if the primary goal of your site is to collect email addresses for future promotions then you might want to use a theme from StudioPress such as the Generate theme.
This is an ideal theme if your site's main focus is collecting emails, it's a very popular choice for business/promotional websites.
Or maybe you are creating a band site. The Amped theme is perfect for band sites because of the layout, colours and built-in promotion areas.
The StudioPress site does a great job of explaining what kinds of websites their themes are best for so that may help you with your selection. You can see them all here.
4. Decide on Navigation
The site navigation is one of the most important parts of a site. You may need a very simple navigation with a few options or you may need more than one. Adding a navigation can be tricky if you don't want to learn PHP, so make sure your theme has what you need before you install.
The Genesis Focus theme has two menus (above and below the header) and you can turn them on and off very easily in the Menu area. Not all themes are this flexible, so make sure you check on this when shopping around.
And if you need a drop-down menu, you can add those yourself right within the Menu area of WordPress.
5. How flexible does your site need to be?
The basic WordPress theme can get you far on WordPress. But you may need a theme to grow with your business and website, make sure your chosen theme is dynamic enough to allow customizations as your site grows. One of the great things about WordPress is that it's flexible and allows you to build upon what already exists. As you add plugins and widgets to create more user engagement make sure your theme can handle that.
6. What is your budget (if any) for your theme? Free or Paid?
In the WordPress theme directory, there are thousands of free themes to download. If you do have a budget, premium or custom themes are your best option. The main reason for this is free themes usually come with no support but premium or custom always have support for when its needed.
The theme selection process can be overwhelming because there are literally thousands of free themes you can choose from the WordPress gallery and you have premium themes like StudioPress that offer a wide selection as well.
No doubt your budget plays a role in whether or not you want to go free or premium. As I've said many times, I always use premium themes when I develop. The main reason is free themes have little or no support, so when the next release for WordPress is available, it may or may not be compatible. And if you have any kind of issue with your theme working on the latest WordPress release, it can be very difficult to get any kind of help from the theme creator. In many cases, you may not even be able to find/contact them at all.
Free always comes with a price, understand and be prepared for that price if you decide to go that route.
"Free or Cheap always has a price and that price is usually your time. Is your time really FREE or CHEAP??"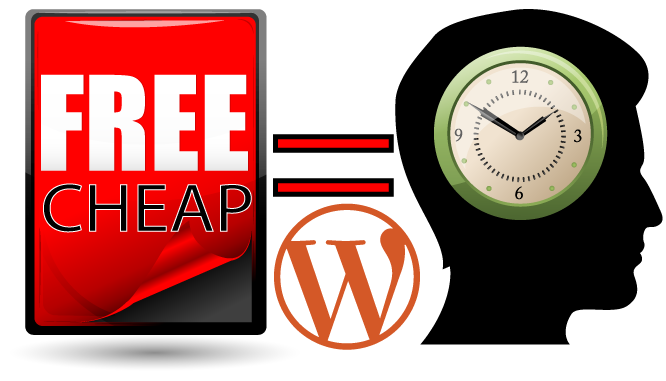 You have probably guessed from reading this article, I'm a huge supporter of StudioPress Genesis themes. Support is superb and the designs are professional and clean. There is a great theme selection tool here to help you find the appropriate design for your site.
7. Choose a Responsive Theme
Responsive themes automatically adjust and display cleanly when viewed on mobile devices.
For WordPress, the easiest way to ensure your site is mobile/friendly is to use a theme that is coded to be responsive. Almost all themes from StudioPress are mobile responsive. The alternative is to use a plugin such as WPTouch Pro
If you're viewing this site on your phone, you'll notice how everything displays cleanly and is easy to read.
8. Build and Enjoy
Finally build and enjoy your site……….
My specialties these days is helping folks get their WordPress website back up after a disaster such as being hacked. I focus on fixing a site rather than scrapping it and starting over. I am also there when you need to add functionality to your WordPress website, from realizing that you need to simply connect with social media website to getting setup with an ecommerce store. I can help you though the process.
I am also there when you need to add functionality to your WordPress website, from realizing that you need to simply connect with social media website to getting setup with an ecommerce store. I can help you though the process.