FOR "MESSED UP WORLD (F'D UP WORLD)" 

EXCLUSIVELY ON

VEVO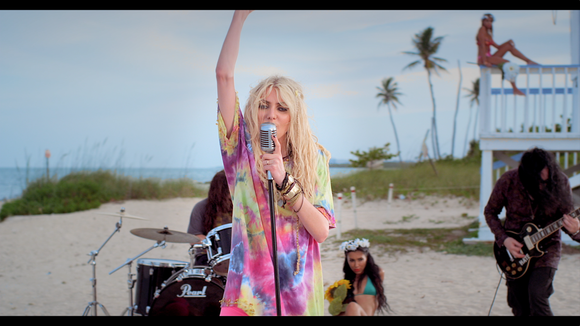 Current Radio Single "Heaven Knows" Celebrates 12 Weeks At #1 On Mainstream Rock Radio
(New York, NY) – The Pretty Reckless has premiered the new music video for the song "Messed Up World (F'd Up World)" exclusively on VEVO (http://vevo.ly/EMrLjr).  The provocative video was directed by Jon J and Taylor Momsen. who also directed The Pretty Reckless' last video for "Heaven Knows" that now has over seven million views.
Led by singer Taylor Momsen, The Pretty Reckless' single "Heaven Knows" is the most successful song this year at Active and Mainstream Rock Radio. The song spent five weeks at #1 on Active Rock and is currently in its 12th week at #1 on Mainstream Rock."Heaven Knows" is also now in the Top 30 at Alternative Rock and crossing over to Top 40 Pop Radio and was added to the Sirius XM HITS1 Channel.
Going To Hell was released on March 18th and debuted at #5 on the Billboard Top 200 Album Chart.  The release has garnered praise from press and fans alike.  Rolling Stone raves, "This New York band's brash second album rages with the upbeat, beat-wise humor that hard rock has suppressed ever since grunge. 'Heaven Knows' and 'Why'd You Bring a Shotgun to the Party' are full-on glam stomps."
The Pretty Reckless continue to tour in support of their new album and will headline the Going To Hell 2014 North American tour.  The band will kick off the on September 5th in Orlando FL  and will wrap on November 8th in New York City – Tickets are on sale HERE. The Pretty Reckless is currently on tour with upcoming festival dates including Summer Fest, Tall Creek Mud & Music Fest, Festival D'ete Intl De Quebec, Rock Fest, among others (all tour dates below). 
The Pretty Reckless formed in 2009 and released their debut album Light Me Up in 2010 and a follow-up EP HIT Me Like A Man in 2012. After two years on the road supporting Light Me Up, the band has risen through rock 'n' roll's ranks to become a polarizing presence. Over the course of their debut and EP, the quartet has sold over 1 million combined albums and digital singles.  The Pretty Reckless has supported Evanescence, Guns N' Roses and Marilyn Manson on tour in addition to headline runs in both the U.S. and abroad. The band recently performed Revolver Golden Gods Awards in April where Taylor joined Joan Jett on stage for a performance of the hit song "I Hate Myself For Loving  You." The band is managed by David Sonenberg, William Derella, and Erica Ramon of DAS Communications.
The Pretty Reckless Tour Dates
June 26 – Canton, OH – Canton Palace
June 27 – Milwaukee, WI – Summer Fest+
June 28 – Alberta, Canada – Tall Creek Mud & Music Fest+
July 12 – Quebec City, Canada – Festival D'ete Intl De Quebec+
July 19 – Cadott, WI – Rock Fest+
August 8 – Sturgis, SD – Sturgis Buffalo Chip
August 9 – Three Forks, MT – Rockin' The Rivers Festival+
September 5 – Lake Buena Vista, FL – House of Blues
September 6 – Charlotte, NC – 1065 The End Weenie Roast
September 7 – Raleigh, NC – 95X Big Shindig
September 10 – Boston, MA – House of Blues*
September 12 – Silver Springs, MD – The Fillmore Silver Springs*
September 13 – Philadelphia, PA – Theatre of the Living Arts*
September 15 – Atlanta, GA – Masquerade – Heaven Stage *
September 17 – Myrtle Beach, SC – House of Blues*
September 18 – Jacksonville, FL – Free Bird*
September 21 – Ft. Lauderdale, FL – Revolution Room*
September 23 – Mobile, AL – Soul Kitchen*
September 24 – New Orleans, LA – House of Blues*
September 26 – Austin, TX – Emo's*
September 27 – Dallas, TX – House of Blues
September 28 – Houston, TX – House of Blues*
September 30 – Tempe, AZ – Marquee Theatre*
October 2 – Reno, NV – Knitting Factory*
October 3 – Portland, OR – Wonder Ballroom*
October 4 – Seattle, WA – El Corazon*
October 5 – Vancouver, BC – Vogue*
October 8 – San Francisco, CA – Regency Ballroom*
October 10 – Los Angeles, CA – The Wiltern*
October 11 – Anaheim, CA – House of Blues*
October 12 – San Diego, CA – House of Blues*
October 15 – Las Vegas, NV – Vinyl
October 16 – Salt Lake City, UT – The Complex
October 17 – Denver, CO – The Fillmore
October 19 – Kansas City, MO – Arvest Bank Theatre
October 23 – St. Louis, MO – The Pageant
October 24 – Chicago, IL – House of Blues
October 25 – Indianapolis, IN – Deluxe
October 26 – Detroit, MI – St. Andrews
October 28 – Columbus, OH – Newport Music Hall
October 29 – Cleveland, OH – House of Blues
October 30 – Toronto, ON – Sound Academy
November 1 – Montreal, QC – Olympia De Montreal
November 4 – Burlington, VT – Higher Ground
November 6 – Portland, ME – The Asylum
November 7 – Hampton Beach, NH – Hampton Beach Casino Ballroom
November 8 – New York, NY – Best Buy Theater