Free iOS App Released Concurrently with Studio One 3.0.1 Update
Baton Rouge, Louisiana, June 2015… PreSonus® Studio One® Remote, a free iPad® remote control app for Studio One 3 Professional (Mac®/Windows®) is now available from the Apple App Store. Great as a "second screen" control surface in a workstation setup or as a flexible mobile remote for recording and mixing away from the computer, it provides control of Studio One 3's transport and mix console, track Macro Controls, powerful custom commands, and stock and third-party VST and AU plug-ins.
Key Features of Studio One Remote:
Control any copy of Studio One running on the same network. Collaborate or create extended workspaces through control of one instance of Studio One from multiple instances of Studio One Remote on independent iPads.
Mix page provides access to the Mix Console, including inserts, sends, inputs, outputs, and cue mixes.
Mix page provides seamless navigation through the transport bar and timeline ruler with markers, and arranger sections. The built-in meter bridge also works as a song overview.
Control your entire effects chain on any channel through access to user-definable Macro Controls with eight assignable knobs, eight buttons, and two powerful XY vector pads.
Adjust and automate individual plug-ins with eight sliders, eight  knobs, and two XY vector pads. Stock Native Effects™ come preprogrammed and third-party plug-in parameters are assignable via Control Link.
Adjust multiple cue mixes with independent faders and access markers.
Build or modify song structures through control of Arranger sections.
Step away from your desk and set record modes, pre-count, and metronome settings while tracking.
Speed your editing workflow through access to Studio One's powerful, user-definable key commands and via the Commands page.
Studio One Remote is based on PreSonus' UCNET protocol for fast, reliable network connectivity and remote control. UCNET also powers such PreSonus applications as UC Surface and Capture™.
Simultaneously Released with Studio One 3.0.1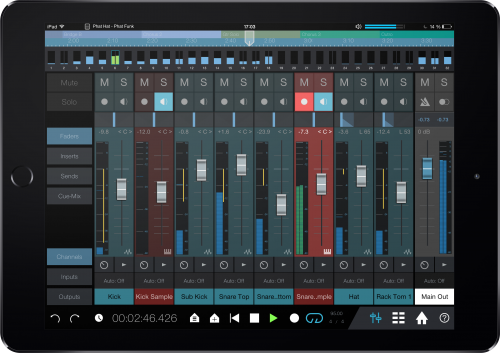 Released concurrently with Studio One Remote, Studio One 3.0.1 is now available and adds: Italian localization; an updated reference manual with improved layout and navigation; a new sound set; improved multi-touch performance including support for third-party plug-ins; improved automation curve handling; and support for the new PreSonus StudioLive™ CS18AI moving fader controller. It also resolves numerous performance issues reported by users after the release of Studio One 3.
System Requirements and Availability
Studio One Remote requires Studio One Professional 3.0.1 or later and is compatible with iPad 2, iPad mini, and newer models running iOS® 8 or later. Studio One Remote can also run in Demo mode for evaluation purposes.
Studio One Remote is now available as a free download from the Apple App store.
Studio One 3.0.1 is a free update for Studio One 3 Professional and Studio One 3 Artist. Registered customers can access the download directly from within Studio One or by logging into their My.PreSonus account.
For more information, please visit www.presonus.com/products/Studio-One-Remote.
Download Studio One Remote at https://itunes.apple.com/de/app/studio-one-remote/id988444520?l=en&mt=8.
A complete list of Studio One 3.0.1 fixes and enhancements is available at http://blog.presonus.com/index.php/presonus-studio-one-3-0-1-release-notes.
For more information on Studio One 3, please visit http://studioone.presonus.com.
About PreSonus Audio Electronics, Inc.
Founded in 1995, PreSonus Audio Electronics, Inc., is a leading designer and manufacturer of audio-recording and live-sound software, hardware, and related accessories. PreSonus's software, microphone preamps, signal processors, digital audio interfaces, digital mixers, control surfaces, loudspeakers, and other products are used worldwide for recording, sound reinforcement, broadcast, sound design, and Internet audio.