Evil has never been so kind
On a brisk, late winter evening in the middle of February, I am driving along the winding Ozark mountain roads on my way to Springfield, Mo. to interview the singer of one of the hottest active rock bands around, Pop Evil. As I'm driving along these roads in a sort of Zen-like state of mind that long drives on pleasant country roads often induce, I'm listening to Pop Evil's latest release, "Onyx."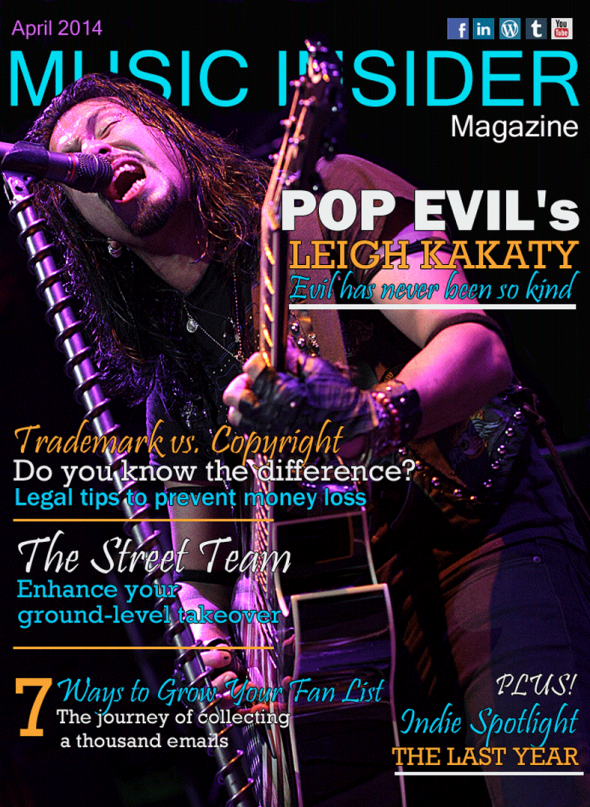 I've listened to the album "Onyx" numerous times before, having written a review of it shortly after its U.S. release. It's a very good album, and Pop Evil's song, "Trenches" hit no. 1 on the active rock charts. I noticed quite a bit of maturation in their writing style since their debut album, "Lipstick on the Mirror" back in 2008.
As I approach Springfield, a mid-sized, mostly suburban, working-class town of around 125,000 people on the Ozark Plateau, I follow my GPS as it prods me into the heart of the Old Town District. Old Town Springfield displays the typical early 20th century, small-town Americana-style buildings, now bursting full of coffee shops, upscale bistros, ethnic eateries and shabby-chic small boutiques.
Directly across the street from where I park my Jeep in front of an all-night cafe is the Outland Ballroom, where Pop Evil will perform. As I arrive, I call Chris Iteen, the band's tour manager on his cell to let him know I'm here. He bids me come around the back of the club and up a ramp that leads to the service entrance to the second-floor stage and bar area of the club. The band's crew has finished setting up the gear and is starting to sound check.
After about an hour and a half of waiting through sound check and chatting with Pop Evil's merchandise girl, as well as the merchandise girl for another band, TROY (The Reality of Yourself), I finally get the nod from the tour manager that they're ready for me to do the interview. I follow him out of the back door of the club and down the ramp to where the tour bus is parked. As I step up the stairwell into the bus, I see the rest of the band, in various stages of readiness for the show. Most are finishing their dinner, or doing other pre-show chores. I find Leigh Kakaty, Pop Evil's singer, reclined on a leather couch in the extreme rear of the band's tour bus, dressed in black Nike sweatpants, a black workout shirt and a Detroit baseball cap. Kakaty offers his hand as introductions are made, and he invites me to sit down. After exchanging greetings and pleasantries, we got to talking …
Music Insider Magazine: This leg of your US tour is coming to an end now, before you head off to Europe. How have your shows gone so far with this U.S. tour?
Leigh Kakaty: Yes, this is the end of the second half of our U.S. tour. We just got off the road with Stone Sour, and it's been amazing. I can feel the band getting bigger, with people starting to know our name, or at least, they're familiar with the band and our music. I think the biggest part of the core fans of the active rock format have seen us and know our music to some degree. Right now, we're out here trying to prove ourselves — it's the American rock culture. We take our music very seriously. To be an additional band on someone's iPod, that's something that people value, hold very dear — especially here in the Midwest. To prove the worth of our band and music to rock fans is what the second chapter of this album's U.S. tour has become for us.
MIM: Touring is more important than ever for up-and-coming bands, and some even go as far as paying for the opportunity to be part of a larger tour with established bands. How important is touring to your band today?
Kakaty: I think that for us, it's all about touring. We've played over 250 shows a year since 2007, when we signed our record contract. And it's a grind, if you let it become that. I think the blue-collar mentality that our band has, coming from Michigan — that's all we've known. Since we went full time with the band in '07, we've never looked back. The only real way to break out in the music business is to be in people's faces, constantly. And, finally, for the first time, we have three more shows to do before we're off for a week, and then we're heading to Europe to take the brand worldwide.
This will be our first tour throughout Europe, and we're looking to grow the brand, the music, the fan base by doing what we always do live. I think that's where most fans get interested in a particular band, when they see them performing live. There's an energy — no matter how hard you try to capture it in your studio work — that only happens and is exchanged between the fans and the guys in the band during a live performance. That exchange is what turns the audience into fans. We're on our third album, and that experience, combined with our work ethic, tells us what we need to know about where to put the time in, and right now, that place is on the road with the fans.

MIM: As of this interview, your video for the song, "Deal With the Devil" has more than a million hits on YouTube. How important is YouTube and other social media to your band?
Kakaty: Social media is hugely important for our band. Our videos on YouTube show that we don't want to use gimmicks to make our music to be anything other than what it is. We don't want to dress things up to skyrocket the views — we want out views to increase on the strength of the music. If it takes a little longer to do it that way, that's fine with us. Obviously, YouTube is driven by hits — views and likes; it's like lightning in a bottle.
Our mentality is this: We're musicians in a rock band, and we're not trying to disguise it, we're not planning to be here today, gone tomorrow. This is what we do. We continue to grow our fan base from a grass roots standpoint with our touring and being active on social media on the Internet, with our band page and the personal pages the guys in the band have. We want the experience to be very organic and have it happen naturally through all our combined efforts. YouTube's not going anywhere; if there's one hit today, there might be a million tomorrow, so we're in no rush. We're here for the duration.
MIM: Since touring is such an important part of how you get your music out to your fans and potential fans, how do you deal with the pressure of touring?
Kakaty: How does that Journey song go? "… the road ain't no place to start a family." This is kind of what we're doing, you know. We understand what it's like to grow up on the road together — this is our family. We all have our own families at home waiting for us, but here and now, it's about us learning how to live on the road. What the fans don't see is that this is really only 10 percent music, and the rest — 90 percent — is just us, living on the road. A lot of it can be extremely tedious, all the driving, getting used to sleeping on a moving bus, sharing a small space with 12 guys, all of that and more. The music part, that 10 percent is the easy part, and we live for that 10 percent, because it's what we love to do. We feel it's what we were born to do.
We love being on stage, but it's the time in between — trying to find private time to talk to family and loved ones back at home, filling up the empty spaces between shows with writing, preparing for the next show … It's about a whole lifestyle. I think that comes from the pride we have for being in a rock-and-roll band like this. Rock and roll is being honest with who you are, and accepting that rock and roll is raw, it's natural — it's about as real as it gets.
MIM: What are some of the challenges the band has had to face since you've started to experience some of the success you dreamed of when you were first signed to a label?
Kakaty: It used to be about living paycheck to paycheck. With all the success we've had recently, we're in a different place, financially speaking. But for rock bands now, rock radio stations are dropping like flies, and there are more new rock bands coming out of the woodwork all the time, so it's a lot more competitive. It's a tough business. But it can be done — Pop Evil is living proof.
MIM: How are you preparing for your European tour that may be different from how you prepared to tour in the U.S.?
Kakaty: Well, we're definitely packing less, starting all over again. I mean, nobody knows us in Europe really, just a small percentage, so it will be good for us. The band's getting bigger here in the states, so we have more of the luxuries — we get to headline, and we get to play with such great bands like Stone Sour, so we get bigger venues. Every show this year has pretty much been sold out, wall-to-wall people, and for Pop Evil, and the hits we've had on the new album, that's exciting.
So when we head to Europe, the album will be brand new there, having only come out with the first single on March 17, and our first show there is on March 8. The entire album will come out in Europe at the beginning of summer, so we're just going to pack light, and start over … We'll be opening up for Five Finger Death Punch, so this will be huge for us. We'll be staying in a big, double-decker tour bus with the other opening band, Upon a Burning Body, so that should be a lot of fun, too. I know I'll take a moment to digest the fact, let it all sink in, remembering what it was like when we were little kids dreaming that maybe one day we'd go overseas, and people would want to hear our music, and now here we are.
MIM: Do you guys write new music together as a band, or is one of you the lead writer?
Kakaty: Yeah, we mainly write as a band. I think with every song it's different. It depends on the guys bringing their riffs to the table, and I bring a lot of the lyrics, whole songs as well. We really try hard to hold ourselves accountable to bring the best material to the table, because we like to put a record together that you can listen to from track one all the way to track 12, and we'll take you through all the moods. That's what Pop Evil really means to the guys and me — it's about who we are. Sometimes we want to break windows and be guys, and sometimes we just want to convey feelings that we're going through, like in what our new single, "Torn to Pieces," is all about. Losing my dad is something I still struggle with to this day.
When you deal with a personal loss like that, I think it's the right thing to do. Originally, I didn't want to release the song, for selfish reasons. And then the guys talked to me about it, and reminded me what we're really doing this about — it's to help people. This is not just about making a whole bunch of money, because it doesn't really exist — it doesn't exist in this business for rock bands at this point. We're not Lady Gaga, we're not going on "The Tonight Show," or whatever … Those kinds of things just don't happen for new rock bands, realistically speaking. So, the only thing you can do is do it for the right reasons, and for me, that is helping people by making music that can make a difference in people's lives.
I think when we write, if a song can take you through all the moods, that is what we want to do. We want everything to be "hooky" and catchy and fun for us to play on stage, because we are the ones who, three albums into our careers, have to play this music night after night, for the rest of our career. It's not for the producers, managers or the label execs, so that's something we pride ourselves on — getting the best ideas to come to life in a way that pleases us, as well as the fans.
We try to be as honest and open as possible, to know that the best ideas can come from anyone in the band. You don't know when or from where that idea will come, and to say that we write like, "A-B-C" every song is not the way; sometimes "Z" or "X" pops up and changes everything. We have become very accepting of how organic our writing process is. We try to just wait and see who brings the riff or the hook in the melody, or the catchy lyric, or an idea for a vocal cue — anything that can be the trigger for a song that helps us show our excitement on stage.
MIM: How do you prepare for your live shows? Aside from writing out a set list, do you choreograph portions or all of your show for greater impact on the audience, or do you just roll with the situation as it forms on stage?
Kakaty: I remember Kid Rock once said — he's one of our idols, being from Detroit, "Rock City," Michigan — he said, "We're writing songs now for our live performances." We do the same thing, in that we write music that will enhance the impact of our live performances for the audience. We ask ourselves, "How many of this kind of song do we have or that kind of song in a row?" Or, we'll ask, "When should we play this song in the set for the best effect, and what is our live show missing, if anything?"
We'll try to incorporate those missing elements and still respect what we've already done for the fan base that's helped us get to where we are now, while helping us to evolve the show as we go. It keeps us where we feel we can continue to put on a great live show, without all the pyro or all the theatrical stuff. All that stuff is great, but if you can't entertain somebody in a club without it, you're probably using it as a sort for crutch for your live show, and that's not who we are.
Don't get me wrong, it would be fun to have all that stuff — flash pots, lasers and crazy stuff … For us, we have to go out there and do what a rock band does, just as we dreamed about when we were kids playing in our garage — you wanted to go get that amp, so you save up for that amp or that guitar, and you couldn't get the big amp because it was too much, but you got the used one for $500, so now you're turning it up to 11, and it's got the broken knob on it, but you don't care, and you're just cranking it in the garage with your buddies, and it's magic, man! That's what we want to bring to our fans on stage. We're just trying to jam it out!
To answer your question, when we're working on our presentation, our stage show, we strive for a good flow. It's like writing a book, actually. You want a great intro to get their attention; next, you want a plot that keeps people interested, and then you want to give them a big finish. For me, when people leave our show, I don't just want them to love Pop Evil, but I want them to leave our show having had fun! I think sometimes people forget that about rock and roll. When we think about growing up with some of the bands that we define as great — they were fun, rebellious, going against the norm — it was just so fun and exciting to see those bands play live, and I think that somewhere along the line the mainstream forgot how fun and cool rock and roll is.
Some of that was probably due to bands trying to be something on stage that they weren't in real life. The fans could see it, and it got old with the fans very fast. The fans are smart, and they can tell when you're a fake. Now, it's up to this new generation of rock and metal bands to bring it, show the fans something new and fresh that they've never seen or heard before. It's up to our generation to rejuvenate that spirit and excitement, so the masses will know that the new generation is for real and is here to stay. The biggest common denominator between the fans and us is that we all know that a good song is a good song, and we'll all support and get behind those bands that play and write good songs.

MIM: What made you decide to stay with Johnny K. (Karkazis) as the producer of "Onyx?"
Kakaty: If you look at our first two records, so many people were around us … When it's your first time working with Johnny K, an A-list producer, he's got platinum all over his walls, the big Universal Records is behind you, and everyone's looking at you, and telling you what they think you should do. It's all a bit overwhelming, because you have nothing to base your decisions on. On "War of Angels," we just said, "Listen, Johnny, this is the first time we're working with an A-list producer. We need you to bring the best out of us, so tell us what you recommend that we need to do, and we'll follow your lead."
This time around with "Onyx," we were like, "Okay, I don't like my compression setting on my vocals," or "I don't like how the highs are bouncing off the bass line," or whatever. It's just talking with a confidence to a major producer who I never would have dreamed of saying these things to in the early days. We're learning and want it to be better; we want the mix to be right, or the vocals to sit in there softer, or this certain kind of reverb or maybe no reverb at all. We consider: What kind of compression do we want? What about the guitar mix? Are the songs blended the way we want them to be? It's just a completely different animal now.
It's like having a child. You have the child in the studio, you raise it up and put it on the record, and once it's released, it's no longer yours. It belongs to the world. If it goes to college, you're lucky to get it back home for Thanksgiving and the holidays! We've learned over these three albums and lots of recording time how we want the band to sound and how to accomplish that. Working with producers like Johnny K has really helped make that happen for us.
MIM: Getting back to writing for a second, some bands write on the road, while others don't. Do you write as a band or separately while touring?
Kakaty: Oh yeah, we all write all the time. We usually write separately at first. Everyone kind of gets in his shell, and during touring times, we'll all jot down our ideas as they come. And then once we get more into the writing mode, we'll get together, whether it's brand new writing ideas, or things we've been working on collectively or separately. Many of the guys have other people they like to write with, too. Eventually, we all get together and just dive into whatever we've come up with, and for us it's a cool process. We have some good new stuff coming, so we're excited about putting it together and seeing how it all works out.
MIM: I'm sure your fans will be excited to hear that, but I'm still digging the current stuff, and it hasn't even hit Europe yet.
Kakaty: Yeah, it's only a year and a half old, and that's the thing — I'm still enjoying the current record, but it took us so long! It took us three long, arduous months to complete, and that was the pressure we had on us to come through with this new album. Three months to do it, less money to do it with, and the label and everyone is after you to finish it in less time.
We were more concerned with the right time; we didn't procrastinate, because we went in there knowing that we wanted to be out and touring by the spring, and what do you know? We got it done. Still, we had a bunch of songs — I think we had 30 that we demo'd, and we ended up with the 12 on the record. So a lot of songs we wrote were good but didn't make it on the record, because these 12 songs really felt like the angst that was "Onyx" for us — coming from a dark place, with the transition of record companies and the loss of band members. "Onyx" was a product of all the adversity the band had overcome, and we thought that there's still something very good about the guys and this band, and we felt like we had just been through a war, and "Trenches" came out of that.

MIM: You've experienced some personnel changes since the last album. What's most important to you when picking new members?
Kakaty: Obviously, they have to have the proper talent level, but they have to be from Michigan. We grew up with many great musicians whom we feel blew us off. We're from three hours west of Detroit, from Grand Rapids, so we felt like we always got pushed around — "Hey, if you're not from Detroit, you're the red-headed step child, the little brother."
That's just bullshit to us, not that we don't love Detroit and our fan base there, because we do. But we grew up on the west side of Michigan, and we have something to say, too! Chachi (Joshua Marunde) from the Kalamazoo area was touring with us with his other band, and then buying on with Pop Evil, and wow … He's young and energetic, and as a drummer, he's definitely coming full speed ahead. He's clicking now. You know we tried him out and didn't think he was the guy that first week, but he stepped up. To come in from playing shows every other weekend or playing five or six shows a month to playing every day, it's very emotionally draining for someone who isn't used to it, physically as well, and then living on a bus with a bunch of other dudes …
And even though we knew him, when Nick came in — Nick is from Pittsburgh, but he went to school in Michigan — and with us all being die-hard sports guys, especially hockey guys, and Nick being a Penguins fan and a Steelers' fan — even worse — it was a strange mix. The rest of us, we're all Detroit everything — Lions, Redwings, Tigers … You name it. So, at first, I was like, "I don't know how this guy's gonna work out!" But he paid his dues; Nick was definitely not easy, too … But once we started writing with him, we knew. Now, of course, Nick is just incredible. He's an amazing talent, and I can't wait for the guitar world to hear a lot more about Nick down the road.
MIM: How was making "Onyx" different with the new guys than the previous recording experiences?
Kakaty: When we did this "Onyx" record with Chachi and Nick, it was the first time for them, even though they did awesome on the record, it was their first effort. And now, their "green" has gone. They're definitely more comfortable, and I can't wait to get back into the studio with the whole core of the band once more, hungry and ready to go! The success of "Onyx" shows all the things we were able to accomplish with this album, and how the new guys got it done. I'm definitely proud of that, and them, too.
MIM: Do you bring wives or girlfriends on tour, or is it all about business on the road?
Kakaty: We don't normally talk about our personal lives, because we like to keep them personal and private, but as far as bringing loved ones and family members with us, sure, it happens sometimes. It depends on everyone's schedules, so sometimes it works out, sometimes it doesn't. But we bring family and friends along with us whenever we can. The toughest thing is that there's just not a lot of room, as you can tell. The bus barely holds the band and the rest of our crew. But I'd love to bring family out to Europe with us if we can work that out.
MIM: One last question before you have to get ready for the show. Tell your fans something about yourself that they probably don't already know about you.
Kakaty: Oh, man! I love golf. I absolutely love to golf! I love sports, and I'm bummed that we can't get NBC on the bus TV while the Winter Olympics are on, so I'm missing it all, you know. It's so finicky; we don't even bother to mess with it.
Ah, the life of a rock star on the road — can't even watch the Olympics.
Author's note: To catch Pop Evil's U.S. tour dates, visit Pop Evil's website. Pop Evil's albums are available for download at iTunes online. You can LIKE their Facebook page, too.