All-Star Grateful Dead Tribute Set Planned, featuring: Steve Kimock & Friends, Members of The Motet, and More
$169 Festival Passes Now On Sale; Camping Packages Available With Onsite RV Camping, Boutique Camping, Car Camping and Walk-In Camping
Tucson, Arizona (December 6, 2016) – Gem & Jam Festival is excited to announce the addition of Mike Gordon  bassist of perennial jam band favorites, Phish. Joining Gordon on stage will be: keyboardist, Robert Walker; multi-instrumentalist and guitarist Scott Murawsk; drummer, John Kimock and percussionist, Craig Myers. The 11th annual three-day music, art, performance and gem & mineral festival continues to underscore the "jam" in Gem & Jam, having previously announced Dead & Co.'s Jeff Chimenti would be joining Steve Kimock & Friends and 4 of the 6 String Cheese Incident members would be coming together to perform as The Trancident  Additionally, Steve Kimock & Friends along with members of The Motet will be coming together for an entire set of Grateful Dead music, called Play the Dead!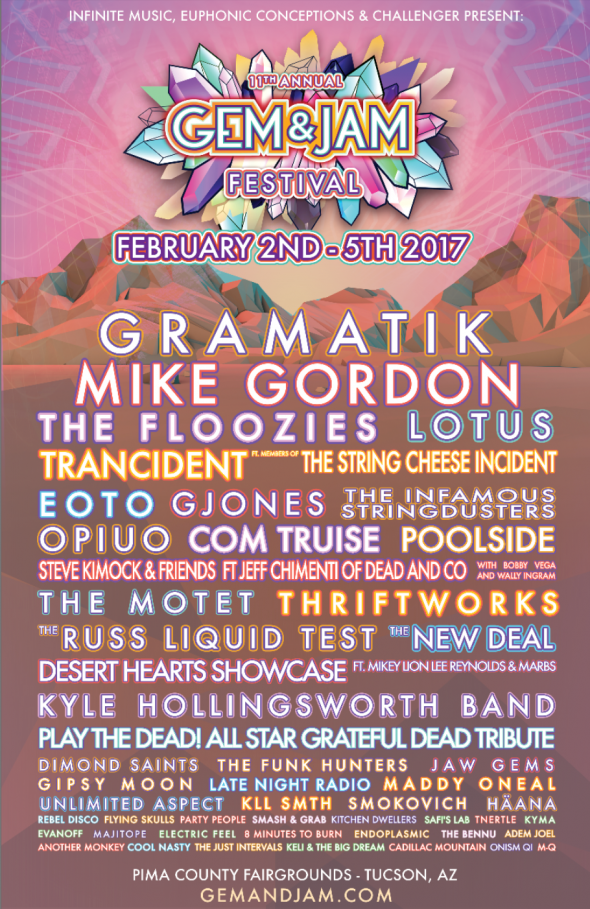 Gem & Jam's full performer lineup, including those previously announced is: Gramatik; The Floozies; Lotus; The Trancident, featuring Kyle Hollingsworth, Michael Travis, Michael Kang and Jason Hann of the String Cheese Incident; EOTO & Friends; G Jones; The Infamous Stringdusters; Poolside; Com Truise; Steve Kimock & Friends, featuring Jeff Chimenti, Bobby Vega and Wally Ingram; Opiuo; The Motet; 8 Minutes to Burn; Adem Joel; Another Monkey; The Bennu; Cadillac Mountain; Cool Nasty; Desert Hearts Showcase, featuring Mikey Lion, Lee Reynolds and Marbs; Dimond Saints; Electric Feel; Endoplasmic; Evanoff; Flying Skulls; The Funk Hunters; Gipsy Moon; Jaw Gems; Keli & the Big Dream; Kitchen Dwellers; kLL sMTH; Kyle Hollingsworth Band; Kyma; Late Night Radio; Maddy O'Neal; Majitope; M-Q; The New Deal; Onism Qi; Party People; Rebel Disco; The Russ Liquid Test; Safi's Lab; Smash & Grab; Smokovich; Thriftworks; Tnertle and Unlimited Aspect. The lineup is its biggest yet, hosting over 50 musicians across 3 stages, with special late night sets, gem and mineral exhibits, art galleries, painters, dancers, daytime workshops, and much more.
"There is something truly special about this year's lineup," says festival co-producer Josh Pollack. "It will be really exciting to see these collaborations come together, for a magical few nights under the desert sky."
Located on 640 acres and just 20 miles south of downtown Tucson, the Pima County Fairgrounds is surrounded by nature and resides in a desert environment, creating an expansive setting perfect for Gem & Jam. The multi-stage music and arts festival will be offering camping options for the first time, including: onsite RV camping with hookups, boutique camping, car camping and walk-in camping. In addition to this new element, Gem & Jam will be expanding on its experience with world-class visuals, unique stage designs, artist galleries, live paintings, experiential installations, daytime workshops, gem and mineral vendors and much more.  General Admission passes are available now for $169, plus fees. Camping options will be available starting at $30, plus fees. Prices will remain frozen, until December 15th. Tickets are available online at www.gemandjamfestival.com. Gem & Jam Festival is an all ages event.
Gem & Jam is produced by Infinite Music Productions, Euphonic Conceptions, and Challenger Presents. Visit www.gemandjamfestival.com for the most up-to-date information. Stay connected on Facebook at www.facebook.com/GemAndJam, Twitter at www.twitter.com/GemJamFestival and on Instagram at www.instagram.com/GemAndJamFestival.