OUT FEBRUARY 26 VIA RED DISTRIBUTION STRIPPED-DOWN, ACOUSTIC VERSIONS OF CLASSIC HIT SONGS
"DO YOU FEEL LIKE I DO" PREMIERES AT THE WALL STREET JOURNAL
"PETER FRAMPTON RAW, AN ACOUSTIC TOUR" DATES SET FOR MARCH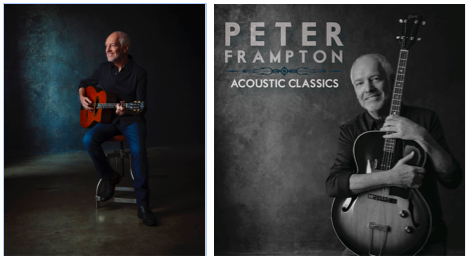 For the first time ever, Grammy Award-winning guitarist Peter Frampton brings us stripped-down, acoustic versions of his classic hits like "Baby, I Love Your Way," "Lines On My Face," "Show Me The Way" and more on Acoustic Classics, set for release February 26 via RED Distribution. As a special preview, The Wall Street Journal is premiering "Do You Feel Like I Do" today. Listen to the song here now: http://on.wsj.com/1TYeuuP.
Acoustic Classics will be available for pre-order with free download of "Do You Feel Like I Do" beginning Friday, January 15 at 10a.m. local time (http://apple.co/1JLeiP8). In addition, a special pre-order bundle will be offered exclusively on www.frampton.com at the same time, which includes the album, a pick set and signed lyric sheet.
Acoustic Classics also includes one new song, "All Down to Me," which was co-written by Gordon Kennedy, Frampton's longtime collaborator and co-producer of his Grammy Award-winning album Fingerprints. "All Down to Me" is also the only track on the record that features a musician other than Frampton. See below for full track listing.
The new album was mixed by Grammy Award-winning engineer Jeff Balding (Don Henley, Lionel Richie, Joe Cocker) and produced by Frampton himself. Of the recording process, Frampton explains, "The approach I took on this was that each song came across as if you are the first person to hear this song after I wrote it. I had to reverse engineer each song in order to get this result, which I feel I achieved."
To celebrate the release, Frampton will perform on DirecTV and AT&T's new weekly music program, the Audience Network, March 4. The programming will be available to both subscribers of DirecTV and AT&T U-Verse and the two platforms' mobile apps.
Moreover, Frampton will extend the "Peter Frampton Raw, An Acoustic Tour" with more dates this March. Kennedy will join him again for the March run along with Frampton's son, singer and guitarist Julian Frampton.
Peter Frampton remains one of the most celebrated artists and guitarists in rock history. At 16, he was lead singer and guitarist for British band the Herd. At 18, he co-founded one of the first super groups, seminal rock act Humble Pie. His session work includes collaborations with such legendary artists as George Harrison, Harry Nilsson, David Bowie, Jerry Lee Lewis, Ringo Starr, John Entwistle and many others. His fifth solo album, the electrifying Frampton Comes Alive! is celebrating its 40th anniversary this year and remains one of the top-selling live records of all time.
ACOUSTIC CLASSICS TRACK LISTING
1. Fig Tree Bay
2. Wind of Change
3. All I Want To Be (Is By Your Side)
4. Show Me The Way
5. Lines On My Face
6. Sail Away
7. Baby, I Love You Way
8. All Down To Me
9. Penny For Your Thoughts
10. Do You Feel Like I Do
11. I'm In You
PETER FRAMPTON LIVE
March 9—Tucson, AZ—Fox Tucson Theatre
March 10—Phoenix, AZ—Orpheum Theatre
March 12—Thousand Oaks, CA—Thousand Oaks Civic Arts Plaza
March 13—Riverside, CA—Fox Performing Arts Center
March 15—Carmel, CA—Sunset Center
March 16—San Francisco, CA—Herbst Theatre
March 18—Folsom, CA—Harris Center for the Arts
March 19—Napa, CA—The Uptown Theatre
March 20—Eugene, OR—John G. Shedd Institute for the Arts
March 22—Redding, CA—Cascade Theatre
March 23—Arcata, CA—John Van Duzer Theatre
March 25—Portland, OR—Revolution Hall
March 26—Tacoma, WA—Pantages Theater